* As Featured in 2023 Edition – Taste For All Seasons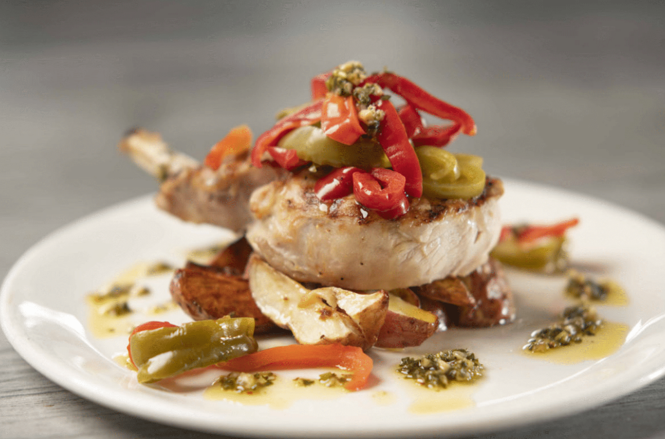 Paddlefish Pork Chop
With a year of holidays and special occasions ahead, you will be able to dazzle your guests by preparing the recipes shared by our restaurant contributors –we're sure you'll find something that suits your taste!
Spring | Celebrate spring in style with these brunch dishes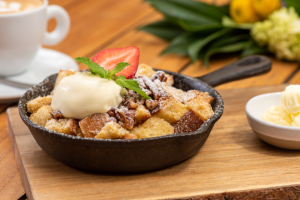 CHALLAH FRENCH TOAST SKILLET
Key Ingredients: Brown sugar streusel, pecans, Vermont maple syrup, vanilla bean mascarpone whip
Isabelle's Grill Room & Garden at The Ritz-Carlton, Coconut Groveritz
carlton.com/coconutgrove
FLORENTINE BENEDICT
Key Ingredients: Spinach, confit tomato,soft eggs, pesto hollandaise
Timpano Las Olas, Fort Lauderdale
timpanolasolas.com
CRAB TOSTADA BENEDICT
Key Ingredients: Lump crab, refried beans, smashed avocado, soft-poached egg, chipotle hollandaise, crispy white corn tostada
Tinta at Lona Cocina & Tequileria, Fort Lauderdale
lonarestaurant.com/tinta-breakfast
HONEYBELLE
Ingredients:
2 oz Goslings Gold
¾ oz honey syrup
¼ oz Chinola
½ oz pineapple juice
½ oz lemon juice
Method: Add all ingredients into a building tin.Dry shake to separate the honey. Add ice and shake again, then strain. Serve in a coupe glass and garnish with a flower and dehydrated orange.
PGA National Resort, Palm Beach Gardens
pgaresort.com/dine/honeybelle
Summer | Cool off this summer with these light fares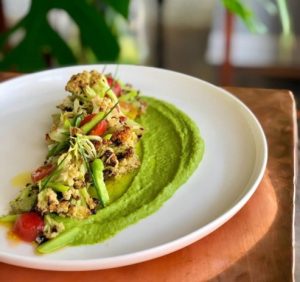 GRILLED CAULILINI
Key Ingredients: Caulilini, extra-virgin olive oil, Calabrese chili (or chili flake), Parmesan, pickled cherry tomatoes, fava beans
Buccan, Palm Beach
buccanpalmbeach.com
TUNA TOSTADA
Key Ingredients: Chipotle aioli, soy, ginger, serrano pepper, sesame seeds, crispy leeks
Lona Cocina & Tequileria, Fort Lauderdale
lonarestaurant.com
JASMINE CREAM DESSERT
Key Ingredients: Jasmine cream, cilantro granita, honey tuile
Uchi, Miami
uchimiami.com
CRISPY SHAVED BRUSSELS SPROUT AND GREEN BEAN SALAD
Key Ingredients: Candied almonds, cranberries, red wine vinaigrette
Cracked by Chef Adrianne, South Miami
igotcracked.com
BEET TARTARE
Key Ingredients: Red beets, chive oil, lemon, egg Dijon mustard, chopped capers, red beet juice
Leku, Miami
lekumiami.com
GOLDEN BEETS SALAD
Key Ingredients: Cannellini beans, clams, chicken stock, Parmesan rinds, guanciale lardon, pasta
Le Jardinier, Miami
lejardinier-miami.com
MOJITO
Ingredients:
1½ oz Flor de Caña
1 oz lime juice
Club soda
2 tsp sugar
6 mint leaves
Method: Muddle mint leaves with sugar and lime juice. Add rum and top with club soda. Garnish with mint leaves. Havana Harry's, Coral Gables
havanaharrys.com
Fall | Cozy up this fall with a few of these heartier dishes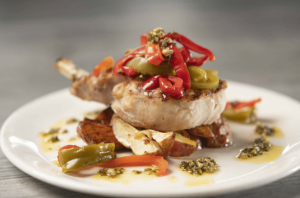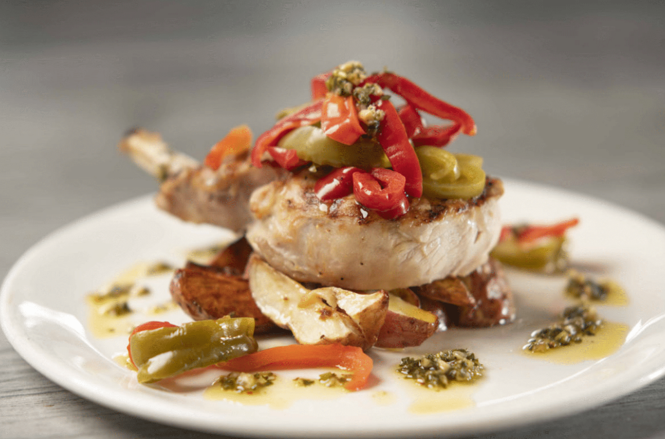 PADDLEFISH PORK CHOP
Key Ingredients: Shallot, chili, garlic, vinegar
Paddlefish, Disney Springs
disneysprings.com/dining/paddlefish
MASHED POTATOES
Key Ingredients: Yukon golden potatoes, Gruyère cheese, butter, half-and-half, cream cheese, salt, and pepper
4 Rivers Smokehouse, Multiple Locations
4rsmokehouse.com
WHIPPED PUMPKIN SPICE BISQUE
Key Ingredients: Pumpkins, pumpkin spice seasoning, honey, apple juice, heavy cream, vegetable stock, vanilla
Chef Adrianne's, Miami
chefadriannes.com
ZUCCHINI SOUP
Key Ingredients: Zucchini, shallot, thyme, almond milk, plant-based butter, Marcona almonds, black truffle, mint leaves, lime, salt, and pepper
Tur Kitchen, Coral Gables
turkitchen.com
BRANZINO
Key Ingredients: Branzino fillets, salt, and pepper, thyme, garlic clove, Meyer lemon vinegar, extra-virgin olive oil
Tur Kitchen, Coral Gables
turkitchen.com
SLOW ROAST
Ingredients:
1½ oz Tequila Reposado
½ oz mezcal
½ oz sweet potato purée
Method: For the purée, use 2 sweet potatoes,2 cups of water, and a spice mix of cinnamon, ginger, allspice, nutmeg and cloves. Simmer all together and strain with a cheesecloth. Fill a cocktail shaker with Tequila Reposado, mezcal and sweet potato purée and give a strong shake. Top with marshmallow fluff and torch until lightly toasted.
The Butcher's Club at PGA NationalResort, Palm Beach Gardens
pgaresort.com/dine/the-butchers-club
Winter | 'Tis the season! Please your guests for the holidays with these tasty bites.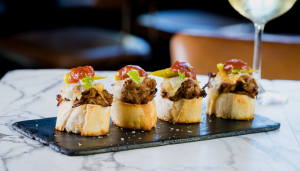 MONTADITOS
Key Ingredients:Brisket, tomatomarmalade, guindilla, tetilla cheese
Bulla,Multiple Locations
bullagastrobar.com
GRILLED OYSTERS
Key Ingredients: Char-grilled East Coast oysters, lemongrass breadcrumbs and butter sauce
Phuc Yea, Miami
phucyea.com
ARROZ CON LECHE
Key Ingredients: Rice, water, milk, condensed milk, whole cinnamon, sugar, vanilla
Bakan, Miami
bakanwynwood.com
MEDIODIA CROQUETAS
Key Ingredients: Smoked ham, Gouda cheese, diced dill pickles, diced yellow onions
La Romanita, Miami
laromanitarestaurant.com
LECHON TOSTONES
Key Ingredients:Pork shoulder, porkskin, lechon mix, mojo verde, tostones
R House, Miami
rhousewynwood.com
CHOCO LIT
Ingredients:
2 oz Patron Añejo
½ oz simple syrup
3 dashes of Angostura bitters
3 dashes of chocolate mole bitters
Method: Build in a Collins glass and stir. Garnish with Toasted marshmallow and a Hershey's kiss.
Bodega Taqueria y Tequila, South Beach
bodegataqueria.com