Aba Miami's Shawarma Skirt Steak Frites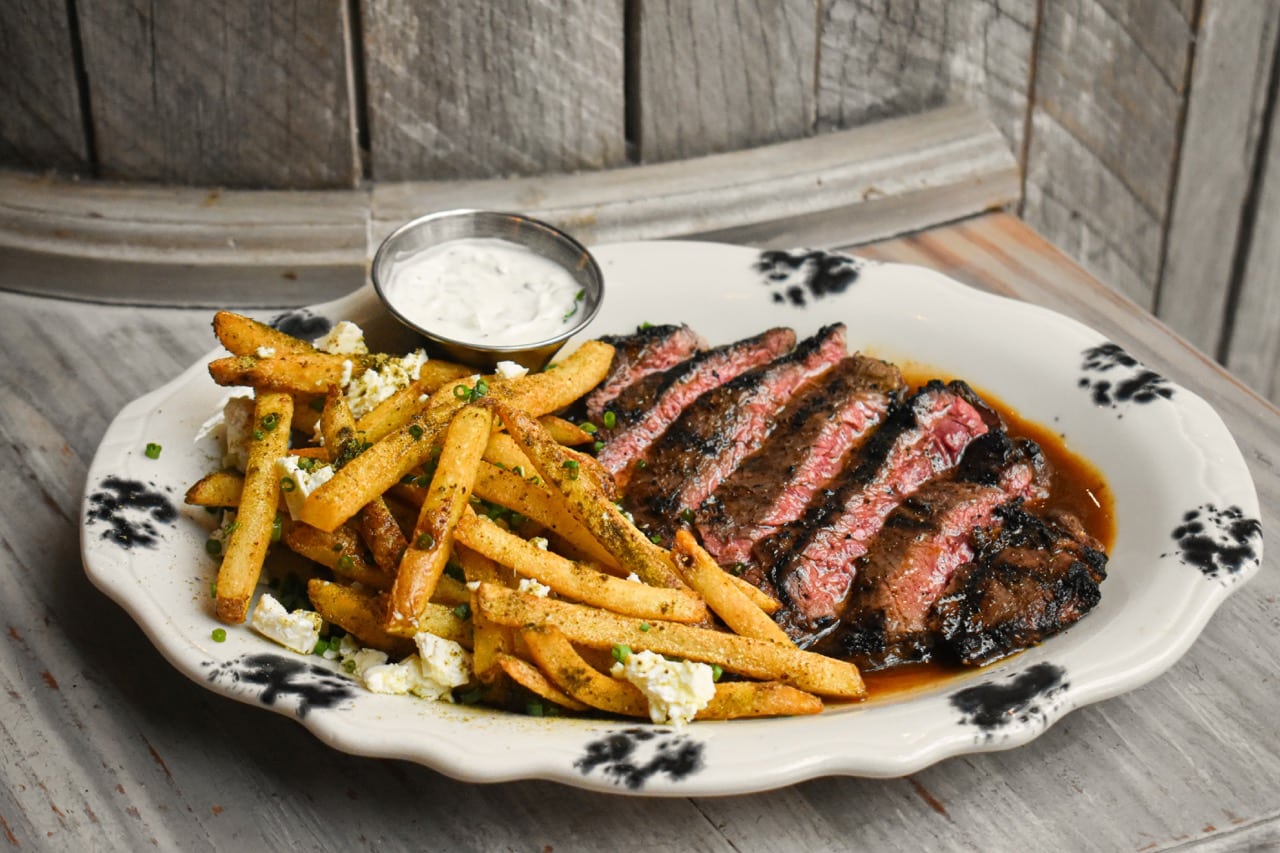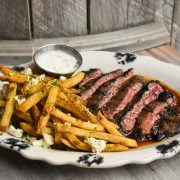 View Gallery
Shawarma Skirt Steak Frites 
Aba Miami Chef CJ Jacobson
IMAGE CREDIT: Credit: Samantha Brauer
Ingredients:
4 8 oz. skirt steaks

Frozen or homemade french fries (1 quarter)

Shawarma paste

Beef Jus  8oz

Za'atar

Feta Cheese (can use store bought block)
Shawarma paste:
T=tablespoon
t=teaspoon
2 T cumin

1 T cinnamon

1 t caraway

¼ t ginger

½ T coriander

1 T Aleppo

½ t dried thyme

3 T garlic powder

Zest and juice from oranges (2 oranges)

1 garlic clove microplaned.

1 t fresh lemon juice.

3 T olive oil
Method: Mix lemon and garlic. Let sit for ten minutes. Mix the rest of the ingredients and allow to sit overnight. 
Beef Jus:
1 gallon beef stock 

½ cup red wine.

3 T shallots.

3 thyme sprigs
Method: Sweat some shallots with a little oil in a heavy bottomed pot. Add thyme. Add wine. Reduce au sec. Add stock. Bring to a simmer. Allow to reduce slowly. Season with salt and a touch of lemon. 
Steak:
Method: Season skirt steaks with salt and then massage the paste into them.  Allow to marinade at least an hour.
Grill steaks on a hot grill. Allow to sit for two minutes, flip for another two minutes. Repeat and allow to rest a moment.  
Fry the fries. Or, air fry the fries like we do at home.  It's almost as good, but certainly cleaner.  
Once fried, toss in a bowl with za'atar and salt and a squeeze of lemon.
Throw the steak back on the grill for 30 seconds each side.  Remove and let rest. (5 mins)
Slice your steak against the grain and place on the lower left of the plate.  Plate your za'atar coated, air fried french fries on top the upper right part of the steak and to the right of center.
Pour your hot beef jus over the steak and smile with satisfaction. Last but not least, sprinkle the feta over the top of the air fried fries.