Barbarella's Seared Salmon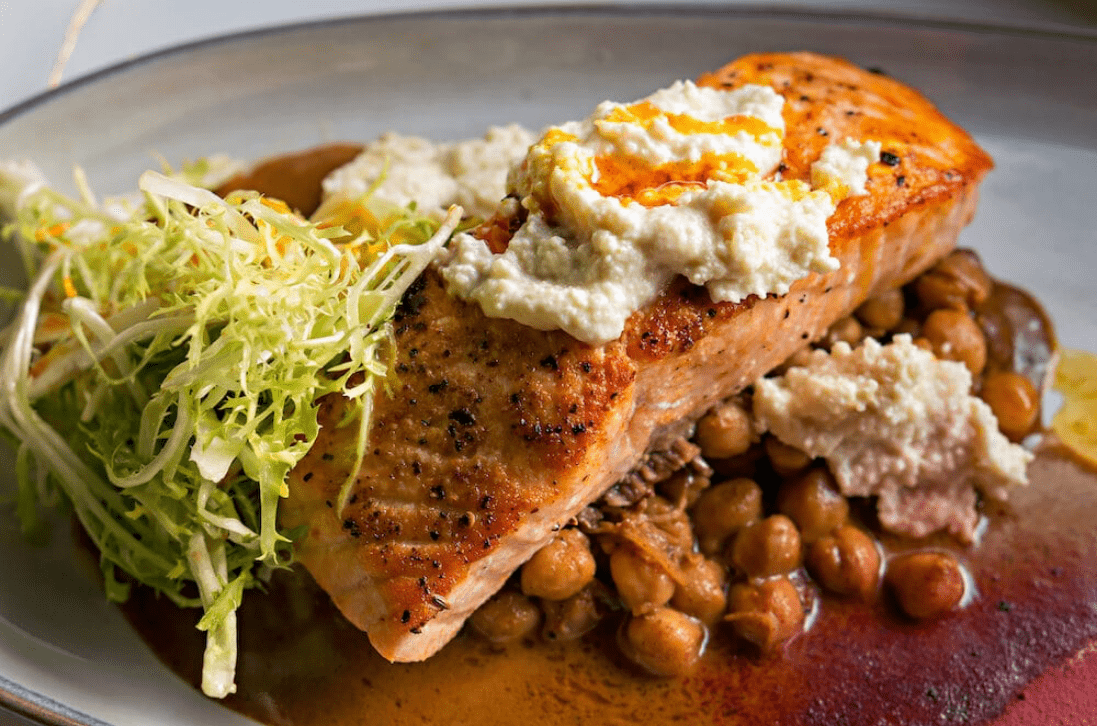 Barbarella's Seared Salmon - Courtesy Miami Food Pug
In May, Chef Sebastian Fernandez and his wife, Leslie Ames, owners of 33 Kitchen at Time Out Market Miami and Rare Burger inside The Citadel, launched the Mediterranean dining concept Barbarella at Dadeland Mall. Fernandez's cooking philosophy has always focused on using quality local ingredients with a simple technique, and his seared salmon is no different. "Our preparation includes garam masala spices, which give each bite a nice kick and a nod to India," he says. "It's a simple yet satisfying dish that anyone can cook at home." 
RECIPE
Serves 2
Ingredients:
2-8 oz salmon fillet
1 cup garbanzo beans
2 tbsp olive oil
4 tsp garam masala
2 cups almonds, peeled
2 cups water
8 tbsp butter
½ cup white wine
½ cup chicken stock 
Method:
Preheat the oven to 400 F. Blend almonds with water until it turns into a milk consistency. Set aside for later.

In an oven-safe pan, place salmon fillets top-side down and add 2 tbsp of olive oil. Cook for 3 minutes. Flip fillets and place back in the oven for 2 minutes. 

In the same pan, deglaze the salmon on medium heat with white wine and chicken stock, then add almond milk. Let it reduce by half, then add 2 tbsp of butter and put aside or inside a warming oven. 

For the garbanzo beans, sauté in a separate pan with olive oil. Add garam masala, mix well, then add chicken stock and cook until the stock is reduced. Add remaining butter. 

To plate, delicately place garbanzo beans as the base and then add salmon on top. Top with almond sauce. Optional: Add mixed greens for color and freshness. 
7535 N. Kendall Drive, Miami; 786.542.5661; barbarelladadeland.business.site