The Capital Grill Cheesecake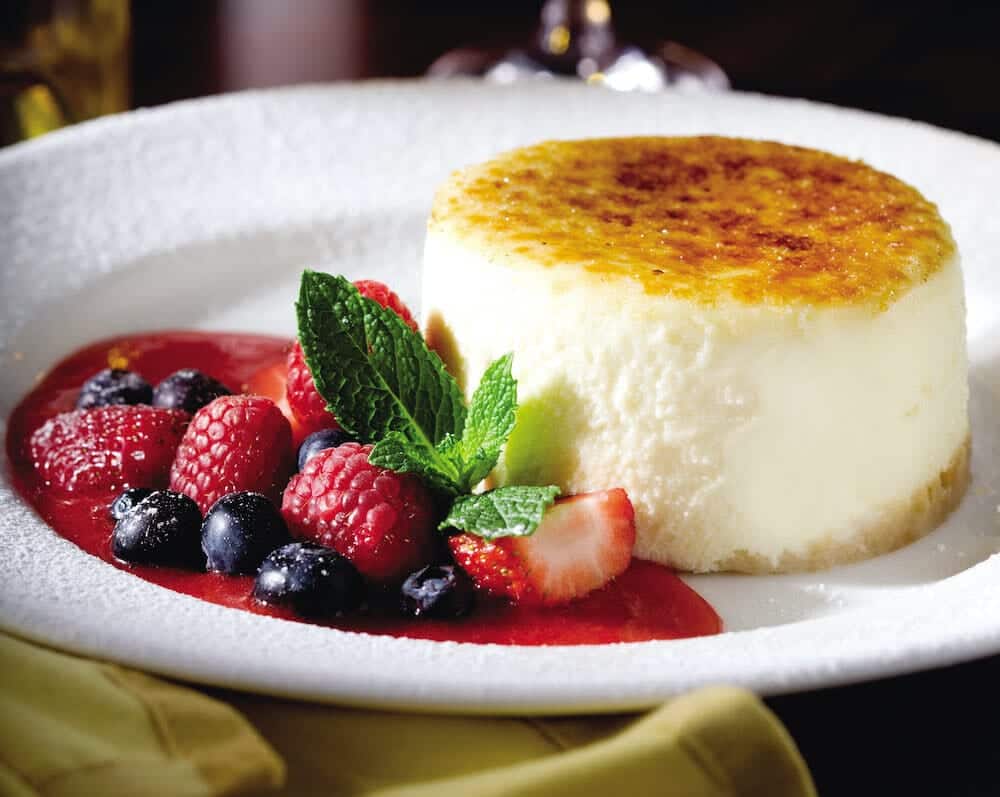 The Capital Grill Cheesecake
The Capital Grille, which boasts more than 50 locations nationwide, is known for its critically acclaimed dry-aged steaks. But what could make your experience even better? "Our cheesecake!" exclaims Isabel Cosby, sales manager for the restaurant's location at The Galleria at Fort Lauderdale. "From the brûlée top to the ricotta and cream cheese filling, this dessert is simply one of a kind." 
RECIPE
Ingredients:
2 pounds cream cheese, softened
2½ cups granulated sugar
1 cup sour cream
½ cup ricotta cheese
1 tbsp lemon juice, freshly squeezed (strain, no seeds)
1½ tbsp pure vanilla extract
4 whole liquid eggs
Nonstick oven spray as needed
2 cups Nilla wafers, crushed
½ cup melted butter
¼ cup granulated sugar
1 cup fresh berries 
Method:
Preheat the oven to 275 F. Add softened cream cheese and 1½ cups of sugar in a mixing bowl and cream together with the paddle attachment on low for 1 minute. Scrape down bowl and paddle; add sour cream and ricotta cheese, mix on low speed for 1 minute. Scrape down bowl and paddle; add lemon juice and vanilla mix 1 minute on low speed. Scrape down bowl and paddle; add eggs and mix for 1 minute, scrape down bowl and mix for 1 additional minute.

Spray the inside of a 12-inch springform pan with nonstick oven spray. Combine Nilla wafers, butter and sugar in a bowl until butter is completely incorporated. Press crust mixture in bottom of pan, approx. ¼-inch thick. Pour batter in pan over crust and cover loosely with foil. Place cheesecake pan in a large roasting pan and add ½ inch water. Bake in oven for 2½ hours. 

Check the cheesecake—it may need an additional 15-30 minutes. Remove from oven and let cool before refrigerating. Prior to serving, sprinkle remaining 1 cup sugar evenly over top of cheesecake. Lightly burn sugar on top of cheesecake using small kitchen butane torch (available in kitchen sections, normally used for crème brûlée). Top cheesecake with your choice of berries.
2430 E. Sunrise Blvd., Fort Lauderdale; 954.446.2000; thecapitalgrille.com