Il Mulino's Tomahawk Steak Tagliata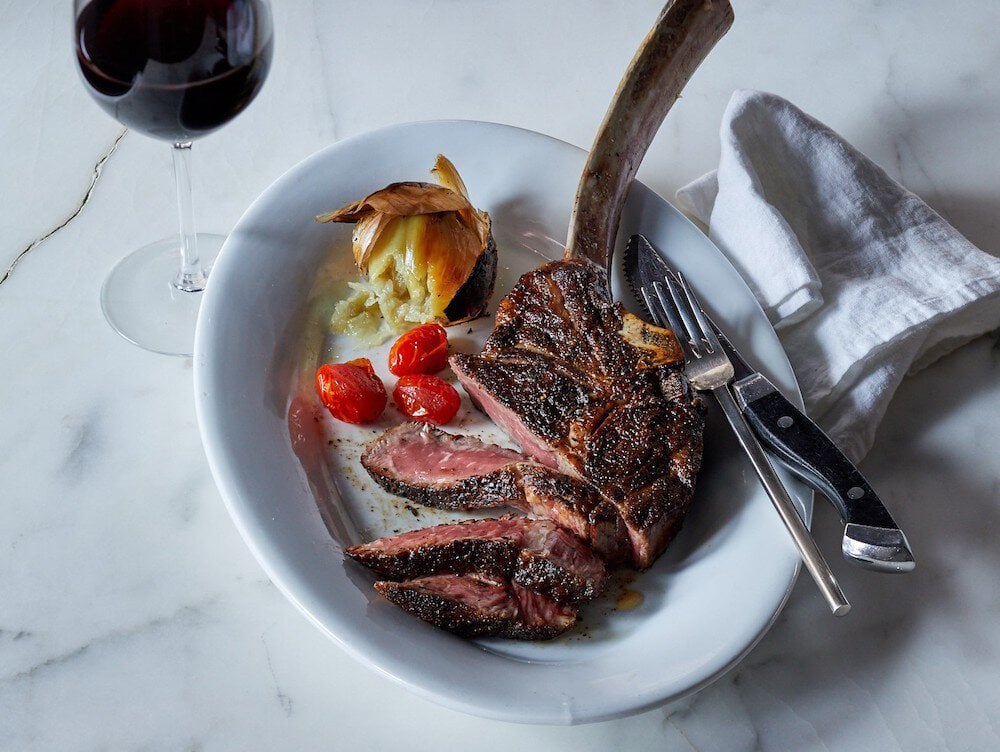 Il Mulino's Tomahawk Steak Tagliata
Acqualina Resort & Residences' signature restaurant Il Mulino New York offers a five-star dining experience thanks to its elegant atmosphere, polished wait staff and high-quality Italian menu. "The tomahawk steak is nice and tender, and the juice is the best," says Executive Chef Michele Mazza. "I recommend pairing it with fresh rucola salad topped with extra-virgin olive oil, salt, ground black pepper and shaved Parmigiano-Reggiano."
RECIPE
Serves 2
Preparation: 5 minutes
Cooking time: 12 minutes (for temperature medium) 
Ingredients:
3 pound bone-in tomahawk steak
1 tsp extra-virgin olive oil
2 tsp coarse sea salt
1 tsp clarified butter
1 tsp freshly cracked ground black pepper
1 sprig rosemary
1 sprig thyme
1 sprig sage
1 elephant garlic 
Method:
Preheat the oven to 475 F in broil mode. Preheat the cast-iron pan for 3 minutes, medium flame. 

Season steak at room temperature with olive oil and coarse sea salt on both sides. Then, take the pan and add on the side rosemary, thyme, sage and the whole garlic and sear the steak for 3 to 4 minutes on each side. 

Add the butter on top of the tomahawk steak and broil in preheated oven for 4 minutes.

Grind some freshly cracked black pepper as a final touch. 
17875 Collins Ave., Sunny Isles Beach; 305.466.9191; ilmulino.com/miami