Shooters Waterfront's Huevos Rancheros with Empanadas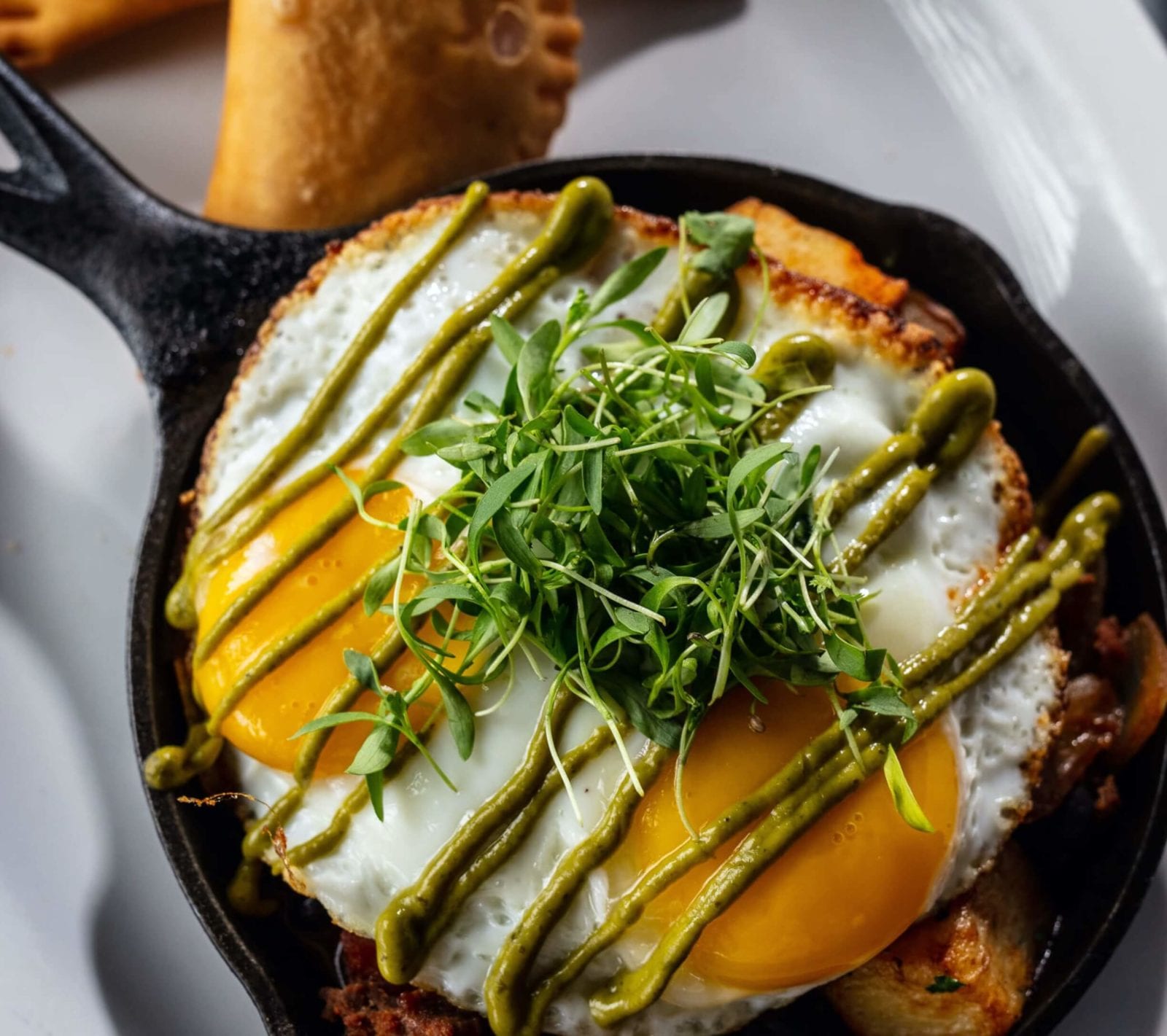 Shooters Waterfront's Huevos Rancheros with Empanadas
When we say holiday dishes, we typically think of dinnertime fare. But it's never too early in the day to enjoy a holiday feast. "When we created our huevos rancheros, we sought to combine Old World ingredients with New World techniques—from the handmade pressed empanadas to the chorizo black-bean potato hash topped with sunny-side-up eggs to the cilantro jalapeno creme," says Shooters Waterfront Chef Brian Cornelius. "Pair it with our bottomless mimosas, sunshine and beautiful waterfront property, and you'll be in paradise all holiday season long."  
RECIPE
Serves 6 
For the Empanadas:
One 8 oz pack cream cheese
1 jalapeno, deveined and seeded
2 tbsp chopped cilantro
Pinch of salt and pepper
12 empanada dough disks 
Mix the cream cheese, jalapeno, cilantro, salt and pepper and place in the center of the dough disk. Fold in half, creating a half-moon press. Seal crimping edges with a fork.  
For the Rancheros:
½ pound Mexican chorizo
12 oz black beans, drained and rinsed
1 cup sofrito (1 green bell pepper, ½ white onion, 3 cloves garlic, 1 tomato), blended
2 large russet potatoes, peeled, boiled and diced
1 tsp salt and pepper
12 eggs 
Sauté chorizo and drain grease. Add sofrito and cook for about 3-4 minutes. Add black beans and heat throughout. Add pre-cooked diced potatoes. Serve with fried eggs on top.
For the Cilantro Cream:
½ cup sour cream
1 jalapeno, deveined and seeded
1 tbsp cilantro
Fresh juice from 1 lime 
Blend all ingredients together and garnish on top of the eggs.
3033 NE 32nd Ave., Fort Lauderdale; 954.566.2855; shooterswaterfront.com