Area 31's Squid-Ink Tagliatelle ai Frutti di Mare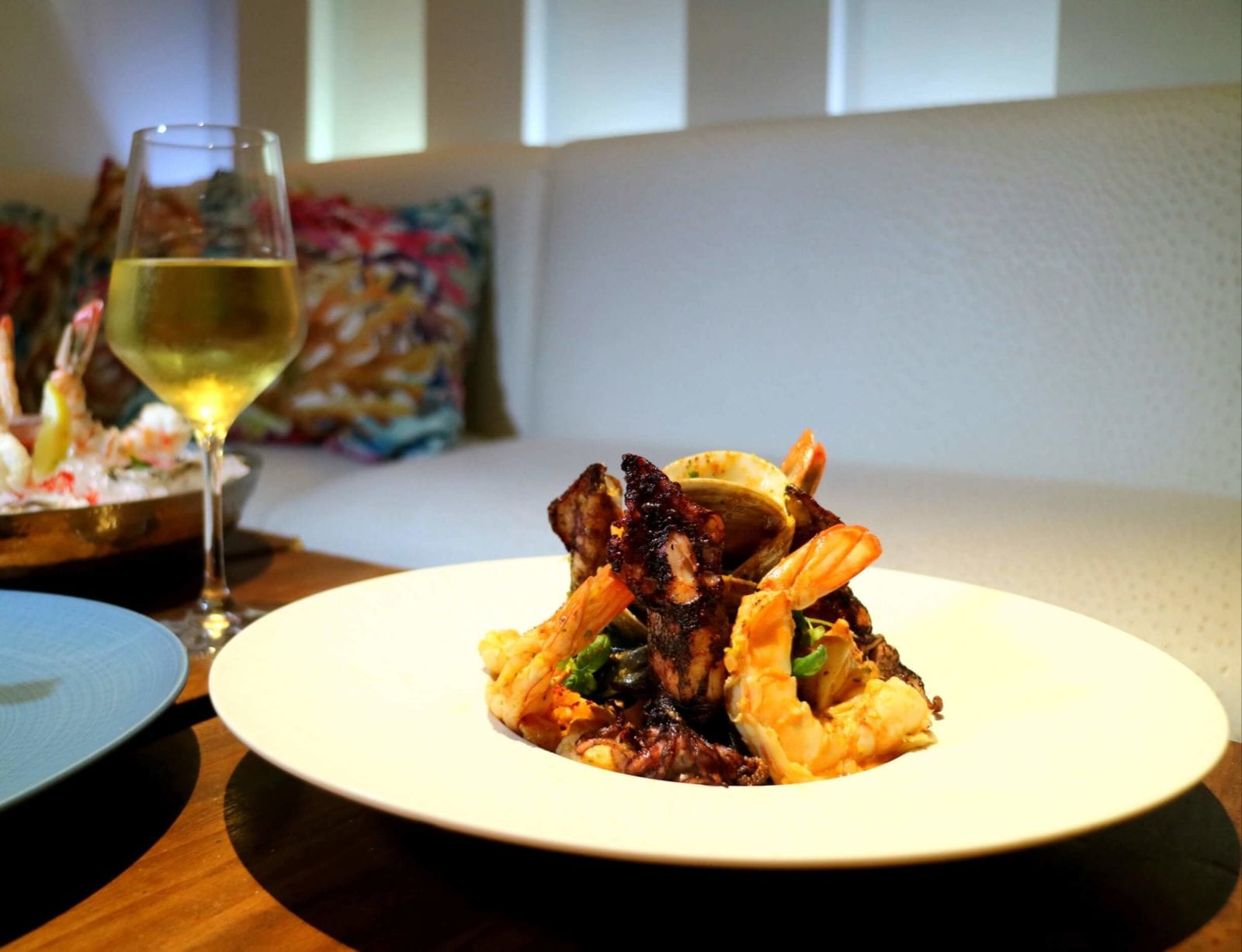 Area 31's Squid-Ink Tagliatelle ai Frutti di Mare - Photo by Patricia Suero
Located on the 16th floor of Kimpton Epic Hotel, Area 31 serves up fresh seafood, produce and meat alongside glittery panoramic views of Biscayne Bay and Downtown Miami. Chef de Cuisine Carlos Ferreiro's family hails from Galicia, a region in northwest Spain known for its seafood delicacies like pulpo Gallego (Spanish octopus). "Given the richness and availability of Galicia's natural resources, seafood will always be central to every holiday dinner," Ferreiro says. "This hearty seafood pasta recipe is one of my favorites, and it's perfect for a special gathering with family and loved ones." 
RECIPE
Serves 2
Note: For this recipe, it is best to do all prep work ahead in the morning, like cleaning the fresh squid, scrubbing the clams and making a seafood stock with the lobster heads and shells to increase the depth and flavor of the sauce.
Ingredients:
12 oz fresh long pasta
½ cup olive oil
4 tbsp minced garlic
8 tbsp brunoise shallots
1 cup white wine
1 quart fish stock
1½ can whole peeled tomatoes
6 middleneck clams
6 mussels
1 lemon zest and juice
6 cleaned fresh squid
1 cup lobster meat
6 oz bay scallops
1 cup seafood stock
Kosher salt to taste
Ground white pepper to taste
2 tbsp basil chiffonade
3 sprigs thyme
4 whole jumbo shrimp 
For the Shellfish Broth:
In a medium stockpot, heat the olive oil over medium-high heat, cook half of the garlic and shallots for 4 minutes, gently stirring with a spoon until softened.

Stir in the lobster and shrimp shell and the shrimp heads, sauté until bright red color. Add fish stock broth and only the juice from the canned tomatoes. Reserve the tomatoes aside.

Allow to simmer for 30 minutes. Strain the cooking liquid through a fine colander. 
For the Sauce:
Warm up half olive oil on medium heat, add in the leftover minced garlic and shallots, sauté slightly, then add in clams and mussels and proceed to deglaze. Steam the mussels and clams for 6 minutes until mussels and clams open. 

Reduce the cooking liquid by one-third and reserve aside. 

Warm up a second medium pan in high heat and proceed to quickly sear the shrimp, bay scallops, lobster meat and squid. Reserve aside. 

In the same pan that you previously seared the seafood, deglaze the pan with white wine and seafood stock that was previously prepared.

Purée the tomatoes, then add to the same pan with the wine and seafood broth. Reduce down by half.

In a large saucepan, combine all the reserved shellfish with the cooking liquid with the tomato and seafood sauce. Bring it to a boil. Reduce the heat to low and simmer until even consistency.
For the Pasta:
In a medium stockpot, bring water to boil on high heat. Add kosher salt to the water to bring out the flavor from the fresh pasta. 

Cook the pasta for 3-4 minutes, depending on the consistency desired. 

Combine pasta with the rest of the ingredients. Plate in a serving bowl. 

Garnish with the chiffonade basil and extra-virgin olive oil. 
Kimpton Epic Hotel, 270 Biscayne Blvd. Way, Miami; 305.424.5234; area31restaurant.com