Prosecco Café's Lemon Curd Meringue Tart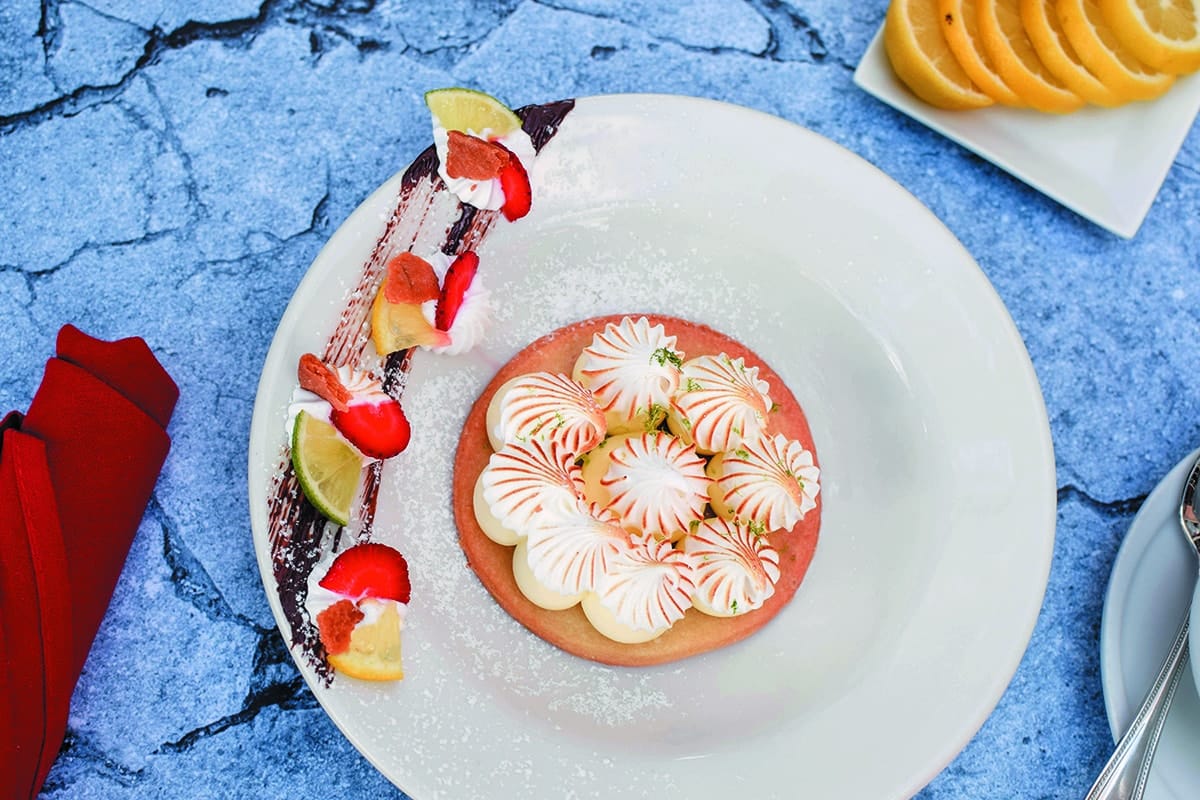 Photo by Kate Eagleton
Light with a mousse-like texture, this dessert delivers smooth and refreshing flavors that are enhanced by the lemon zest and vanilla cookie base. 4580 PGA Boulevard, Palm Beach Gardens; 561.622.3222; proseccocafe.com
Pâte sablée
Ingredients:
8 oz. all-purpose flour
1 ½ oz. powdered sugar
4 3/8 oz. butter, cut into cubes
1 egg yolk
Rind of 1 lemon
Directions:
Rub flour, sugar, and butter until it resembles coarse crumbs.
Add egg yolk and lemon rind and mix into a smooth paste. Do not overmix.
Refrigerate
Roll out and cut into 3-inch disks. Bake at 350 degrees for 10 minutes, then let cool.
Lemon curd
Ingredients:
2 eggs
2 egg yolks
1/3 cup sugar
2 teaspoons lemon rind
1/3 cup lemon juice
2 1/2 oz. butter, cut into cubes
Directions:
In a heavy saucepan on low heat, add eggs, egg yolks, and sugar, then whisk.
Add lemon juice and lemon rind, continuing to whisk, then add butter.
Continue over low heat for about 5 minutes until the mixture starts to thicken. Do not let it get too hot or it will curdle.
Transfer to a bowl, cover, and cool.
Tart Assembly
Place disks on flat surface. Using a piping bag, pipe filling in dollops on disks. Chill while making meringue.
Meringue
Ingredients:
3 egg whites
Pinch of cream of tartar
1/4 cup sugar
Directions:
Whisk the egg whites while slowly adding the cream of tartar and sugar. Mixture should be light and fluffy.
Using a piping bag, add to tarts immediately and place in hot oven to lightly brown the tops.
Chill until time to serve.
Garnish with a lime zest.
This recipe is from our Winter 2021-2022 issue. Read more here.