Amar Bakery's Pistachio Crème Brulee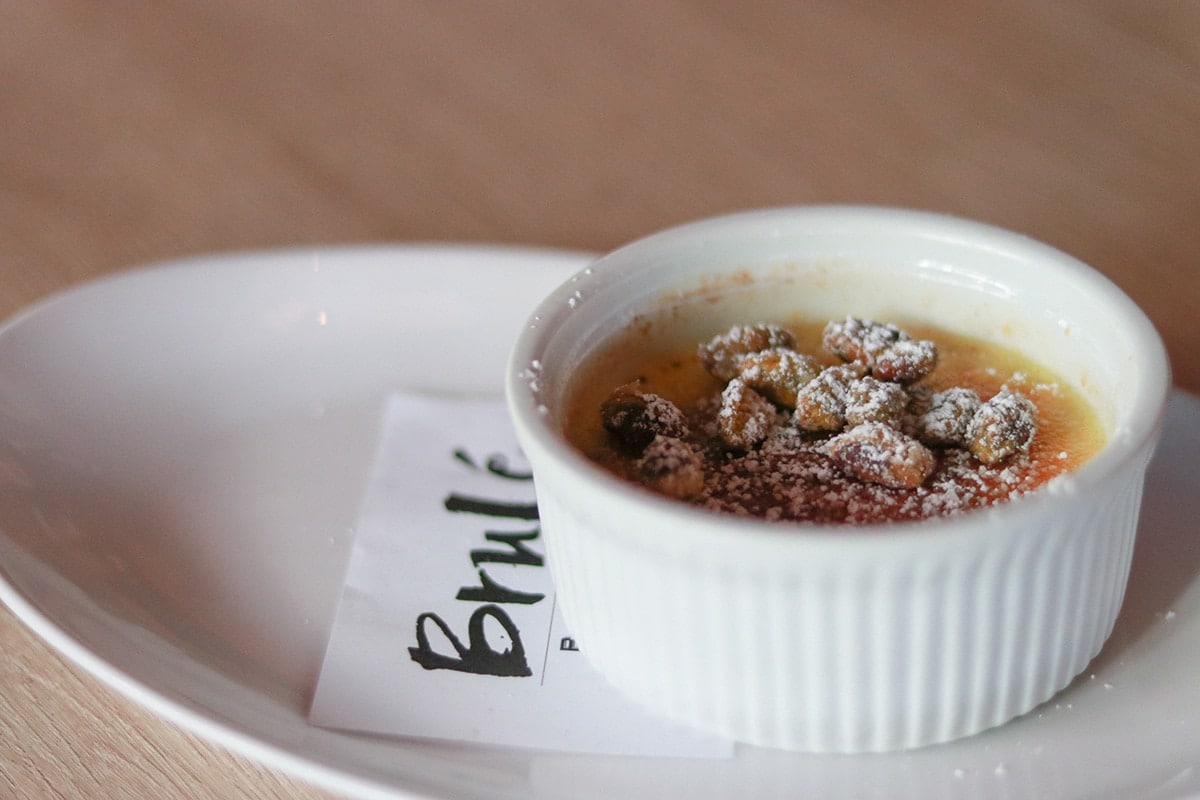 Impress your guests this holiday season with this dessert recipe from Amar Bakery in Boynton Beach. It's relatively simple to make but will leave a deliciously lasting impression on your guests. 1600 N. Federal Highway #15, Boynton Beach; 561.806.6726; amar-bakery.com
Ingredients
8 egg yolks
1 tsp. almond extract
1 tbsp. almond liqueur
1⁄2 cup granulated sugar
1 quart heavy cream
1 Tahitian vanilla bean, cut in half and deseeded (keep husk)
1⁄4 tsp. salt
1⁄4 cup chopped pistachios
Granulated sugar
Equipment
Strainer
Whisk
1 gallon sauce pot
Sheet pan
Oven-proof ramekins
Torch
Method
Preheat oven 350 degrees.
Blend together yolk, egg, sugar, extracts and salt. Set aside.
Bring heavy cream and vanilla bean with husk to a boil. Reduce to simmer.
Pour 1 cup in egg mixture, whisk and add back into pot of heavy cream.
Bring to boil, reduce to simmer. And strain into plastic container.
Add pistachio while hot.
Place custard 3⁄4 ways up ramakins, place on sheet pan.
Pour Hot water on sheet pan 1⁄2 up the ramakin. Bake in oven degrees for 38 minutes.
Let cool and dust with granulated sugar. Caramelized sugar with torch.
Let cool for 30 seconds. Serve with toasted pistachio and powdered sugar.
This recipe is from our Winter 2021-2022 issue. Read more here.