PB Catch's Crispy Bay Scallops with Oxtail, Apple & Spaetzle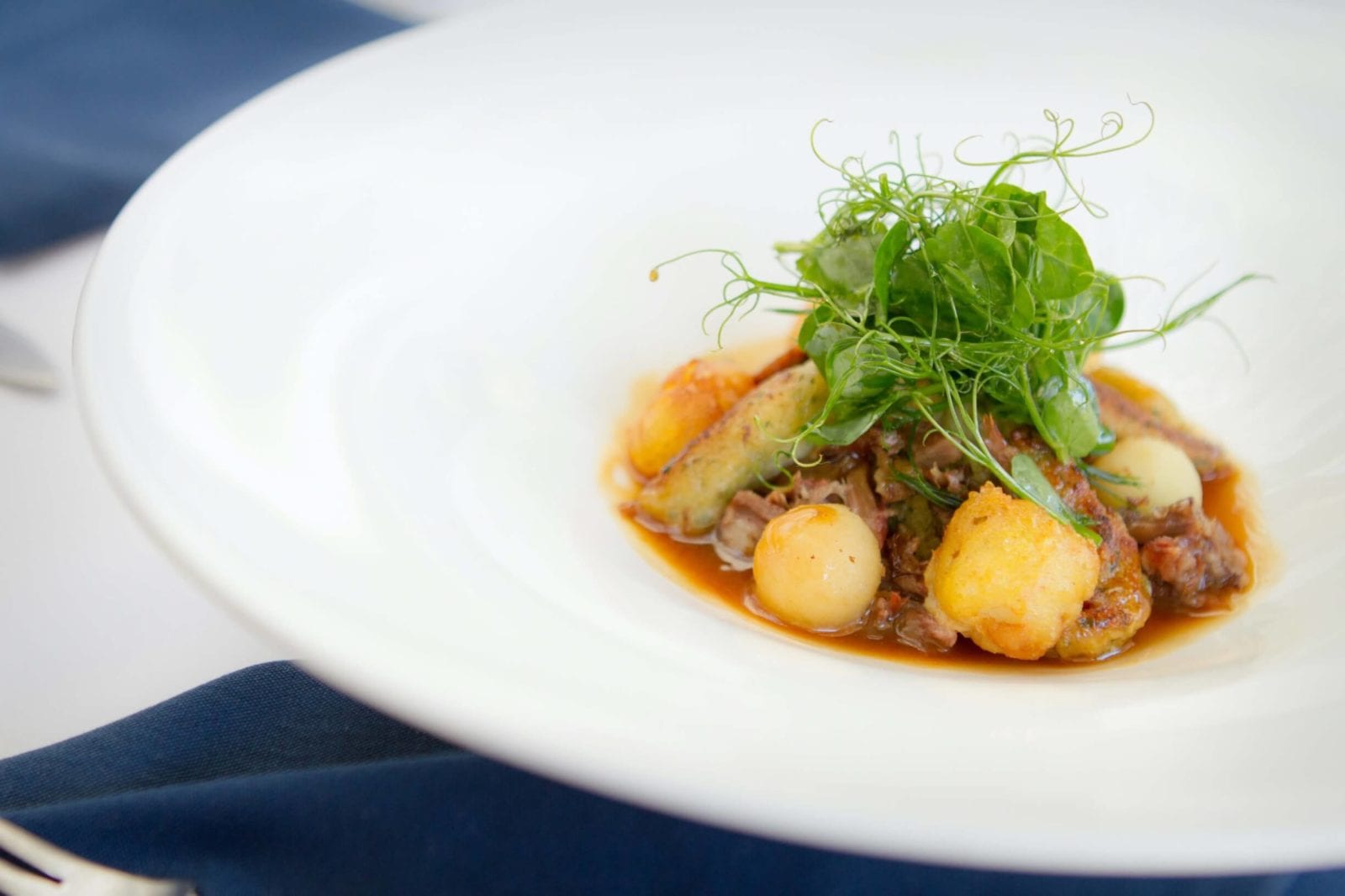 PB Catch's Crispy Bay Scallops with Oxtail, Apple & Spaetzle - Photo by Jordan Vilonna
Sustainability is a top priority at PB Catch Seafood + Raw Bar, hailed as one of Palm Beach's top seafood restaurants thanks to its innovative menu and expansive raw bar featuring only the freshest locally and responsibly sourced fish. "The apple, spaetzle and braised oxtail give our crispy bay scallops a comfort-food feel that makes it the perfect holiday dish," says Chef de Cuisine Aaron Black. 
RECIPE
Serves 4
For the Oxtail:
1 oxtail
2 tbsp canola oil
½ cup onion, diced
½ cup carrot, diced
½ cup celery, diced
1 tsp whole black peppercorns
1 bay leaf 
Heat oil in a pot. Add onion, carrot and celery and cook until caramelized. Add oxtail, black peppercorns and bay leaf and water to cover. Cover and cook until the oxtail is tender, 2½-3 hours. Remove oxtail from pot, cool and separate meat from bone and fat. Reserve. Strain, cool and reserve cooking liquid.
For the Apple:
1 Granny Smith apple
¼ cup water
¼ cup dry white wine 
Peel the apple, reserving skins in ice water. Dice the peeled apple and put in a bowl with water and dry white wine to prevent browning. Purée scraps and skins in Vita-Prep or blender and strain. Remove diced apple from bowl, place in storage bag and add strained liquid from skins to diced apple. Set aside.
For the Spaetzle:
2 cups all-purpose flour
¼ tsp nutmeg
1 cup shredded Parmesan cheese
1 tsp each chive, chervil, parsley and tarragon
1 whole egg plus 3 yolks
1 cup buttermilk
1 tsp salt
½ tsp white pepper 
Combine ingredients without over-mixing and rest 1 hour. From a cutting board, cut small pieces of batter (think gnocchi) and place in a pot of boiling salted water until tender and hydrated through. Cool and reserve.
For the Scallops:
12 oz bay scallops
1 tbsp all-purpose flour
Beer batter (recipe below)
Canola oil for frying 
Remove the "shoe" from the scallops and give them a quick bath in salted ice water. Pat dry and dust with flour, dip in beer batter and deep fry until crispy and golden. Drain quickly on a paper towel, then divide scallops between two serving bowls.
For the Beer Batter:
1 cup all-purpose flour
1 egg, beaten
1 tsp salt
1 tsp ground black pepper
1½ cups beer
In a small mixing bowl, add flour, egg and black pepper. Stir in 1 cup beer. If more liquid is needed, add additional beer in small amounts to incorporate all ingredients.
Final Preparation:
Add 2 tbsp butter in a pan and heat until foaming. Add spaetzle and brown nicely on both sides. Add picked oxtail and green apple, heat through and divide between four serving bowls. Add crispy bay scallops. For the sauce, add reduced oxtail braising liquid to a pan and season with salt and 1 tbsp sherry vinegar. Heat through, then divide sauce between serving bowls. Garnish with chopped fresh herbs.
251 Sunrise Ave., Palm Beach; 561.655.5558; pbcatch.com