Holiday-Inspired Cocktail Recipes – Broward-Palm Beach Edition
Because no holiday celebration is complete without a corresponding libation, we tapped some local hot spots to share their favorite drinks of the season.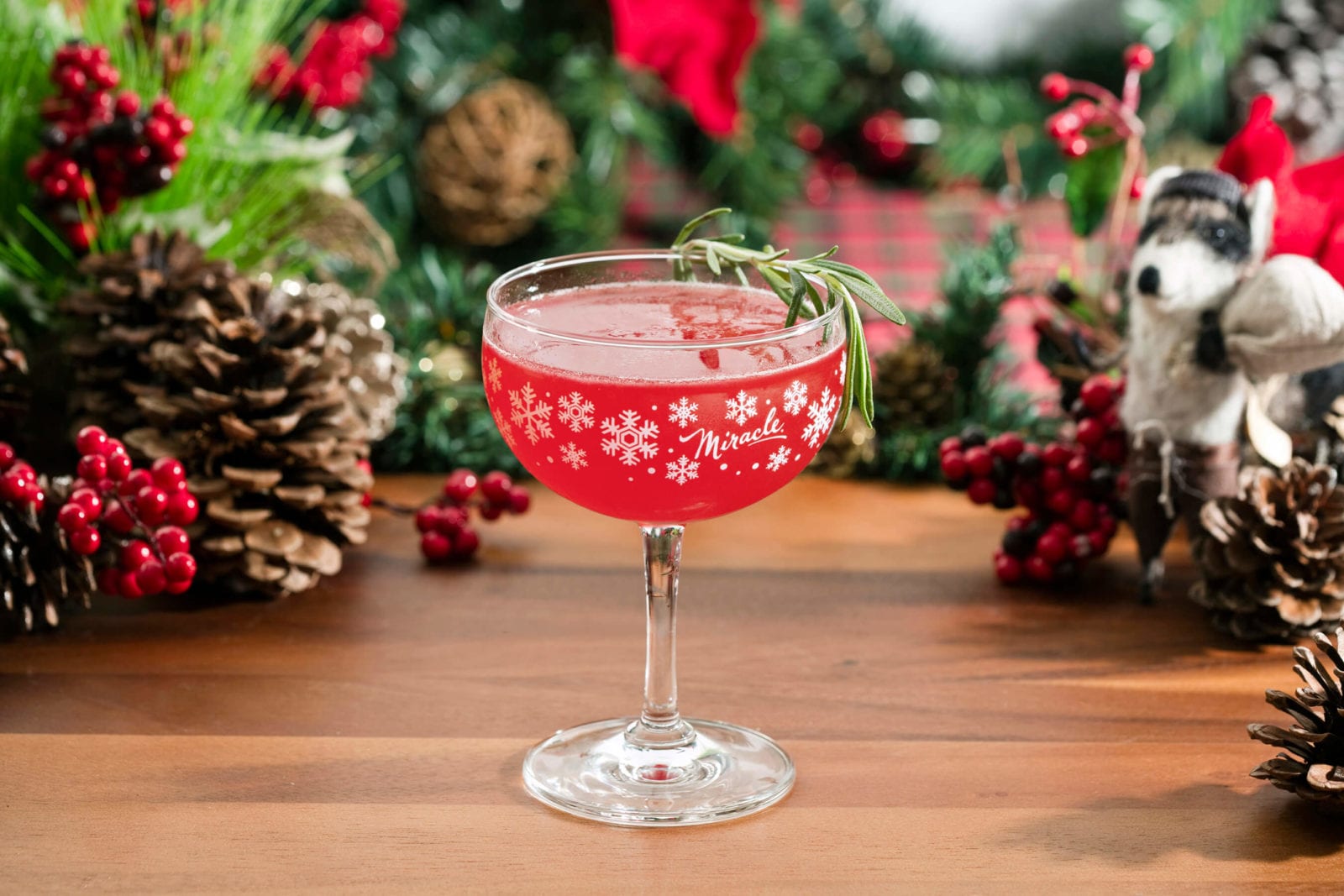 Bachour's Coquito
Miracle's Christmapolitan
"The Christmapolitan has become one of Miracle's cornerstone cocktails and is the only drink that's continuously been on the menu since 2014. Drinking one is like that first hug as you arrive home for holiday dinner: warm, familiar and delicious." — Joann Spiegel, General Manager, Miracle
Ingredients:
2 oz vodka
¼ oz elderflower liqueur (St-Germain)
¼ oz dry vermouth (Noilly Prat)
1 oz spiced cranberry sauce
½ oz lime juice
Absinthe spritz
Rosemary sprig
Method:
Spray a chilled coupe with absinthe mist. Place all ingredients in a shaker. Top with ice, shake and fine strain into the prepared coupe. Garnish with a rosemary sprig.
Pop-up through Dec. 26 at: Death or Glory, 116 NE Sixth Ave., Delray Beach; 561.808.8814; miraclepopup.com

Henry's Palm Beach Merry Cranberry
"This delicious and festive libation—with deep reds from the cranberries and green from the mint— looks (and tastes) very much like Christmas. The warm flavor of cinnamon is reminiscent of the holidays as well." — Carter Phillips, Restaurant Manager, Henry's Palm Beach
Ingredients:
2 oz Bulleit Rye whiskey
1½ oz housemade cranberry sauce
½ oz cranberry juice
½ oz rosemary simple syrup
½ oz cinnamon simple syrup
½ oz lemon juice 
Method:
Shake ingredients and strain over cold draft ice. Serve in rocks glass with a handful of fresh cranberries floating.
Via Flagler by The Breakers, 229 Royal Poinciana Way, Palm Beach; 561.206.1896; henryspalmbeach.com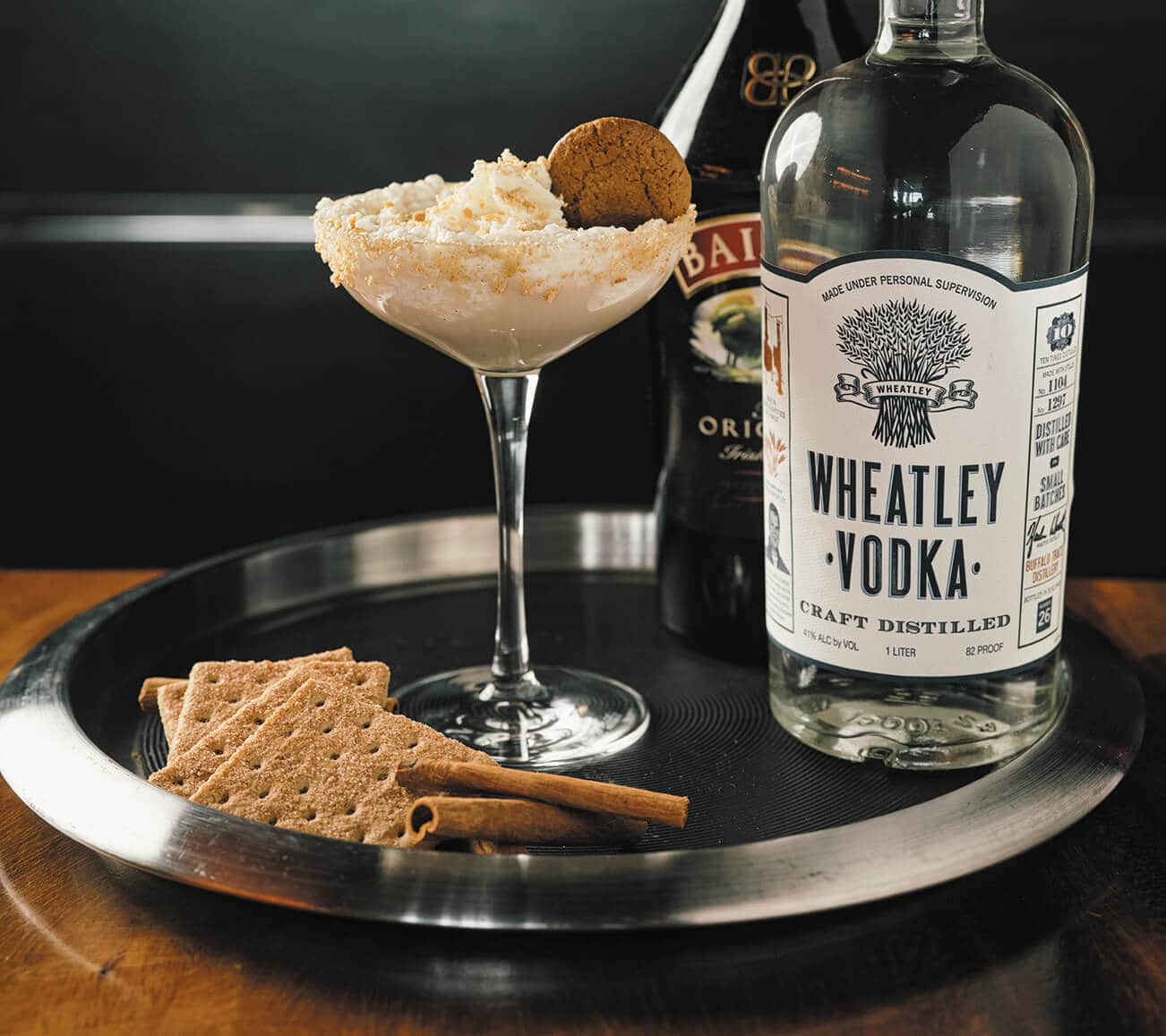 1000 North's Gingerbread Martini
"Nothing says the holidays like the smell of homemade gingerbread cookies. 1000 North treats all your senses by combining the scent, taste and visual appeal of gingerbread into a drinkable delight." — Todd Juckett, Lead Bartender, 1000 North 
Ingredients:
1 oz Wheatley Vodka
1 oz Baileys Irish Cream
1 oz Kahlúa
1 oz gingerbread syrup
1 oz Domaine de Canton 
Method:
Rim a martini glass with graham cracker crumbs, then line the glass with gingerbread syrup. Combine equal parts Wheatley Vodka, Baileys Irish Cream, Kahlúa and Domaine de Canton. Shake and pour into glass. Top with fresh whipped cream and an extra sprinkle of graham cracker crumbs. 
1000 N. U.S. Highway 1, Jupiter; 561.570.1000; 1000north.com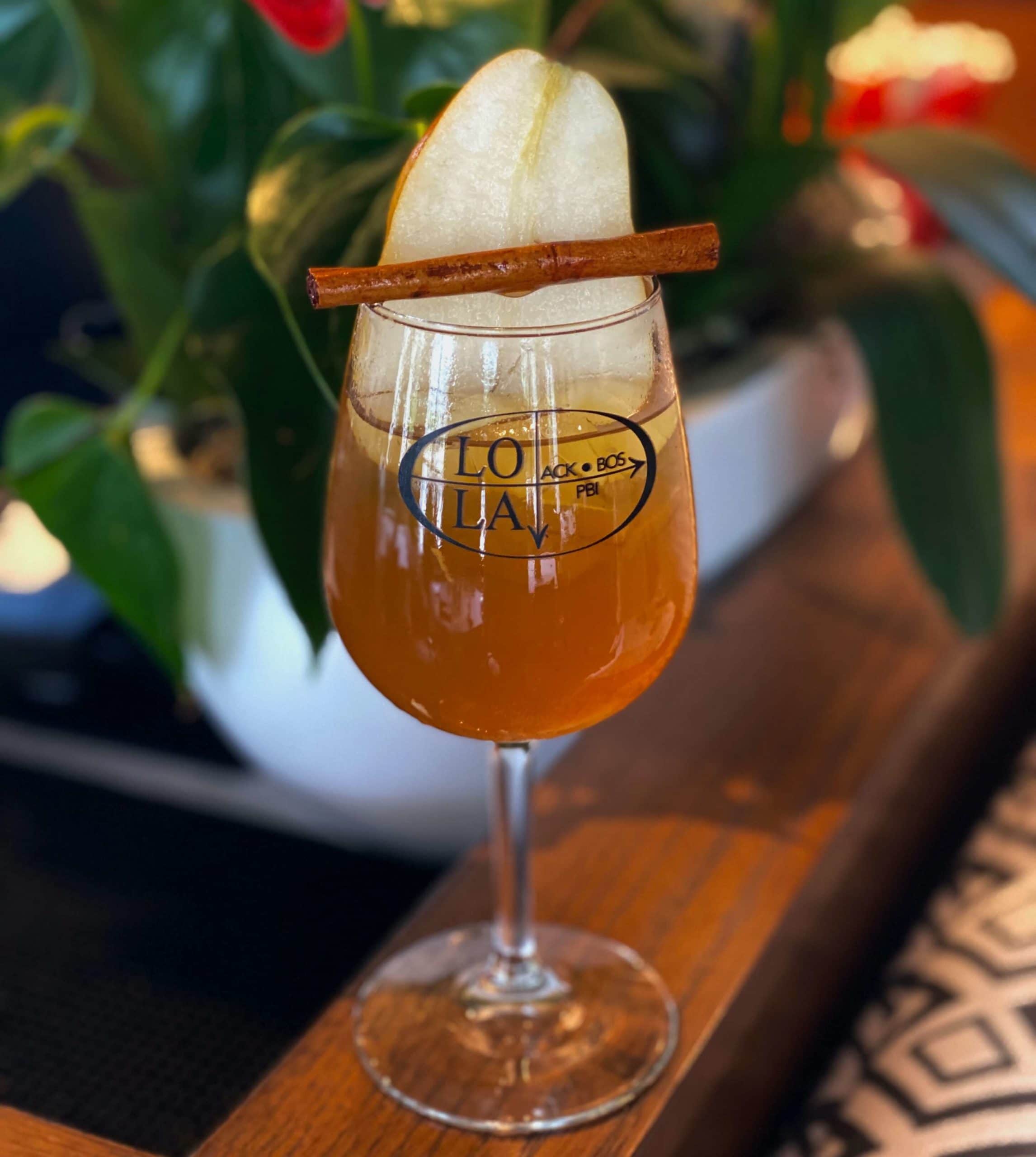 Lola 41's Winter White Sangria 
"We love this simple yet elegant sangria recipe for the holidays. It's light and refreshing, and by adding Bosc pear, you taste the seasonality of the drink with its subtle flavors of cinnamon and nutmeg." — Kerri Power, General Manager, Lola 41
Ingredients:
Serves 4-6
1 bottle pinot grigio
6 oz Rothman & Winter Orchard Pear Liqueur
½ cup Demerara brown sugar
3-4 organic Bosc pears, sliced thin
4 oz cleaned and shaved fresh organic raw ginger
6-8 cinnamon sticks
1 tbsp ground cinnamon
1 tbsp ground nutmeg
Sprinkle of whole cloves
Method:
Combine all of the above ingredients in a large pitcher and stir until nicely mixed. Cover the pitcher and refrigerate for 24-48 hours for a "cold steep." Once ready, serve over ice in a white wine glass and garnish with a steeped pear slice and cinnamon stick.
290 Sunset Ave., Palm Beach; 561.599.5652; lola41.com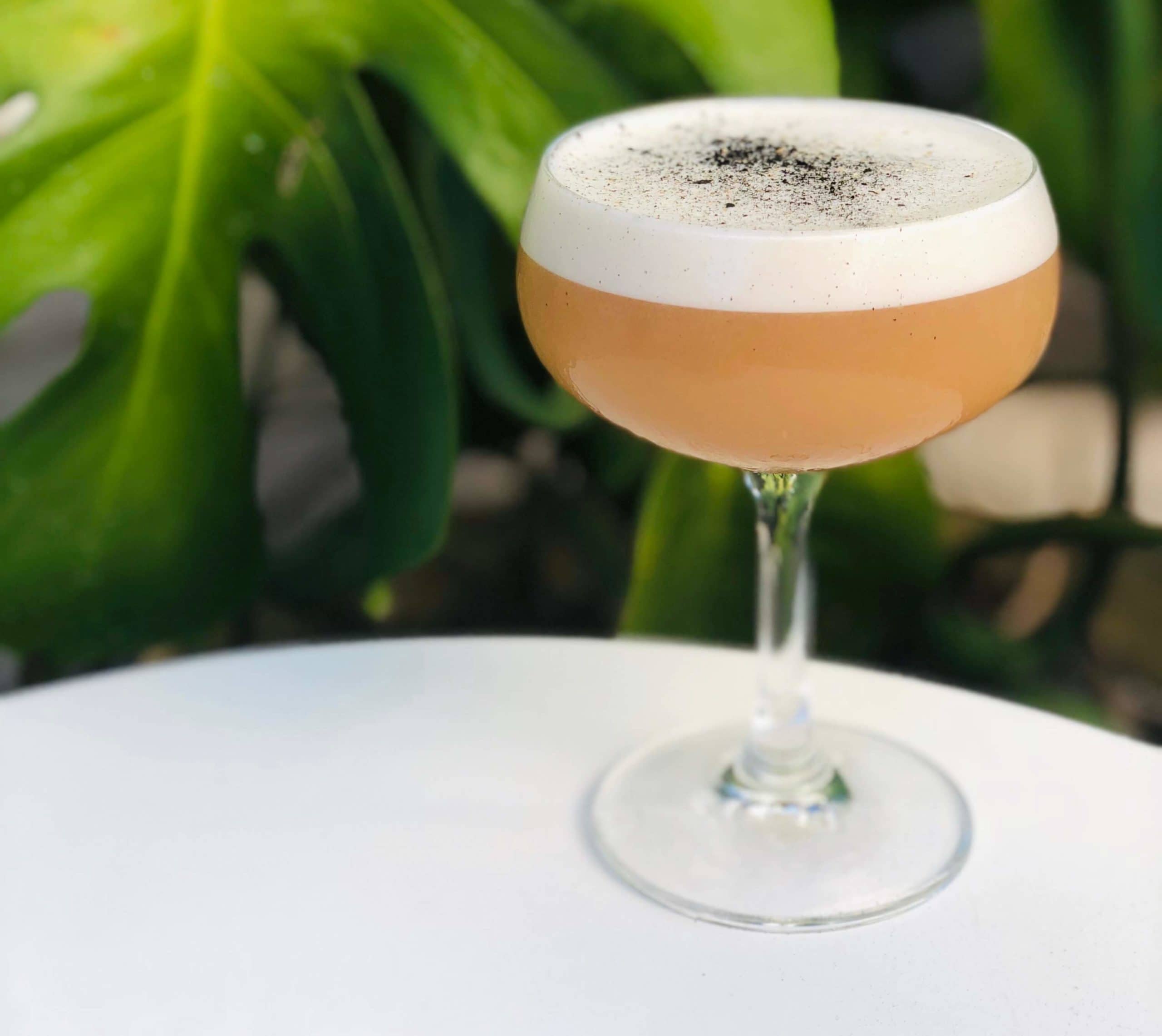 The Parched Pig's Jamaican Christmas
"This is the perfect craft cocktail to enjoy while celebrating Christmas in South Florida! Dark rum, pineapple and the many spices delivered from the allspice liqueur will have you imagining Santa on a surfboard." — Katy Galluccio, Mixologist, The Parched Pig
Ingredients:
Serves 1 
1½ oz Blackwell rum
½ oz St. Elizabeth Allspice Dram
½ oz fresh-press lime juice
½ oz pineapple juice
¾ oz cinnamon syrup
3 dashes Peychaud's Bitters
1 egg white, whipped
Toasted cinnamon flakes 
Method:
Combine the first 6 ingredients in a beverage shaker with crushed ice. Shake vigorously to blend. Strain into martini glass. Gently add whipped egg white and sprinkle with toasted cinnamon flakes. Serve immediately.
4580 Donald Ross Road, Palm Beach Gardens; 561.360.3063; thecoolpig.com

Tommy Bahama's Huladays Cocktail
"Our Huladays cocktail features flavors we all crave during the holidays. Our housemade ginger syrup infused with cranberries is the perfect accent for the light notes of vanilla and wood in Tommy Bahama rum." — Rob Aspaas, Regional Manager of Restaurants & Cocktail Director, Tommy Bahama
Ingredients:
1½ oz Tommy Bahama rum
1 oz cranberry ginger syrup (recipe below)
½ oz lemon juice
1 oz prosecco 
For the Cranberry Ginger Syrup:
Cook 10 oz cranberries with 8 oz of water, 8 oz sugar and 5 thumb-size pieces of peeled ginger (about 1-inch pieces). Cook for about 10 minutes. Leave 1 piece of ginger in the mix and blend thoroughly. Do not strain. Store in a squeeze bottle. 
Method:
In a mixing glass, add the rum, syrup and lemon juice and shake, with ice, in a mixing tin. Add prosecco and gently strain into coupe glass. Garnish with cranberry and mint sprig
Tommy Bahama Marlins Bar, 740 E. Las Olas Blvd., Fort Lauderdale; 954.635.2034 & 150 N. Point Drive, Dania Beach; 954.635.2048; tommybahama.com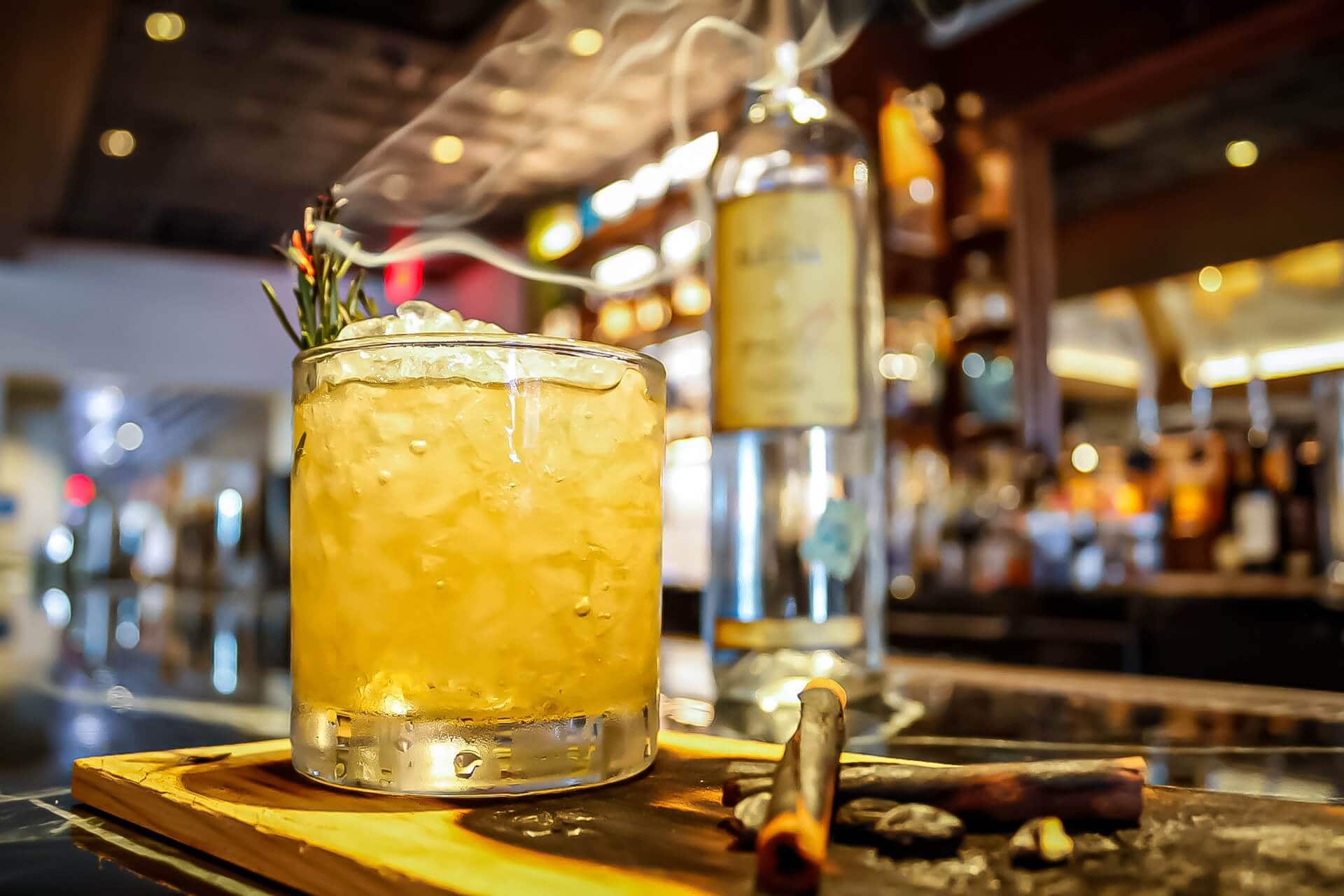 Lionfish's Barefoot in Mexico
"This cocktail is inspired by a classic Old-Fashioned, blended with seasonal flavors and the clean, smoky profile of one of the world's best mezcals. It embodies all the flavors of the holidays and pairs well with our cobia, lamb chops, and king oyster hot rocks. My house syrup smells so good that I would make it into a holiday candle if I could!" — Dave Weisberg, Bartender, Lionfish 
Ingredients:
2 oz Ilegal Mezcal Joven
¼ oz housemade honey syrup (rosemary, cardamom, black pepper, allspice, whole cloves, cinnamon and honey)
Black walnut bitters
Cedar smoke
Burned rosemary  
Method:
Start by adding 2 dashes of black walnut bitters to mixing glass, followed by the honey syrup, before finishing with Ilegal Mezcal. Add ice. Stir until proper solution and chill has been reached. Strain over crushed ice into a rocks glass. Top with crushed ice. Garnish with burned rosemary.
307 E. Atlantic Ave., Delray Beach; 561.639.8700; lionfishdelray.com