MiaCucina Shares Holiday Recipes from the Kitchen of Chef Alex Diaz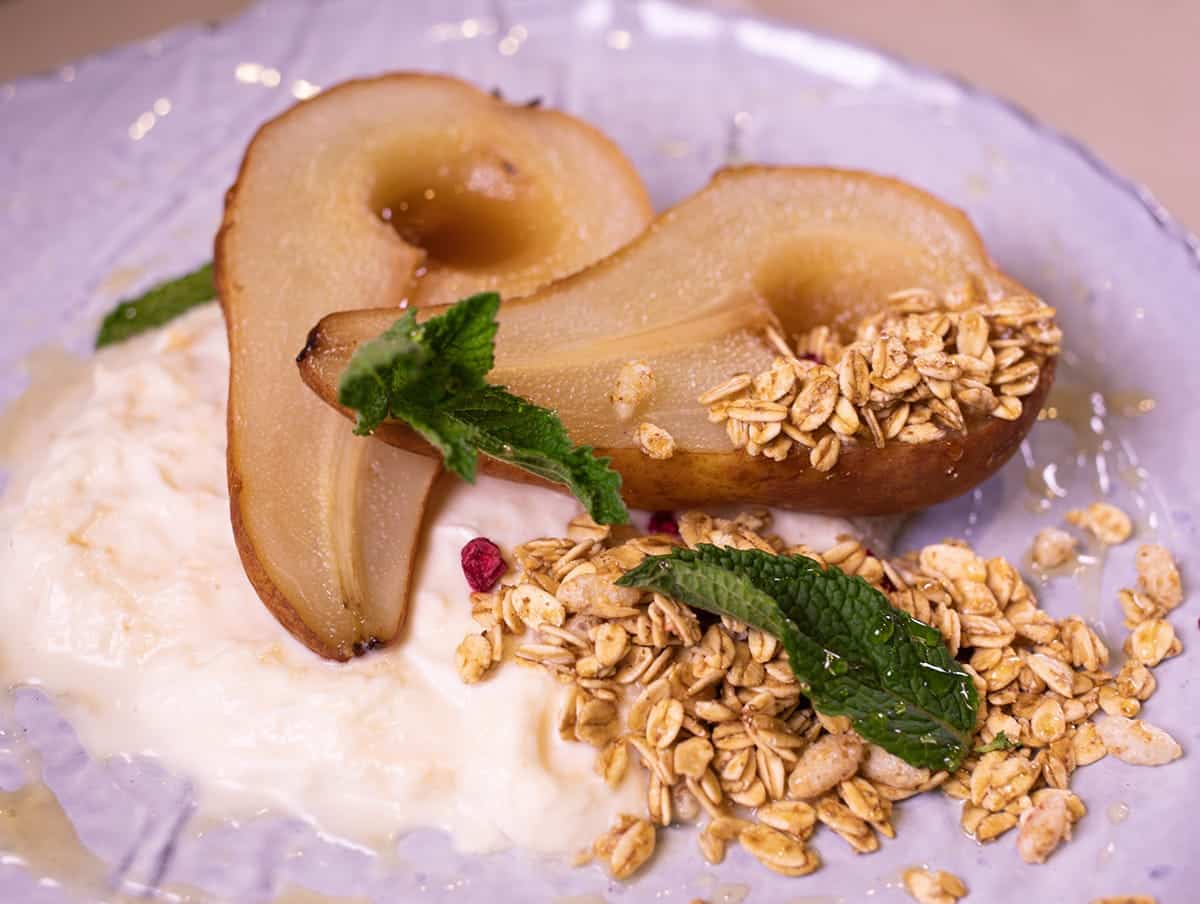 MiaCucina understands that the kitchen is truly the heart of the home, especially during the holidays, when it is filled with beloved family and friends. So in the spirit of the season, the luxury kitchen designer is sharing some of its favorite kitchens for holiday entertaining, plus accompanying recipes—which can inspire family culinary collaboration. The recipes are also great to try out in your brand-new kitchen, no matter what time of year it is!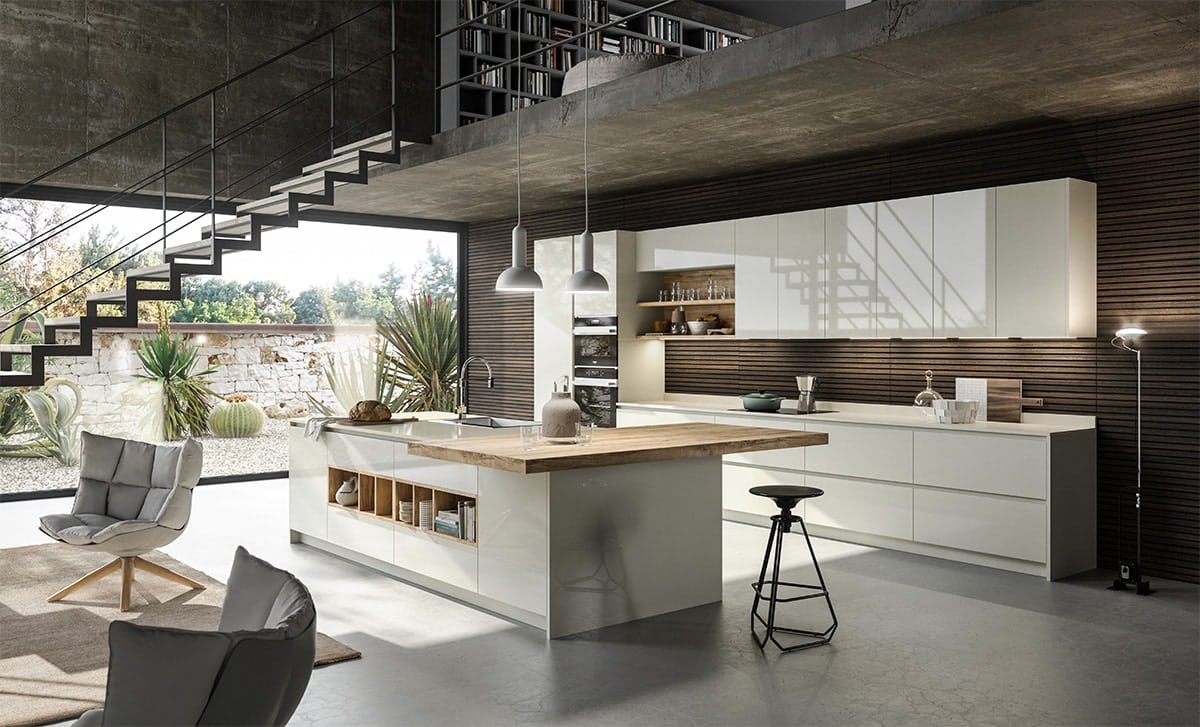 MiaCucina thanks our clients and partners for another spectacular year! We deeply value your patronage and appreciate your confidence in us. It is in this spirit that we send our heartfelt wishes for peace, joy and prosperity this holiday season. We look forward to working with you and continuing to create extraordinary spaces in the years to come!
Meet Sub-Zero Executive Chef Alex Diaz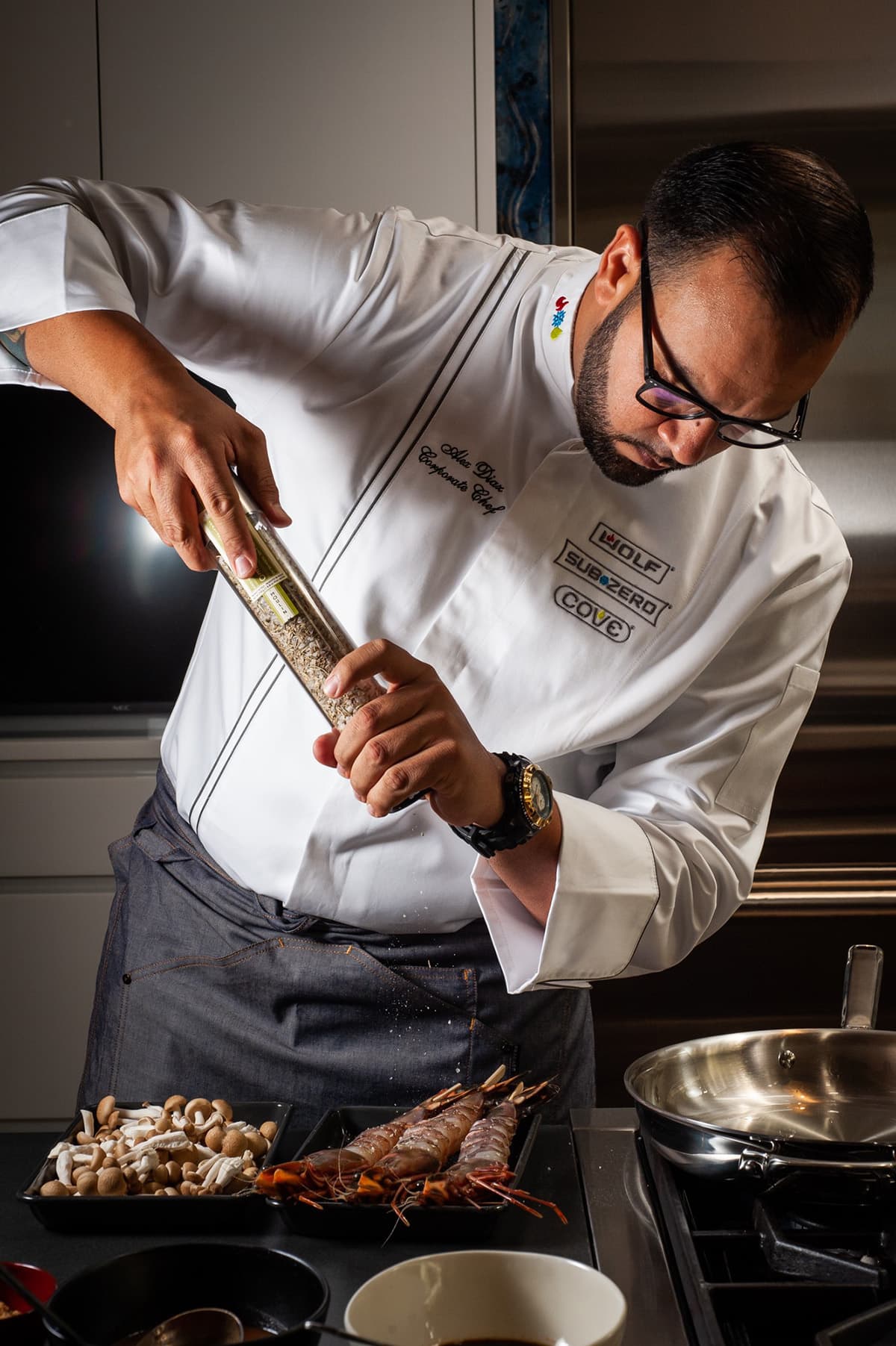 Alex Diaz serves as the executive chef for Sub-Zero, Wolf and Cove's newest U.S. showroom in the heart of the Miami Design District. Diaz's rigorous yet experimental approach to cooking is grounded in a desire to investigate every aspect of a particular dish, from its cultural origins to the ingredients that distinguish it. Knowing the origins enables the chef to preserve the authenticity of a dish while adding his own unique twist.
He developed a love of cooking during his childhood in Puerto Rico and went on to study culinary arts at the San Juan Hotel School. The chef has over a decade of diverse experience, acquiring a profound understanding of cuisines from around the world. He has held every position in the kitchen and been mentored by or worked alongside such culinary icons as chefs from El Bulli in Spain, Paul Bocuse and Francis Metias. Prior to Sub-Zero, Diaz played a role in opening and running various restaurants in Miami and Orlando.
CAPRESE GARDEN SALAD & GRILLED LANGOUSTINE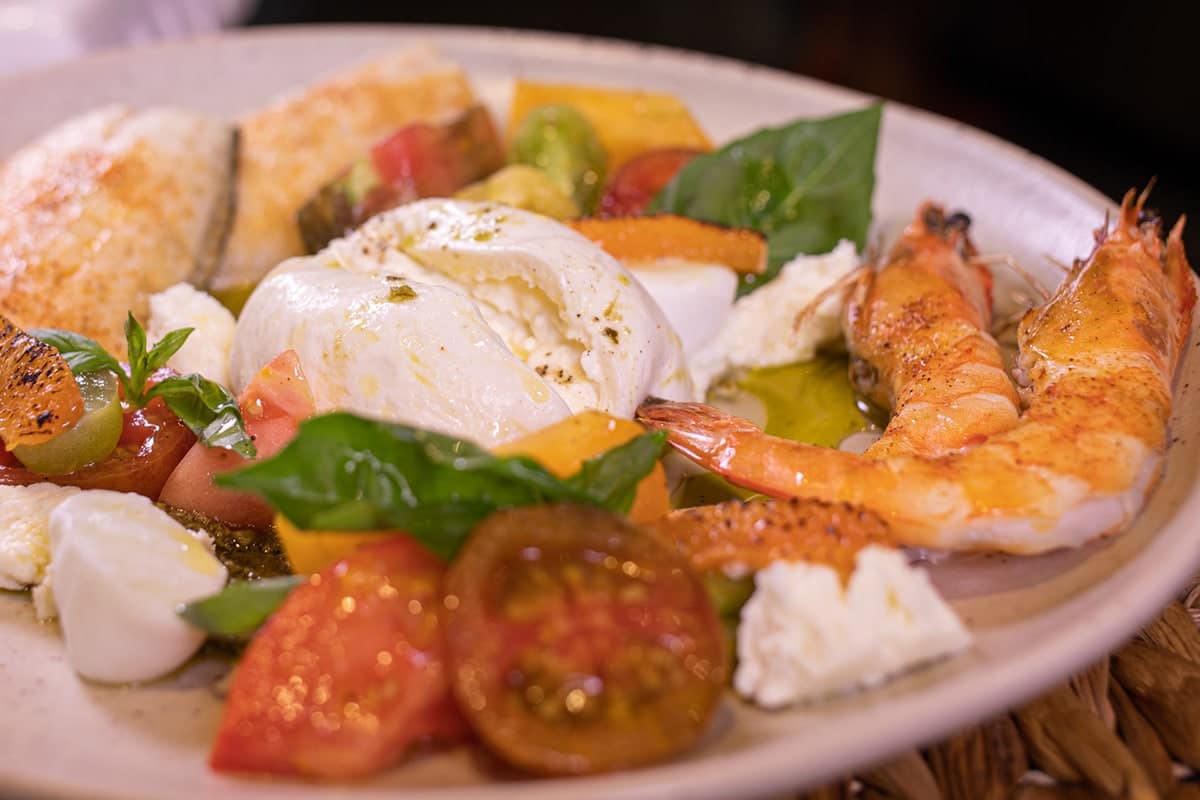 Prized for their delicate sweetness and meaty flesh, langoustine pair beautifully with the quintessentially Italian caprese salad. This elegant dish will absolutely delight your guests!
Yield: 4 servings
Ingredients:
1 lb. heirloom tomatoes
2 oz. fresh basil, plus extra for garnish
4 oz. fresh mozzarella, unsliced
Olive oil
1 orange
Salt and pepper to taste
4 langoustines U7 (can also use shrimp)
Procedure:
Preheat your Wolf range grill for approximately 20 minutes.
Cut the tomatoes in thick slices (or any desired cut—be creative!) and place in a tray with a rack. Season with salt and pepper and let sit.
Hand pick pieces of mozzarella and place in a mixing bowl, drizzle a bit of olive oil, squeeze half of the orange, chop the basil leaves, and add salt and pepper to taste. Set aside.
Clean your langoustines and season with salt, pepper, olive oil and 3 tbsp. of the orange juice.
Once the preheating is done, grill your langoustines for two minutes on each side and set them aside.
On your dish, place tomatoes and put the pieces of mozzarella around them, drizzle with the marinade of the mozzarella. Add some of the remaining basil leaves and place the langoustine on top of the tomatoes. Enjoy!
SLOW-ROASTED PEARS & STRACCIATELLA CHEESE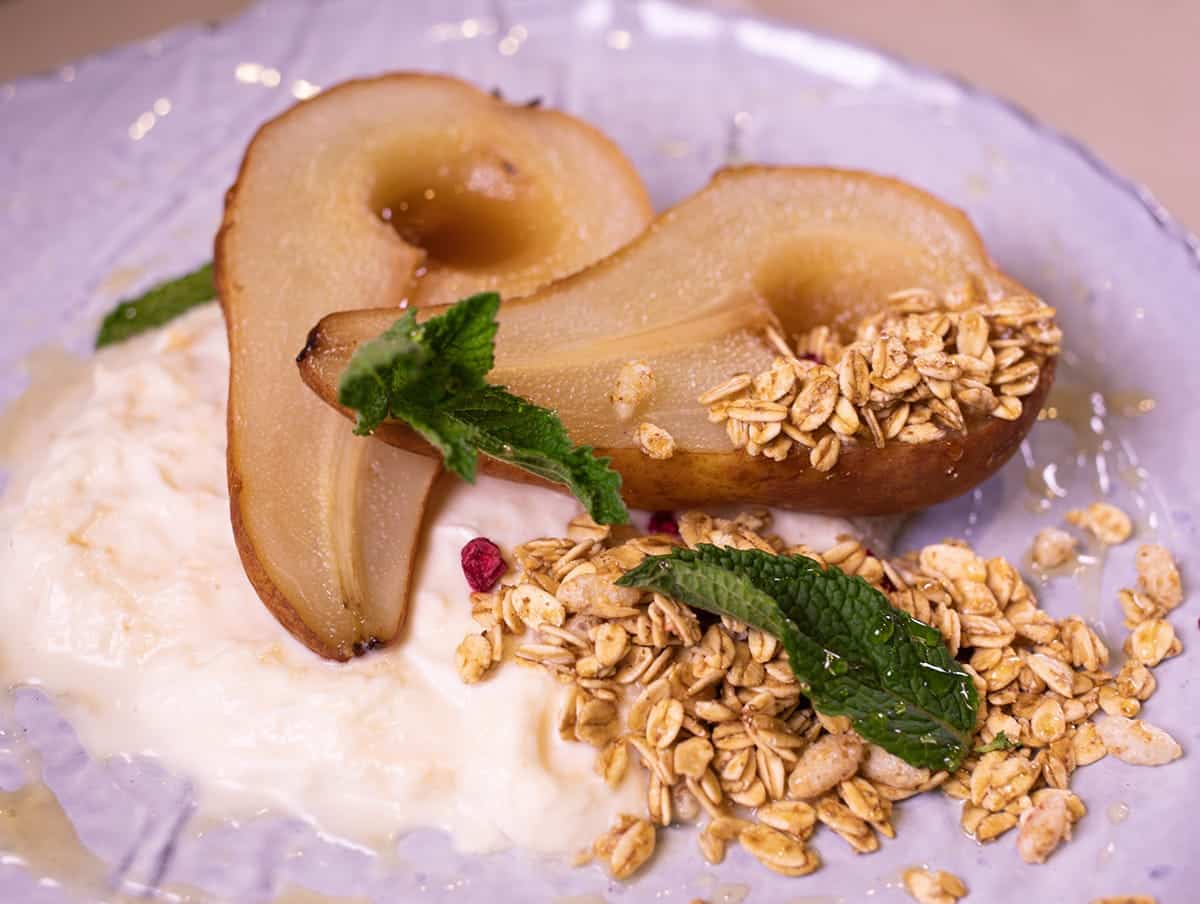 Cheese and pears are a classic combination—ancient, in fact, and so loved throughout Italy that there's a saying based on this perfect marriage: Al contadino non far sapere, quant'è buono il cacio con le pere! "Don't tell the farmer how good pears are with cheese," implying that he'll save them all for himself!
Yield: 6 portions
Ingredients:
3 pears (preferably Bosc)
2 oz. muscovado sugar or brown sugar
2 oz. honey
1 tsp. vanilla extract
1 Meyer lemon (or yellow lemon)
Fresh granola
¼ cup stracciatella cheese
Procedure:
Cut the pears in halves and take the cores out with a spoon, then place on your Wolf Convection Steam Oven tray and dust with brown sugar. Set aside.
Add the stracciatella to a mixing bowl and add the vanilla, Meyer lemon zest and 1 tbsp. of the honey and mix by hand lightly to incorporate all the flavors. Set aside.
Add the granola to a flat dish and set aside.
Put the pears in your Wolf Convection Steam Oven on the Compote option under gourmet mode. Cook for 15 minutes.
Place the stracciatella on a dish and make a nest in the center of the cheese so that it can hold the pears. Once they're ready, brush the extra honey on the top of the pear and pass them through the granola to create a crispy crust. Place on the stracciatella and add an extra glaze of the honey. Enjoy!
MOSCOW MULE COCKTAIL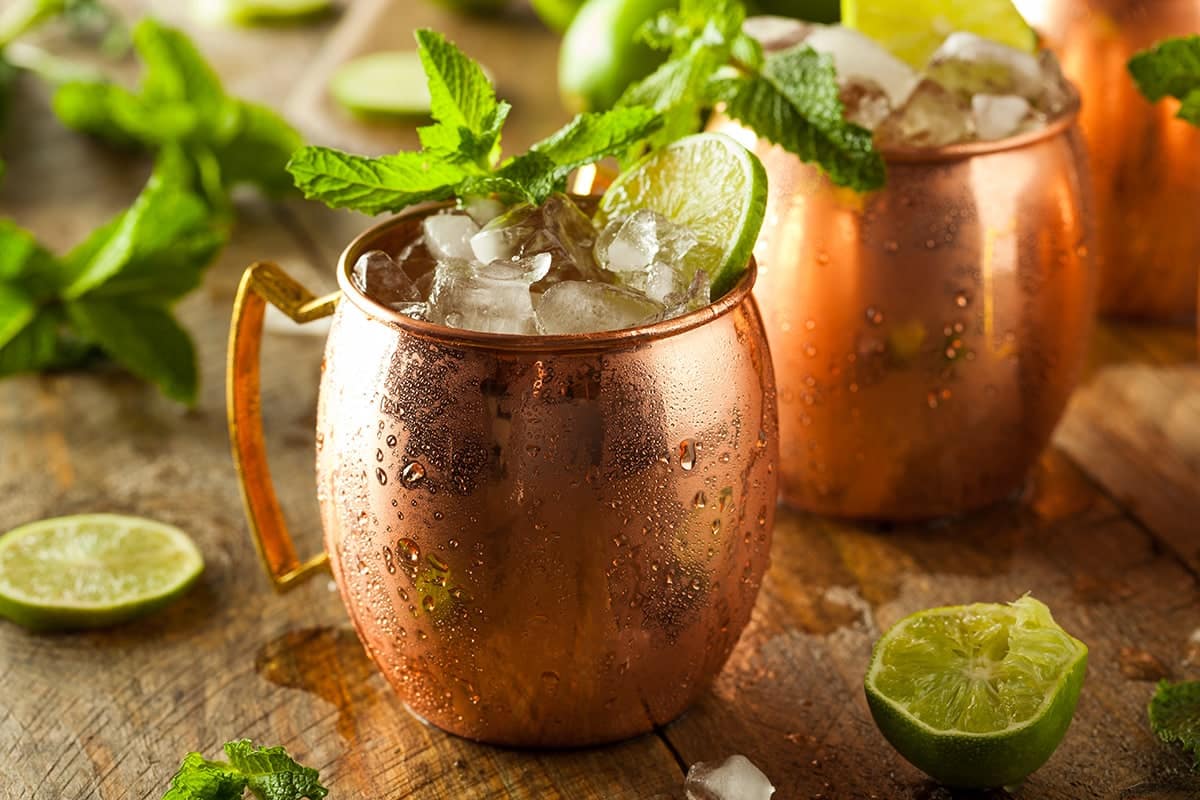 Traditionally served in a copper mug, this zingy 1940s-era cocktail has recently made a resurgence. This version uses crushed ice rather than ice cubes for a smoother drink. The key to a good Moscow mule is real ginger beer, which is spicier than ginger ale.
Yield: 2 cocktails
Ingredients:
2 cups ice cubes
Finely grated zest of 2 limes plus ¼ cup fresh lime juice (from 2 or 3 limes)
½ cup vodka
1 to 1½ cups ginger beer
1 lime, cut into wedges
Preparation:
Place the ice and lime zest in the blender and select the Ice Crush setting to create crushed ice.
Once the cycle finishes, fill each glass two-thirds full with the shaved lime ice.
Top each glass with ¼ cup of the vodka, 2 tbsp. of the lime juice, and ½ to ¾ cup of the ginger beer.
Garnish each glass with a lime wedge and serve.
Pro Tip: Pulsing the lime zest with the ice cubes enhances the bright citrus flavor of the drink.
This story is from our Winter 2021-2022 issue. Read more here.