Silver Lining Catering's Seared Scallops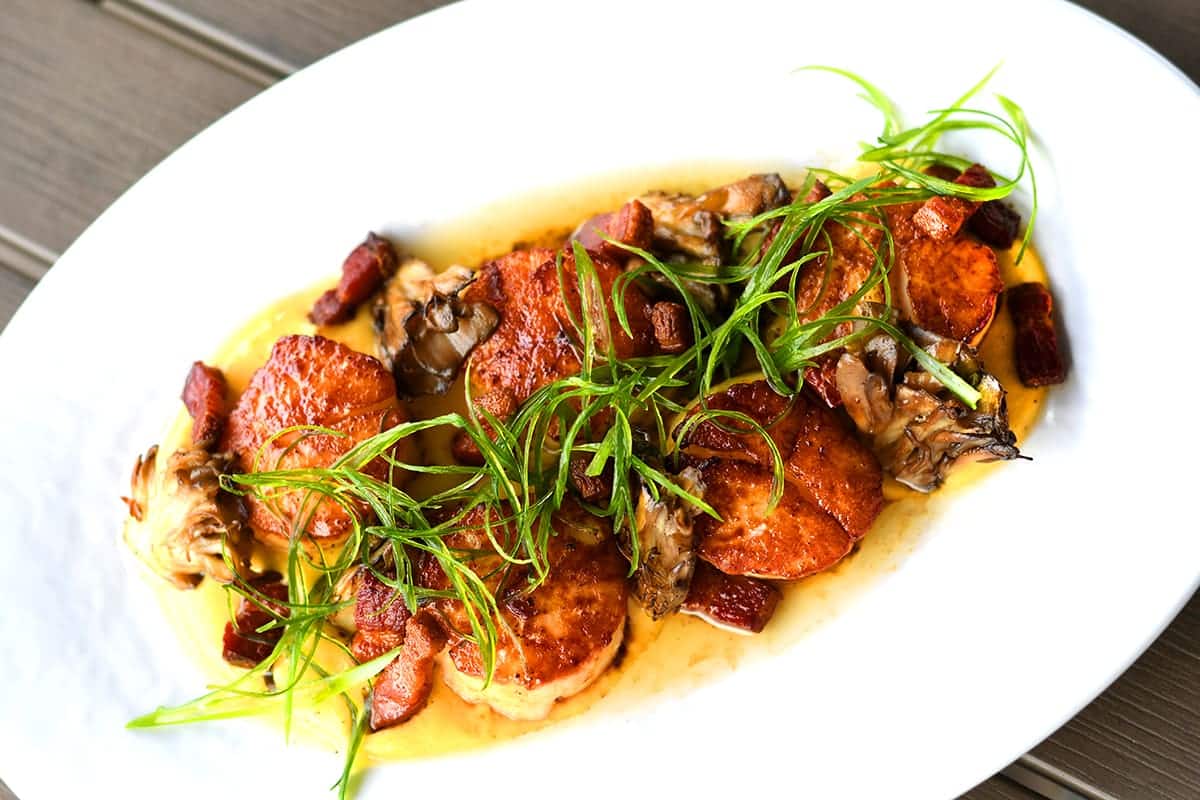 This seared scallop dish can be presented as a passed hors d'oeuvre or plated option for your guests to enjoy this holiday season. The vanilla-lemon brown butter and applewood smoked bacon flavors effortlessly come together to create a memorable dish. 2059 Blount Road, Pompano Beach; 954.917.1020; silverliningcatering.com
Serves 4
Corn puree
Ingredients
4 cups fresh sweet corn off the cob
2 tbsp. butter
2 tbsp. white miso
1 shallot, sliced
2 cloves garlic, chopped
1 cup cream
1 tsp. salt
1 tsp. mirin
Method
Sweat shallot and garlic in butter until soft
Whisk in miso paste until equally distributed
Add cream and reduce by half on medium heat
Blend in food processor and pass through a fine sieve, season with mirin and salt.
Vanilla lemon brown butter
Ingredients
1 stick of unsalted butter
1 lemon
1 vanilla bean or 1 tsp. vanilla extract
Method
Brown butter slowly over medium heat, whisking constantly to avoid burning.
Once you are at the browning point, turn off the heat and add the juice of one lemon.
Whisk in vanilla. Put to side to cool.
Roasted mushrooms and bacon
Ingredients
¼ pound thick-cut bacon, diced
1 # preferred mushrooms cleaned
2 tbsp. white wine
4 sprigs of thyme
Method
Render bacon slowly in a pan under medium heat
Remove rendered bacon, with the bacon fat remaining in the pan
Turn the heat to high
Add the mushrooms until golden brown
Strain off fat
Toss in thyme
Deglaze with white wine and season with salt
Toss the bacon back in and serve
Scallops
Ingredients
16-20 pieces of U-10 scallops
Method
Pat the scallops dry with a towel, or paper towel, this step is crucial to getting the best color we can.
Place your pan on a burner with high heat, add some of the bacon fat from earlier.
Once the pan is smoking, season your scallops
Place the scallops delicately in the pan about 1 inch a part, if too close together they will begin to steam, and it will be impossible to get good color. (this step may take several rounds, depending on size of pan)
Cook each scallop about 2-3 minutes per side if you are looking for a nice medium. If you want them more cooked 4-5 minutes but no longer or they will be tough.
Remove the scallops from the pan and serve.
This recipe is from our Winter 2021-2022 issue. Read more here.