Café Boulud's Butternut Squash Risotto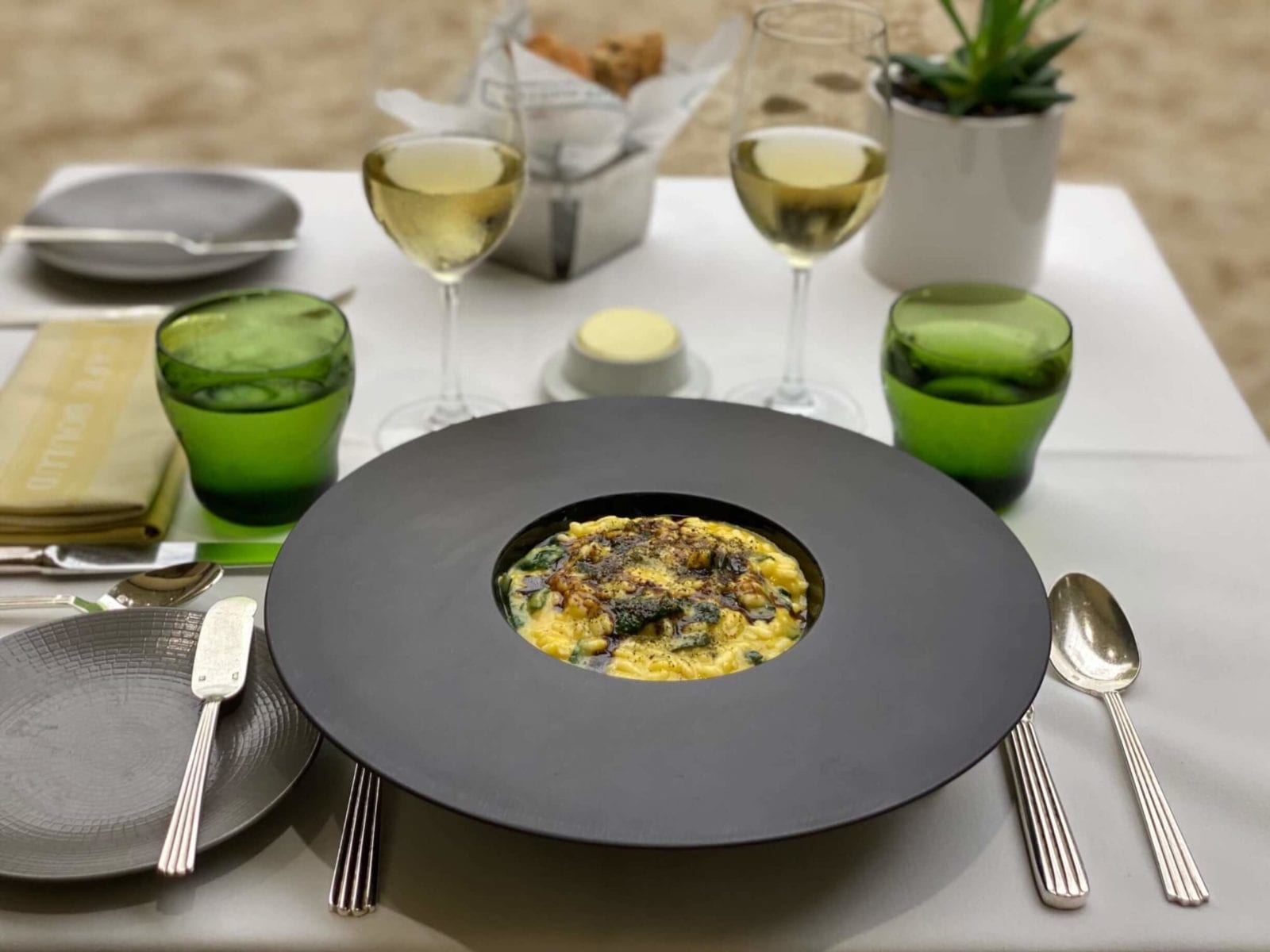 Café Boulud's Butternut Squash Risotto
Chef Daniel Boulud is known for his innovative interpretations of traditional French and international cuisine that he infuses into more than a dozen eateries worldwide. The award-winning Café Boulud at the Brazilian Court Hotel lives up to his reputation with a rotating menu of seasonal dishes. "Our butternut squash risotto is the perfect holiday recipe to make at home," says Executive Sous Chef Anthony DiGregorio. "Its warm, luxurious mouthfeel and seasonal ingredients evoke memories of the season." 
RECIPE
4-6 servings
Preparation Time: 10 minutes
Cook Time: 30 minutes 
For the Risotto:
4 cups chicken stock
1½ cups Arborio rice
3 tbsp butter
1 small white onion Brunoise
2 tbsp white wine
Salt to taste
Cut the white onion into a uniform brunoise to ensure even cooking.

Place the butter into a pot and melt, making sure not to brown the butter. Once the butter is melted, add brunoise onion and season with salt. Stir regularly and cook until the onion is translucent and tender with no color (2-3 minutes).

Add the Arborio rice and stir with a wooden spoon to coat it in the butter. Cook for approximately 3 minutes until there is a slightly nutty aroma.

Add the white wine and cook, stirring continuously until the wine is fully absorbed.

Add a ladle of chicken stock to the rice and stir until the liquid is fully absorbed. When the rice appears almost dry, add another ladle of stock and repeat the process.

Continue adding stock, a ladle at a time, for 20-30 minutes or until the grains are tender but still firm to the bite without being crunchy (al dente).
For the Butternut Brown Butter Purée:
1 medium butternut squash
4 oz butter
1 oz creme fraiche
1 tbsp canola oil
1 sprig thyme
2 garlic cloves
Salt and pepper to taste
Cut the butternut squash in half and remove the seeds. Brush the squash with oil, season with salt and pepper. Smash garlic clove and place garlic and thyme on top of squash.

Place the butternut squash on a baking tray lined with parchment paper and put in a 350 F oven until tender (approximately 30 minutes).

Let the squash cool until you can handle it and remove the garlic and thyme.

Scoop out the flesh of the butternut squash and set aside.

In a small saucepan, place butter and cook until golden brown but not burned.

In a blender, place your reserved butternut squash and brown butter with 1 tbsp of creme fraiche 

Purée on high until smooth. Taste for seasoning. 
For the Rosemary Mascarpone:
4 oz mascarpone
3 sprigs rosemary
Salt and pepper to taste
Remove the sprigs of rosemary from the stem and chop finely with a sharp chef's knife. Mix the mascarpone with the chopped rosemary and season with salt and pepper.
For the Sautéed Kale:
½ pound lacinato kale
4 cloves garlic
¼ cup canola oil
Pinch red pepper flake
Salt and pepper to taste
Clean the lacinato kale by removing the leaf from the stem and wash to remove any dirt, dry well, rough chop.

Slice garlic thinly and place in a pan with the canola oil. Add the chopped kale and season with salt, pepper and a pinch of red pepper flake. Sauté for approximately 5 minutes until kale is tender.
To Finish:
Cooked risotto
Butternut brown butter purée
Rosemary mascarpone
Sautéed kale
Saba vin cotto
Chicken stock
Salt and pepper to taste
Grafton 5-year cheddar (grated)
Minced rosemary (garnish)
Place the cooked risotto in a pot and add the butternut brown butter purée, rosemary mascarpone, sautéed kale, a little chicken stock and cheddar. Bring to a simmer to melt the cheese and make sure that everything is well-incorporated, stirring constantly. You want to make sure that your risotto is a consistency that does not run on the plate, but you also do not want it to be so thick that it becomes a solid mass.

Taste for seasoning and place in a bowl.

Garnish with minced rosemary and saba vin cotto.
Brazilian Court Hotel, 301 Australian Ave., Palm Beach; 561.655.6060; cafeboulud.com/palmbeach