Summer Curated Dining in Broward, Boca and Palm Beach
For every palate, occasion, night or mood.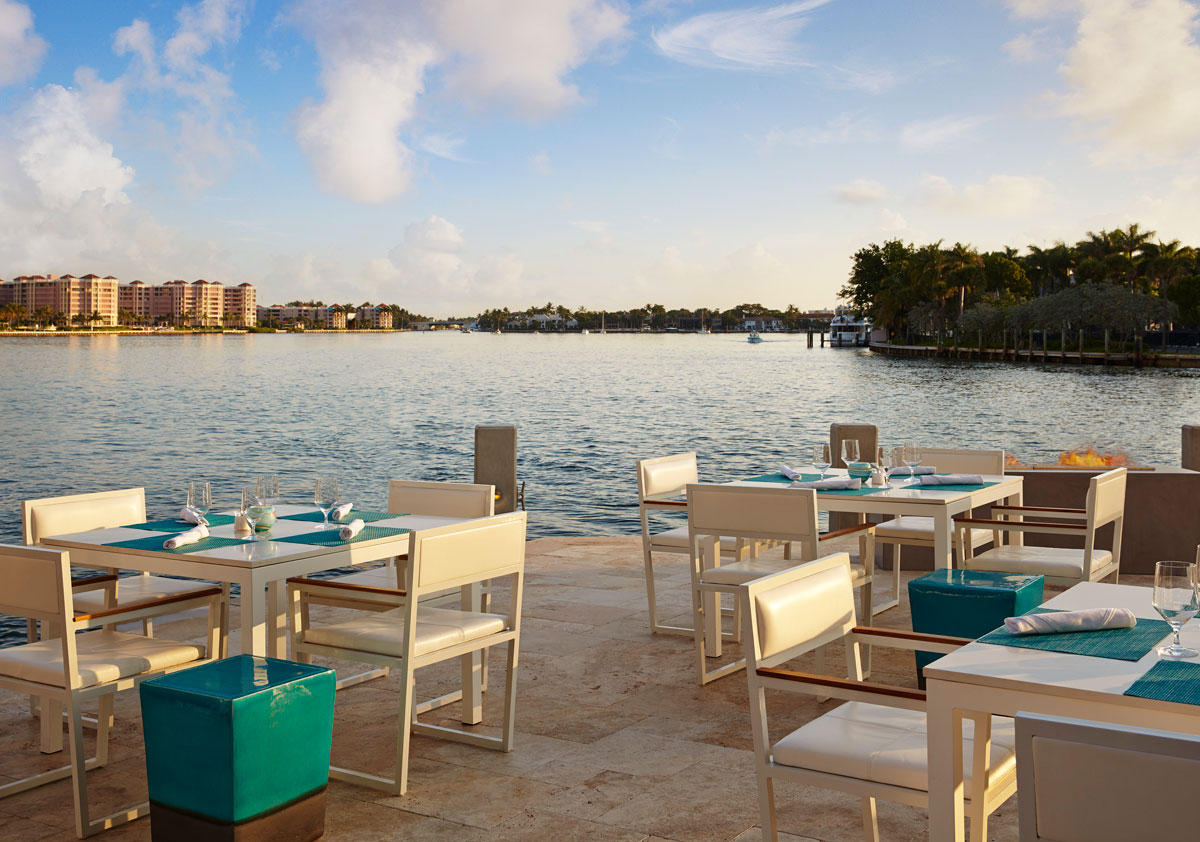 Waterstone Rum Bar & Grill's waterfront views
DINING WITH A VIEW
Let summer set the ambience of your next dinner.
Enjoy coastal cuisine and views of the Atlantic Ocean at Beach House, including from the upstairs open-air terrace. 270 N. Pompano Beach Blvd., Pompano Beach; 954.607.6530; beachhousepompano.com
Views of Lake Boca Raton and Waterstone Rum Bar & Grill's seafood dishes and fruity cocktails will have you feeling like you're on vacation. 999 E. Camino Real, Boca Raton; 561.368.9500; waterstoneboca.com
Deck 84's energetic atmosphere will have you coming back for its rotating live bands, brunch offerings and waterfront dining. 840 E. Atlantic Ave., Delray Beach; 561.665.8484; deck84.com
At The Ben's rooftop restaurant Spruzzo, you'll find sharable plates served alongside scenic views of Palm Beach island. 251 N. Narcissus Ave., West Palm Beach; 561.655.4001; spruzzowestpalm.com
Stepping off The Dalmar hotel's elevator, you'll encounter Sparrow's retro-inspired cocktail lounge with plenty of plush seating overlooking the city. 299 N. Federal Highway, Fort Lauderdale; 954.945.9100; sparrowbar.com
The newest resident of Pineapple Grove, lush rooftop lounge Rosewater Rooftop at The Ray grants guests stellar views along with cozy cabanas, craft cocktails and tapas-style plates. 233 NE 2nd Ave., Delray Beach; 561.739.1700; therayhotel.com
A part of Charlie & Joe's at Love Street, Topside at the Beacon is a Polynesian-inspired tiki bar with views of the Jupiter Inlet Lighthouse. 1107 Lighthouse Promenade, Jupiter; 561.532.3270; topsidejupiter.com
DATE NIGHT, ANY NIGHT
You don't need a special occasion to hit up these romantic spots.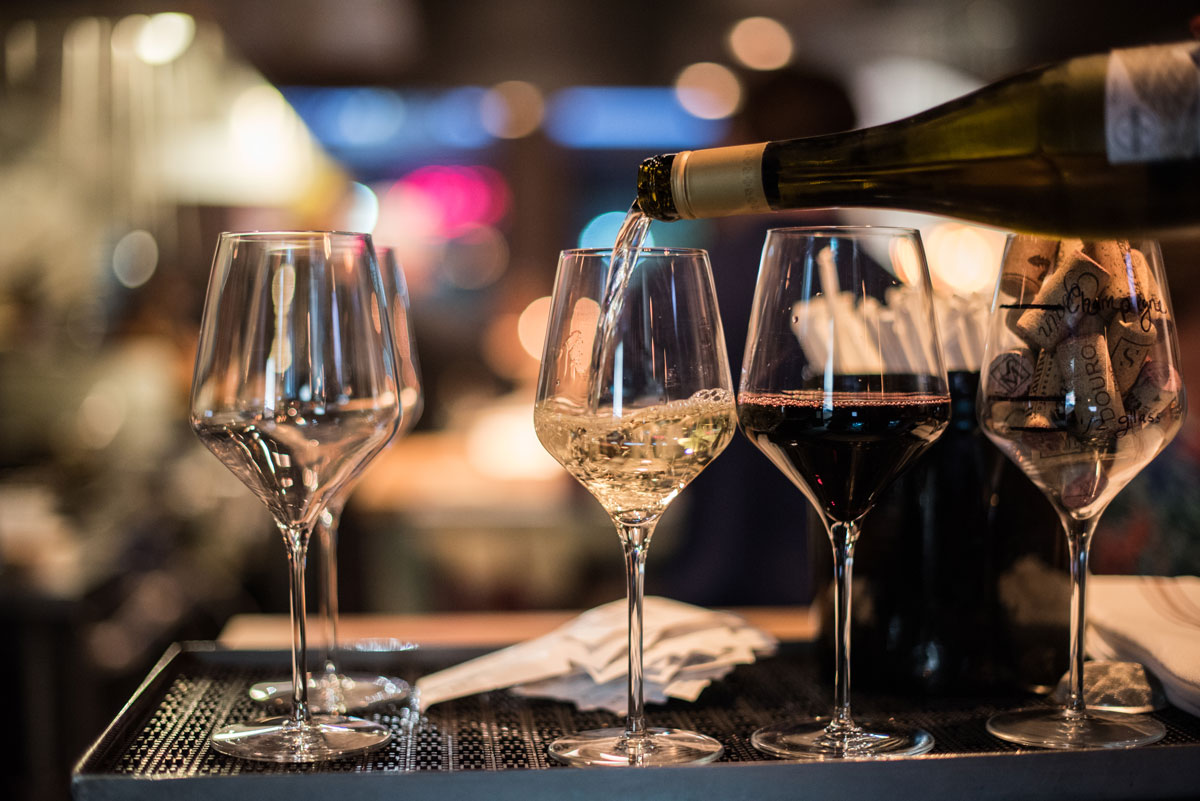 Have a seat on the spacious outdoor patio or floating bar at YOT Bar & Kitchen as you take in the dazzling yachts while indulging in sharable dishes like the crispy Brussels sprouts, tuna carpaccio and selection of flatbreads. 2015 SW 20th St., Fort Lauderdale; 954.953.9000; yotlmc.com
Chef Lipman's creative dishes at Coolinary Café (think cornmeal fish and carrot cake-inspired waffles) will certainly please your palate and set the mood for a decadent date night. 4650 Donald Ross Road; Palm Beach Gardens; 561.249.6760; thecoolpig.com
SUNDAY BRUNCHES
Brunches that help get rid of the Sunday Scaries.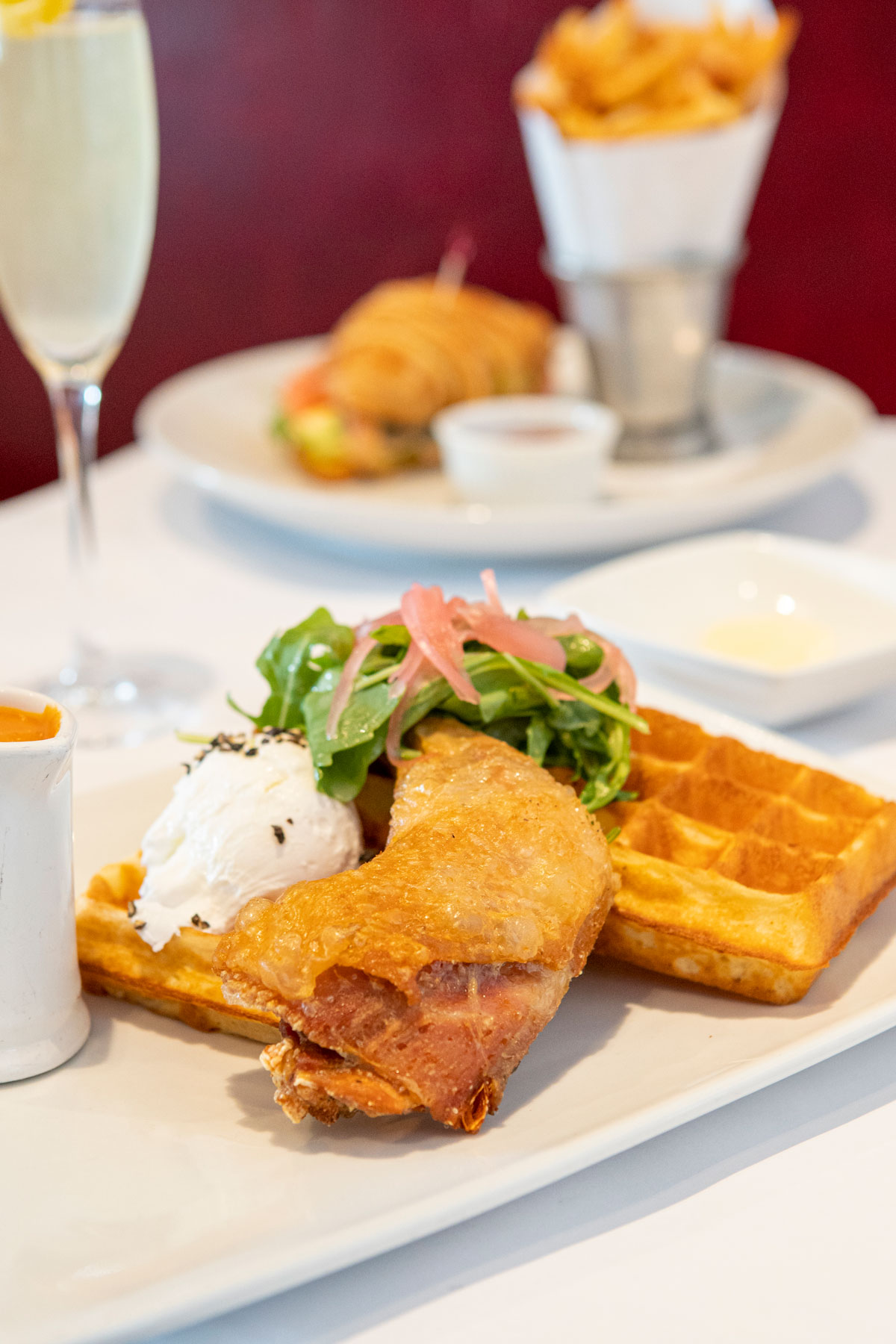 Sit waterside by the New River and enjoy seafood-driven brunch specialties by James Beard Award-nominated Chef Jose Mendin at Rivertail. W. Las Olas Blvd., Fort Lauderdale; 954.306.2665; rivertailftl.com
Kapow! Noodle Bar in Mizner Park is famous for Southeast Asian fare, and it's perfectly translated into brunch with duck hash skillet and breakfast bao buns. 431 Plaza Real, Boca Raton; 561.347.7322; kapownoodlebar.com
Be transported to a Parisian café with the brunch menu at Pistache French Bistro. Choose from croque monsieur, onion soup gratinee or quiche Lorraine to pair with French rosé. 101 N. Clematis St., West Palm Beach; 561.833.5090; pistachewpb.com
FOR WINE LOVERSS
The iconic Wine Watch has expanded in recent years to include an ample bar and event space, all the while sourcing exclusive wines and hosting monthly wine tastings that showcase wines from around the world. 837 NE 3rd Ave., Fort Lauderdale; 954.523.9463; winewatch.com
Specializing in organic, biodynamic and sustainable wines, Wine House Social is a neighborhood favorite among its Pineapple Grove residents and visitors. 104 NE 2nd Ave., Delray Beach; 561.501.0175; winehousedelray.com
Sourcing its food from local, small producers, Fern Street Wine Bar & Kitchen's menu boasts new takes on classic dishes that pair nicely with its extensive selection of wines. 501 Fern St., West Palm Beach; 561.328.9745; fernstreetwpb.com
HAPPY HOUR HOT SPOTS
As the weather heats up, these hot spots will keep you cool.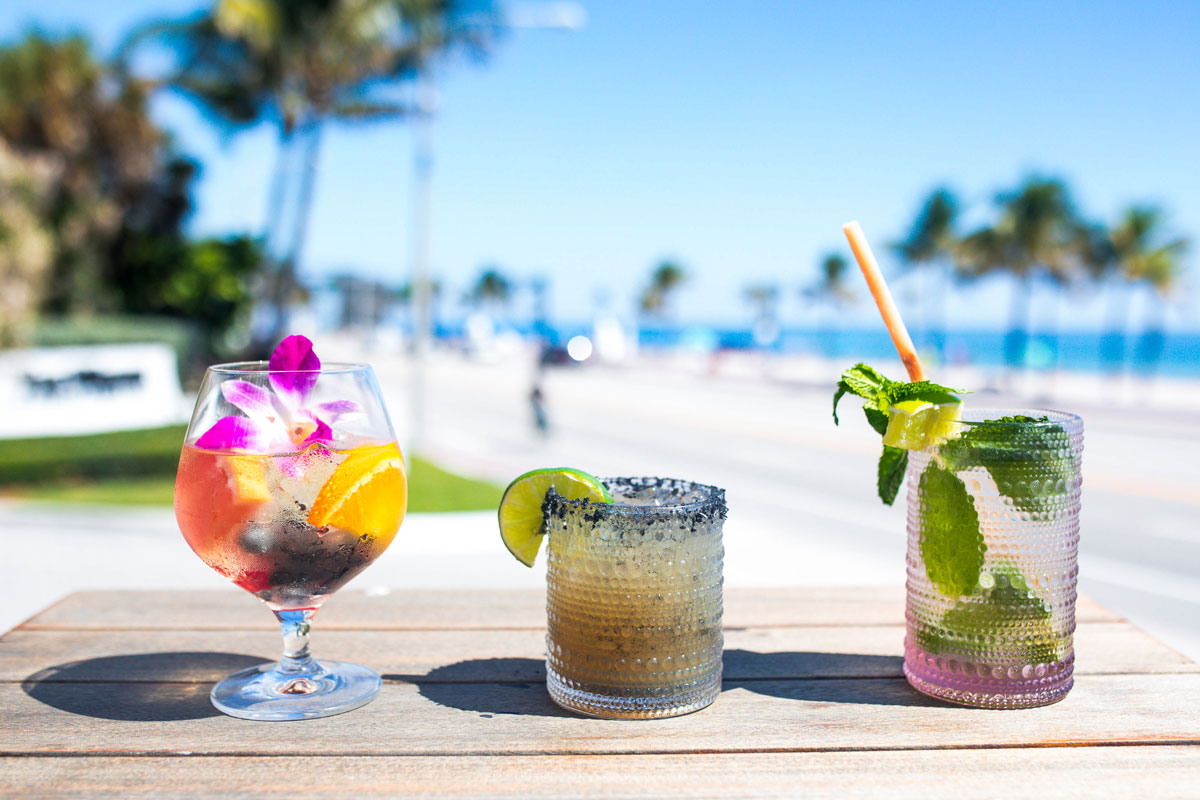 Oceanfront cocktails that blend traditional flavors with a Mexican twist await you at Lona Cocina & Tequileria. Specials include Monday 50% off select wine bottles, Tequila Tuesdays with $5 tequila drinks and tacos, and Wednesday Ladies Night 50% off specialty cocktails. 321 N Fort Lauderdale Beach Blvd., Fort Lauderdale; 954.245.3069; lonarestaurant.com
Head over to Racks Fish House & Oyster Bar, an Atlantic Avenue staple, for a lively scene. Happy hour specials include $1 oysters and a variety of sharable plates. 5 SE 2nd Ave., Delray Beach; 561.450.6718; racksdelray.com
Scusi Trattoria offers 50% off cocktails from Tuesday to Sunday. Pair your refreshing drink with antipasti starting at $3, wood-fired pizzas and house-made pastas. 4520 PGA Blvd., Palm Beach Gardens; 561.429.6938; scusirestaurants.com
SPEAKEASIES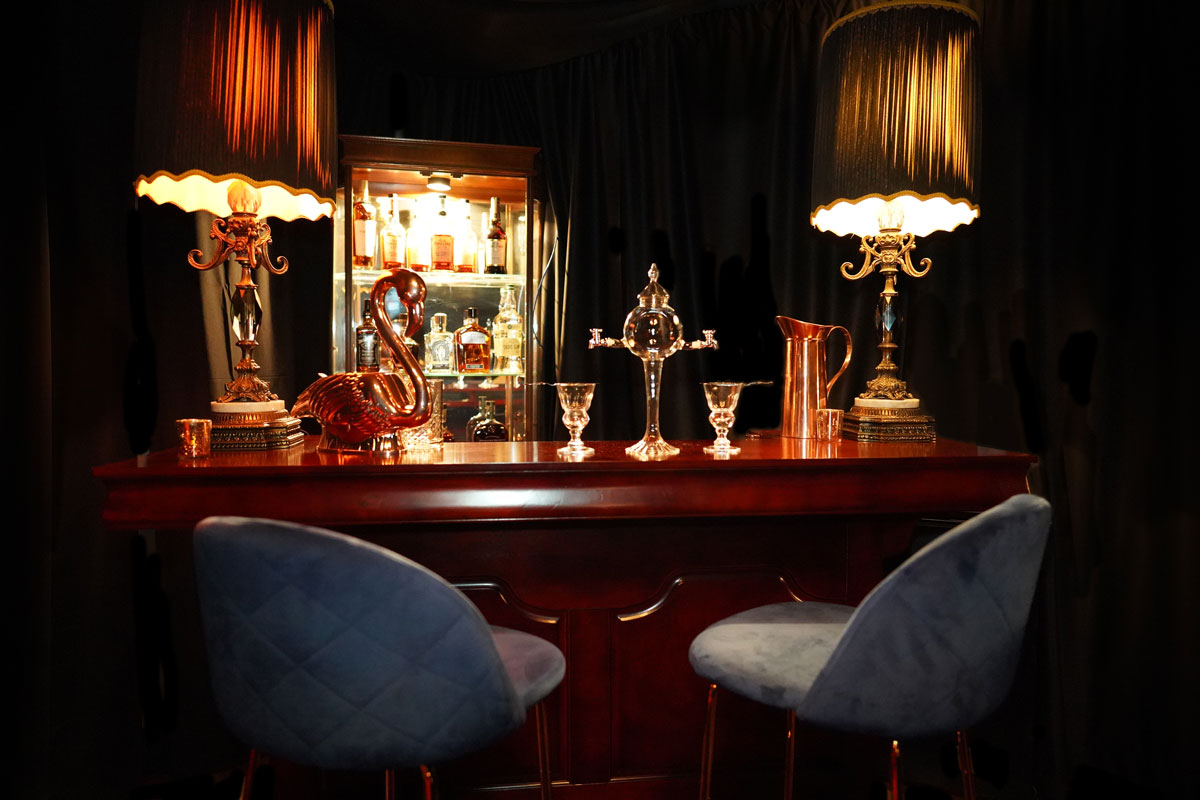 This hotel-room-turned-speakeasy is both sexy and mysterious. Choose from a selection of playful cocktails at Rm. 901—like the Late Night Checkout and The Butler Did It—while enjoying a private space with up to five of your friends. There is a two-hour limit and $50-per-person minimum. 100 E. Las Olas Blvd., Fort Lauderdale; 954.353.1234; roomnine01.com
Part speakeasy, part dive bar, Pour & Famous is known for its lowbrow, high-service motto. Bartenders pour creative cocktails like Divorce Papers in a retro, laid-back atmosphere. It also recently debuted a redesigned outdoor patio. 524 W. Atlantic Ave., Delray Beach; 561.501.5165; pourandfamous.com
The tacos at Coyo Taco are among the best in town, but did you know the taqueria also has a hidden bar? Grab a stool or cozy banquette and enjoy a signature margarita. 337 Royal Poinciana Way, Palm Beach; 561.318.8616; coyo-taco.com
COOKING CLASSES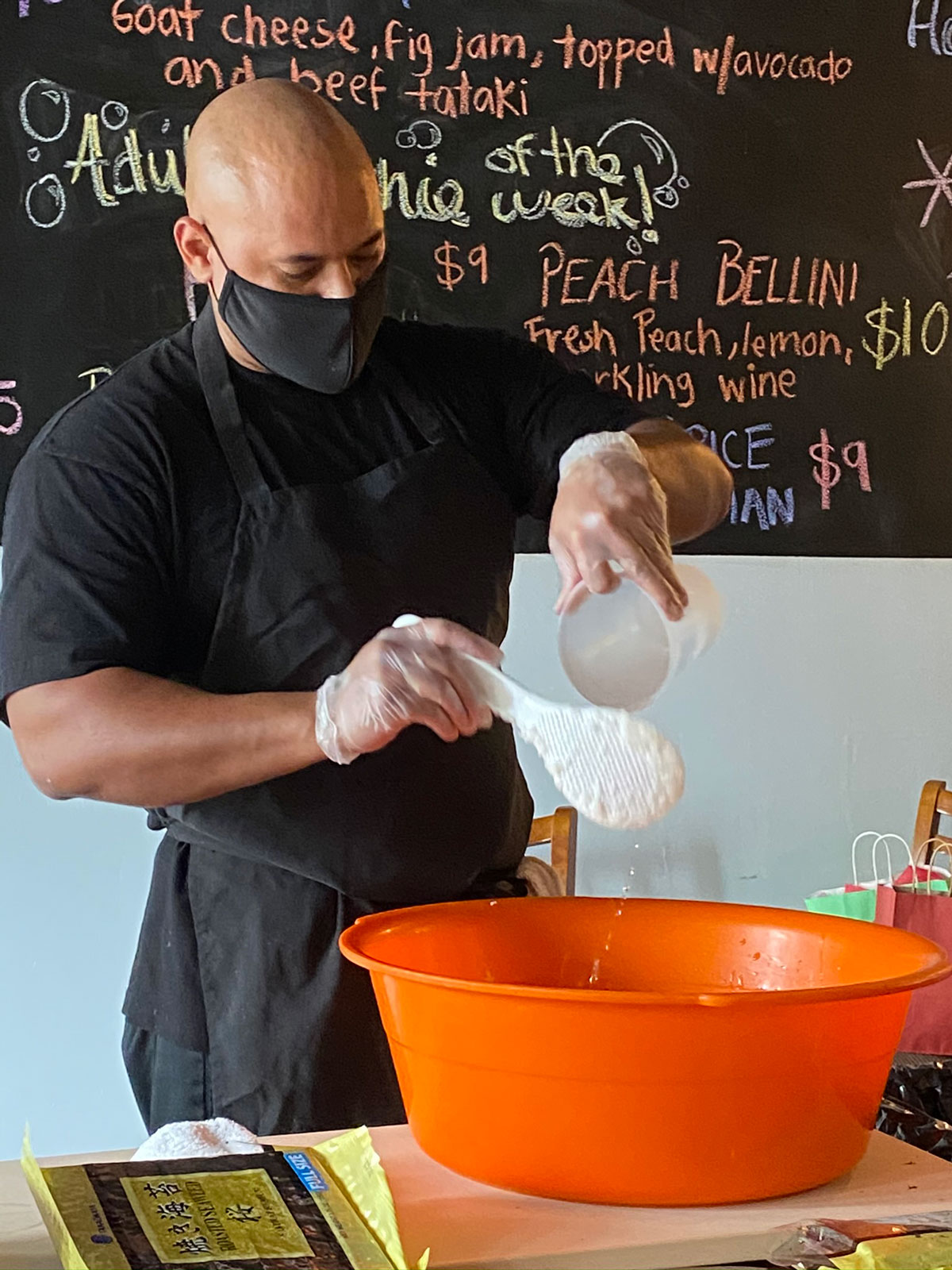 This family-owned Japanese-Peruvian fusion restaurant hosts monthly sushi-rolling classes paired with a sake tasting. Ishilima owners Cynthia and Chef Wendell take students on a fun culinary journey that ends with everyone enjoying the fruits of their labor. 15807 Pines Blvd., Pembroke Pines; 954.744.4300; ishilima.net
The go-to for all things kitchen, Sur La Table hosts classes to perfect international cuisine, from France and Italy to Greece and Thailand, as well as sweet macarons and fluffy croissants. This summer, it's also hosting classes for kids and teens. 438 Plaza Real, Boca Raton; 561.953.7638; surlatable.com
As an Ayurvedic chef and nutritional health coach, Ryann Morris at Food Brilliance is eager to share her culinary knowledge. She hosts in-home classes and can even help create a path to healthy living by shopping for the right foods, making over your pantry and sharing her favorite recipes. foodbrilliance.com
LIVE MUSIC DESTINATIONS
Have it all and enjoy dinner with a show.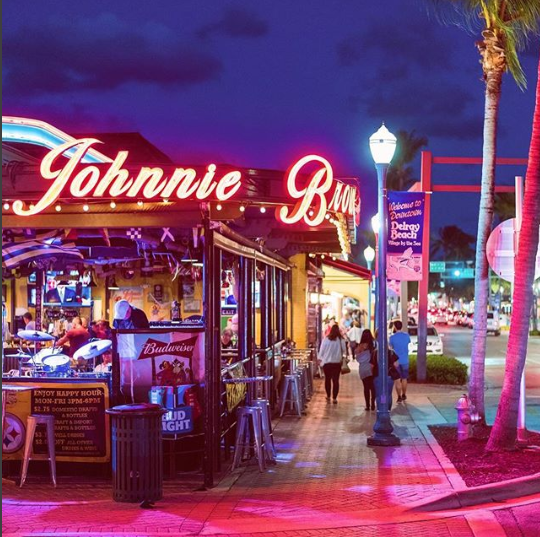 Casa Sensei's famous Rock 'N Roll brunch— complete with live music and tequila cocktails— only happens the first weekend of each month, but it's worth the wait. Indulge in a variety of Pan-Asian dishes fused with Latin flavors on the restaurant's outdoor waterfront patio. 1200 E. Las Olas Blvd, Fort Lauderdale; 954.530.4176; casasensei.com
The menu at the iconic Johnnie Brown's on the Avenue has been revamped, but its time-honored nightly live music scene continues to charm locals and visitors alike. 301 E. Atlantic Ave., Delray Beach; 561.243.9911; johnniebrowns.com
A recently launched weekly live music calendar welcomes local bands to the outdoor patio at Proper Grit, with cocktails and small plate specials complementing the tunes. 251 N. Narcissus Ave., West Palm Beach; 561.655.4001; propergrit.com
COOL VIBE LOUNGES
Leave the stress at the door and chill out in style.
With dark wood décor, intimate red booths and an impressive bar at Apothecary 330, this cocktail lounge is known for its creative drinks—you'll have a hard time choosing which one to try. 330 SW 2nd St., Fort Lauderdale; 954.616.8028; apothecary330.com
The newest addition to burgeoning West Delray, sexy whiskey lounge and restaurant Warren features more than 900 whiskey bottles, including a few exceptional spirits. 15084 Lyons Road, Delray Beach; 561.758.6970; warrendelray.com
With a focus on craft beers and cocktails, you'll also find a variety of unique wines at The Parched Pig that you can pair with smoked fish dip or chicken empanadas. 4580 Donald Ross Road, Palm Beach Gardens; 561.360.3063; thecoolpig.com
DINE WITH A VIBE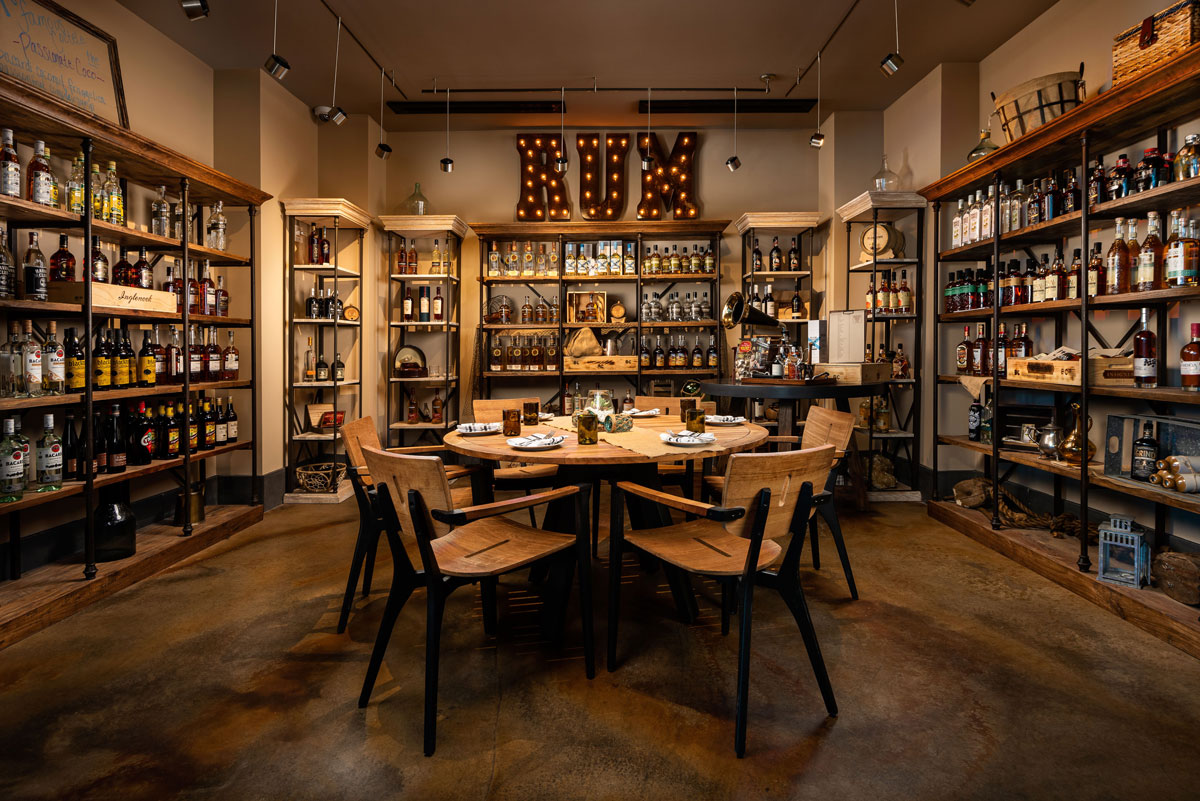 Burlock Coast at The Ritz Carlton has debuted a pop-up dinner experience for those who crave coastal fare. The Cove: A Pop-Up Seafood Experience features a $99-per-person, three-course bottomless seafood dinner paired with unlimited pours of beer, bubbly and wine. Hosted inside the private Rum Room, you'll enjoy the feast with nine of your closest friends. 1 N. Fort Lauderdale Beach Blvd., Fort Lauderdale; 954.302.6460; ritzcarlton.com
Experience a traditional German beer garden at Biergarten, which offers patrons a lively atmosphere with weekly live bands, a variety of draft and bottled beers, and classic German dishes like bratwurst and schnitzel. 309 Via De Palmas, Boca Raton; 561.395.7462; biergartenboca.com
The façade of Blue Anchor Pub will make you feel like you're in England before even stepping into this downtown haunt. The family-owned watering hole hosts weekly live music and happy hours, and plays English Premier League football games. You'll also be able to enjoy traditional English fare like the shepherd's pie and fish and chips. 804 E. Atlantic Ave., Delray Beach; 561.272.7272; theblueanchorpub.com
This story is from the Summer 2021 issue. Read the magazine here.