Seafood Bar at The Breakers' Crab Cakes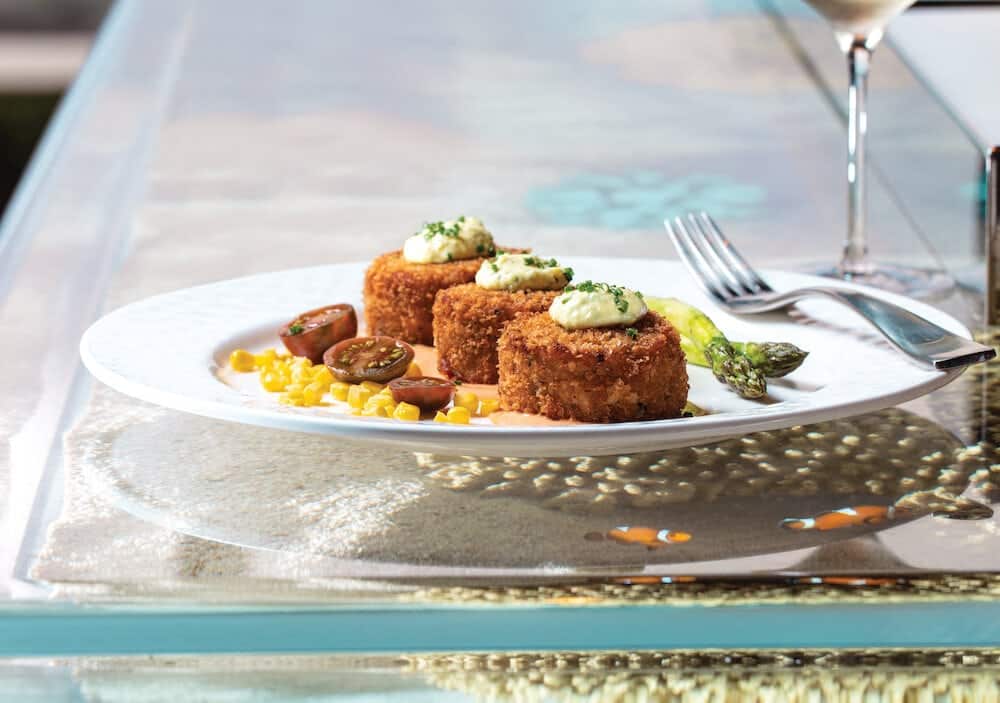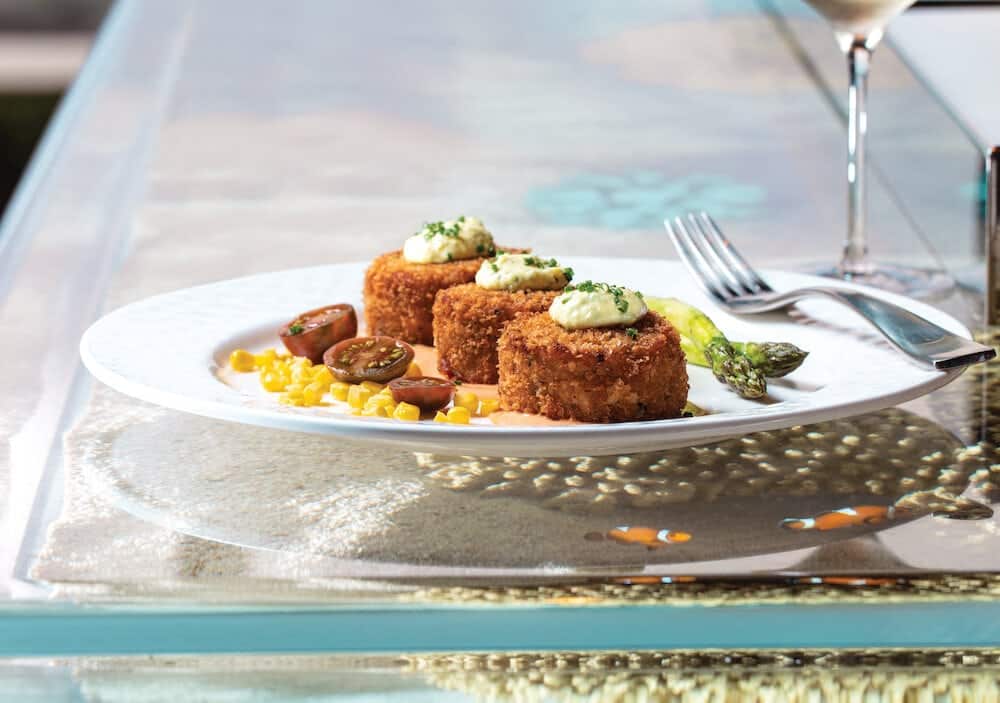 Seafood Bar at The Breakers' Crab Cakes - Courtesy Libby Vision
The ambiance at The Breakers Palm Beach's oceanfront Seafood Bar makes you feel like you're dining on a private luxury yacht. "While many dishes at our restaurants have evolved over the years, the crab cakes at Seafood Bar remain one of our signature dishes," says The Breakers Executive Chef Anthony Sicignano. "The recipe is exactly the same as when we originally opened, with some slight changes to the accompaniments. Some guests actually fly to Palm Beach for our crab cakes—and we never want to disappoint!" 
RECIPE
Yields 6 appetizer portions or 4 entrée portions 
Ingredients:
¼ onion, finely diced
¼ red bell pepper, finely diced
¼ yellow bell pepper, finely diced
1 tsp butter
¼ cup mayonnaise
1 tbsp Dijon mustard
½ tsp Worcestershire sauce
¾ tsp lemon juice
1 egg
1½ tsp Old Bay seasoning
2 cups white bread, crust removed, cubed
¼ bunch Italian parsley, chopped fine
1 pound lump crabmeat, shells removed
Salt and pepper to taste
To coat: Japanese breadcrumbs
Method:
Sauté onion and pepper in butter on low temperature for 1 minute and cool. Combine onion-pepper mixture with bread cubes, parsley and crabmeat.

In a separate bowl, blend mayonnaise, mustard, Worcestershire, lemon juice, egg and Old Bay seasoning. Add mayonnaise mixture to the bread and crab mixture. Fold gently to incorporate all ingredients, taking care not to break up the crabmeat. Add salt and pepper to taste. 

Shape into 12 patties for appetizers or 8 patties for entrées, then coat in Japanese breadcrumbs. Deep fry in 375 F canola oil until golden. Remove from the oven, plate and serve with your favorite vegetable.
1 S. County Road, Palm Beach; 877.724.3188; thebreakers.com