Brimstone Woodfire Grill's Seafood Puttanesca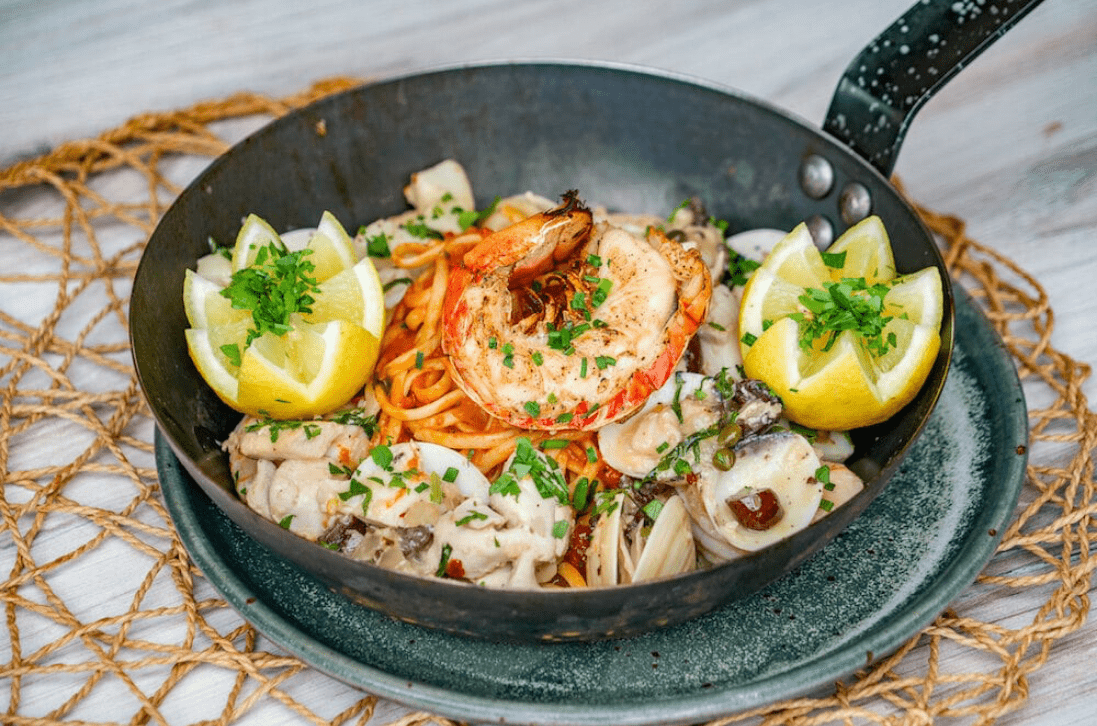 Brimstone Woodfire Grill's Seafood Puttanesca
Pembroke Gardens' Brimstone Woodfire Grill is known for its cozy, laid-back atmosphere and tasty made-from-scratch dishes. "My passion for cooking seafood inspired this dish," says Chef Julio Martinez of his seafood puttanesca, an amalgamation of sea bass, shrimp, littleneck clams, calamari, onions and garlic in a spicy white-wine marinara that's served over linguini and topped with half of a lobster tail. "I wanted to create a dish with balance in both flavor and presentation. The incredible marriage of salty and spicy is evident from the very first bite." 
RECIPE
Ingredients:
2 oz oil
1 oz yellow onion, diced
1 tsp garlic
⅛ tsp red pepper flakes
16-20 Shrimp
2 oz calamari
1 oz White Wine
½ pound littleneck clams
2 oz sea bass
1 oz crab
2 oz scampi sauce
6 oz marinara sauce
1 oz kalamata olive
1 tsp capers
1 tsp parsley
1 tsp basil julienne
⅛ tbsp dried oregano
7 oz linguini pasta
¼ tsp salt and pepper
½ lobster tail  
Method:
Season the lobster tail and bake for about 8 minutes. Season the shrimp with salt and pepper. 

In a sauté pan, add oil, then add the onion and garlic. Add the shrimp and calamari and cook until they change color. Shrimp will turn pink, and calamari will turn firm and white.

Deglaze with wine and reduce, then add the scampi base and lemon juice. 

Add the rest of the ingredients and let boil. Cook for about 3 minutes or until hot. 

Boil linguine pasta and serve in a pasta bowl. 

Place the seafood over the pasta and put the rest of the sauce on top. Garnish with baked lobster tail.
14575 SW Fifth St., Pembroke Pines; 954.430.2333; brimstonewoodfiregrill.com