Sala'o's Snapper with Spicy Tomato & Green Beans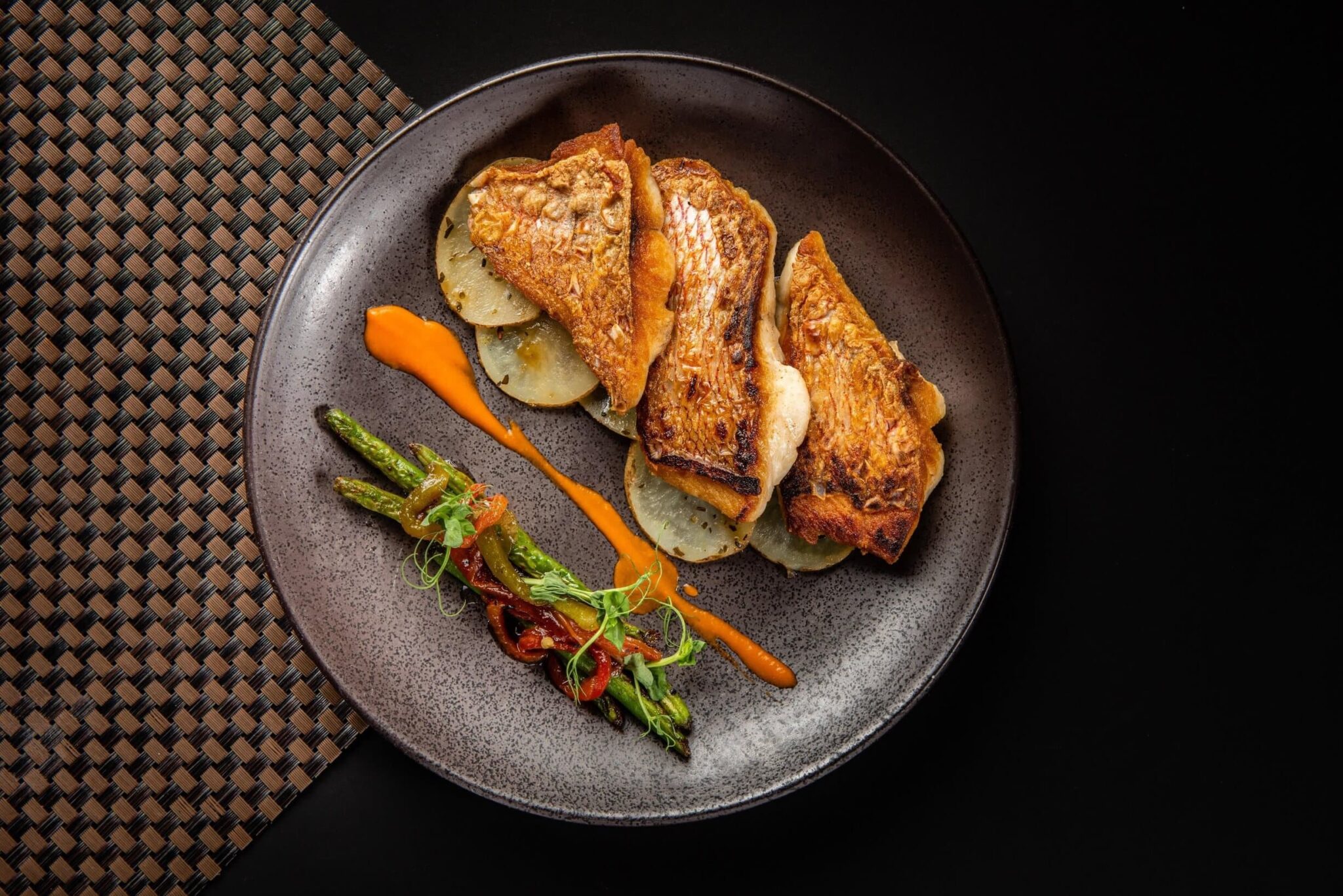 Sala'o's Snapper with Spicy Tomato & Green Beans - Photo by @rmstudiocorp
Cuban restaurants aren't exactly rare on Calle Ocho, but Sala'o Cuban Restaurant & Bar stands out among them for its contemporary, soulful menu and nostalgia-evoking decor. The eatery recently introduced an all-new menu, courtesy of its newly appointed Executive Chef Alejandro Porben. "I grew up in a coastal town in Cuba where seafood was easily accessible," he explains. "It's common in my culture to have pork for the holidays, but sometimes we preferred to have fresh fish. This is a great dish for those who want something light or prefer seafood instead of the traditional ham or turkey." 
RECIPE
Serves 4
Ingredients:
4 snapper fillets, scaled and deboned
1 large Idaho potato, peeled and thinly sliced
1 cup fish stock
1½ tsp oregano
½ cup olive oil
½ cup sofrito
½ pound green beans
1 roasted red pepper, sliced
1 roasted green pepper, sliced
4 tsp honey
2½ tbsp white vinegar
2 tsp Tabasco
2 tsp xanthan gum
Salt  
For the Salmon: 
Heat olive oil in a deep skillet over medium-high heat. 

Season snapper with salt and, once the skillet is hot, sear the snapper in the skillet, skin side down for about 6 minutes. 

Remove from the skillet and set aside. 

In the same skillet, brown the potato on both sides and add oregano. 

Add fish stock and cook over medium heat about 10 minutes or until tender and cooked through.
For the Spicy Tomato & Green Beans:
Place sofrito, Tabasco and xanthan gum in a blender or food processor at full speed for 2 minutes. Reserve at room temperature. 

In a shallow skillet, roast the peppers on high heat until soft. Remove and let them rest in a bowl for about 3 minutes. Cut into strips. 

Blanch green beans in a large stockpot of well-salted boiling water until bright green in color and tender-crisp, roughly 2 minutes. 

Drain and shock in a bowl of ice water to stop from cooking. 

In a small bowl, combine honey with vinegar for salad dressing. 

Combine sliced roasted peppers and green beans in a mixing bowl. Dress with salad dressing. 

 
To Plate:
Place sliced potatoes on a plate and place the fish over the potatoes. Drizzle with spicy tomato mixture. Next to the fish, place green bean and pepper salad. 
1642 SW Eighth St., Miami; 305.642.8989; salaorestaurant.com