Pubbelly Sushi's Hamachi Poblano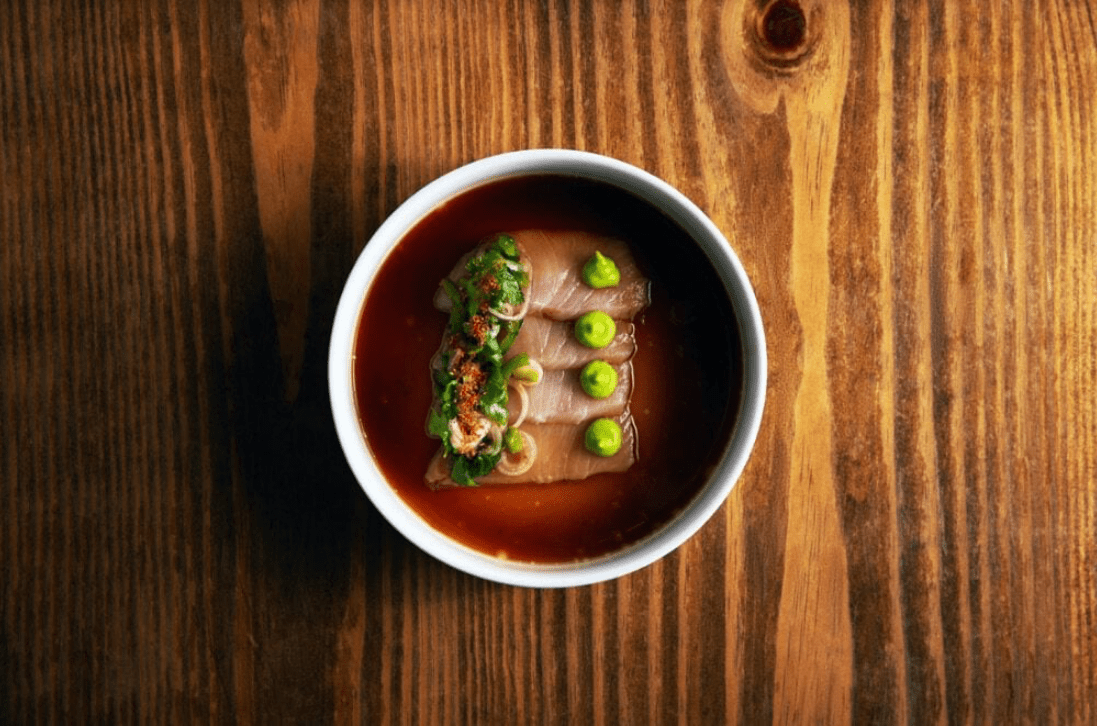 Pubbelly Sushi's Hamachi Poblano
Stop into one of Miami's four Pubbelly Sushi locations for a twist on traditional Asian fare. "Our hamachi poblano is one of my favorite sashimi dishes," says Executive Chef José Mendin, a five-time James Beard Award semifinalist. "It's simple to make, yet packs a lot of flavor in every bite. The citrus from the yuzu soy, the spice from the roasted poblano and fresh yellowtail bring a perfect balance of flavors." Locations in Aventura, Brickell, Miami Beach and Downtown Dadeland; pubbellyglobal.com
RECIPE
Cooking Time: 5-7 minutes
Ingredients:
2 oz yellowtail slices
0.3 oz roasted poblano peppers (see below)
0.3 oz cilantro 
0.3 oz pearl onion (see below)
Pinch of shichimi
4 dots garlic paste (see below)
4 dots jalapeño cream (see below)
2 oz yuzu soy sauce (see below)
½ tbsp olive oil
For the Roasted Poblanos: 
Roast poblano pepper in open flame until charred. Place in a bowl and cover, peel the skin off and cut open, de-seed and cut into small rectangular pieces. Set aside.
For the Pearl Onions:
Peel skin off and cut thin in rounds, set aside. You can use red onion, thinly cut, as a substitute.
For the Garlic Paste:
In a small food processor or blender, add 5 peeled cloves of garlic with 2 oz of water. Blend until it becomes a paste.
For the Jalapeño Cream: 
4 jalapenos, de-seeded
2 oz olive oil
Quarter the jalapeños and de-seed. Cut into small pieces and blend with the olive oil until paste consistency.
For the Yuzu Soy Sauce:
5 oz light sodium soy sauce
2 oz yuzu Juice
For the Garnish Mix:
0.3 oz cilantro leaf
0.3 oz pearl onion 
0.2 oz poblano pepper
Pinch of shichimi
½ tbsp olive oil
In a small bowl, add the cilantro, pearl onion, poblano pepper, pinch of shichimi and olive oil and mix.
Method: Top 4 yellowtail slices with yuzu soy sauce, roasted poblanos, cilantro, pearl onions and shichimi. Add dots of jalapeño cream and garlic paste on the side of each slice. Garnish with garnish mix and pinch of shichimi and olive oil to finish off plate.