Morton's The Steakhouse Côte De Boeuf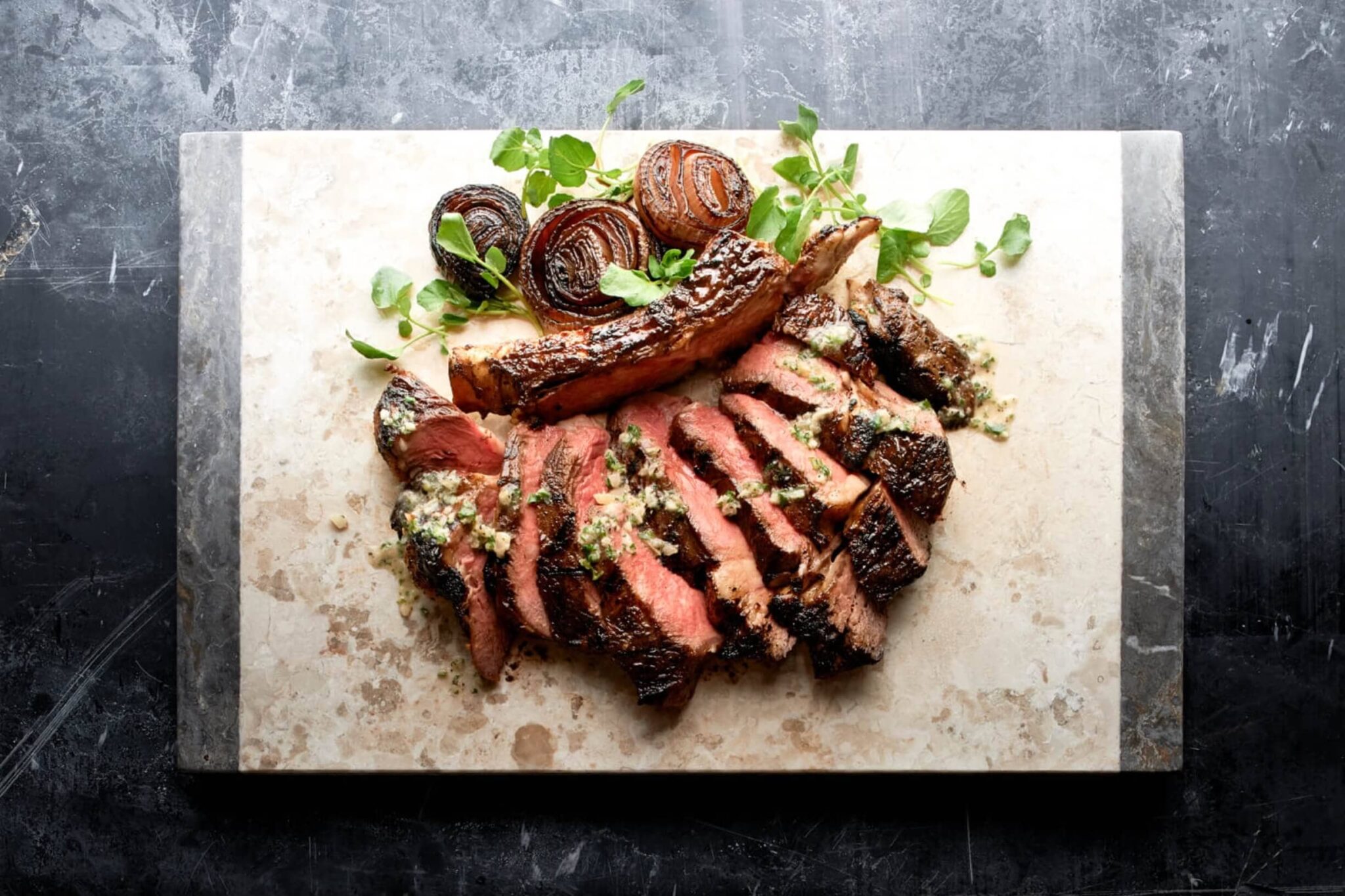 Morton's The Steakhouse Côte De Boeuf with Balsamic-Roasted Shallots and Garlic-Herb Butter - Image courtesy Landry's
With 65 locations nationwide, Morton's The Steakhouse is hailed as the expert in steak preparation—especially during the holiday season. "Big hunks of meat are what the holidays are all about! Who cares about gifts when there's a centerpiece of perfectly cooked beef on the table?" says Wade Wiestling, Morton's vice president of culinary development. "Our côte de boeuf is an extra-thick bone-in rib-eye chop with a French-trimmed bone. It can be finished in the oven and served with balsamic-glazed shallots for extra oohs and aahs." 
RECIPE
Ingredients:
2 côte de boeuf 1½- to 2-inch thick bone-in rib-eye steaks (2¼ pounds each)
2 tbsp Morton's seasoned salt
½ cup garlic butter, prepared (recipe below)
6 balsamic-roasted shallots, prepared (recipe below)
For the Balsamic-Roasted Shallots:
1 cup water
½ cup balsamic vinegar
½ cup brown sugar
2 tsp black pepper, ground
2 tsp kosher salt
6-8 whole shallots, peeled
Preheat the oven to 400 F.

Add water, balsamic vinegar, brown sugar, black pepper and salt to the mixing bowl and whisk until well-incorporated. This yields approximately 2 cups.

Cut the ends off the shallots, squaring the ends off and split in half widthwise.

Place shallots, larger-cut side down, into a shallow roasting pan or glass pie pan.

Pour the balsamic mixture over the shallots.

Cover the pan with aluminum foil and bake for 40 minutes.

Remove aluminum foil and continue to bake uncovered for 20 minutes.

Remove pan from oven and carefully turn the shallots over, careful not to break them apart, keeping them whole, and return to oven and roast for an additional 20 minutes.

Remove from the oven and let them cool in the liquid for 10 minutes. The shallots should be dark brown and have taken the color of the balsamic vinegar.

Remove the shallots from the liquid and place on a plate to rest. Transfer to the refrigerator if storing longer. Reserve for serving the côte de boeuf.
For the Garlic Herb Butter:
2 cloves garlic, minced
2 tsp kosher salt
2 tbsps fresh thyme, minced
2 tbsp fresh rosemary, minced
1 tbsp freshly squeezed lemon juice
1 pound whole butter, softened room temperature
Mix all ingredients together until combined. Store in an airtight container in the refrigerator.
For the Steak:
Season both bone-in rib-eye steaks liberally with Morton's seasoned salt on both sides and all the edges.

Start the steaks on a hot grill or cast-iron skillet on each side to mark and char, 5 minutes each side or until nicely charred.

Transfer the steaks to a shallow pan and finish in a hot oven at 450 F to the desired temperatures. Baking times are approximate and may vary within 5 minutes due to the relative thickness of the steak. 

Rare: 10 minutes; Medium-Rare: 20-25 minutes; Medium: 25-30 minutes; Medium-Well: 30-35 minutes; Well: 35-40 minutes.

Remove the steaks from the oven, transfer to a plate and allow to rest for 5 minutes to evenly redistribute the juices.

Warm the balsamic-roasted shallots by adding them to the pan in which the meat was cooking and placing in the oven until just hot and warmed-through, about 3-5 minutes.

Warm garlic butter in a sauté pan.

Carve the rib-eye, slice against the grain into approximately 8-10 slices—not too thin, not too thick.

Fan out the sliced steak with the bone on a large serving plate and spoon the warmed garlic butter over the meat. Serve with the warm balsamic-roasted shallots.
Locations in Coral Gables, North Miami Beach, Fort Lauderdale, Boca Raton & West Palm Beach; mortons.com