Mila Restaurant's Egg in a Jar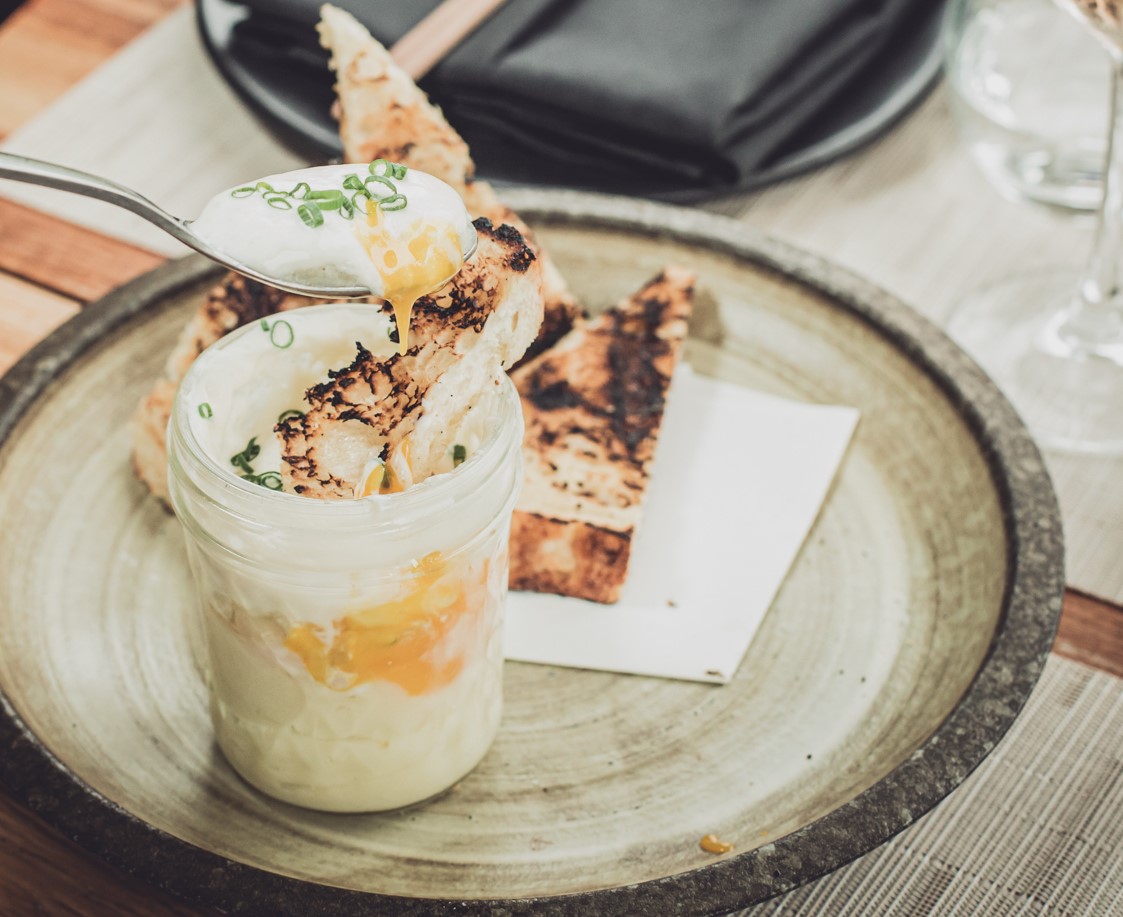 Mila Restaurant's Egg in a Jar
EGG-ACTLY WHAT YOU'RE CRAVING
MILA Restaurant's meticulous attention to detail doesn't get downplayed during their brunch service: Their intricate Egg in Jar, Potato Puree, Feta Foam, and Sourdough is the perfect recipe for those looking for a midday cooking challenge. For this dish, gastronomes must make time for three individual steps—making the egg, puree, and foam—before assembling them all into a Mason Jar.
RECIPE

Egg in a Mason Jar
Ingredients:

1 ea Mason jar
3 tblsp potato puree
1 ea sous vide egg
5 g truffle oil
40 g feta espuma
2 g La Maja EVOO
TT Maldon salt
1 g chive rondelles
Method:
63 C. sous vide egg
Set the sous vide at 63 C.
Place the eggs in a pasta basket and leave for 35 minutes.
After that, crack one to check. If done, ice down in water with ice.
Set the sous vide at 56 C. to maintain the eggs hot, without over cooking them.
Potato Puree:
1 kg peeled and cooked yukon potato
0.5 kg butter diced and tempered
1 cup heavy cream reduced in half
4 tbs la maja evoo
Tt salt
Method:
Place the potatoes with skin in cold water and bring up to a simmer. Allow to cook thoroughly until soft in the inside. Place an extra potato so it yields the desired weight. 2,
Peel while still hot and pass through a fine mesh and incorporate
The butter tempered with a spatula.
Add the reduced heavy cream. Add the EVOO and season to taste with salt.
Put in quarts and maintain hot at 56 C.
Feta Aspume:
1000 g heavy cream
500 g feta cheese
Tt Salt
Combine the 3 and reduce until thick.
Blend in Vitaprep and pass through Chinoise.
Cool down in a double ice bowl.
Heat up before charging in to the siphon.
Add 2 Charges and keep warm at 56 C.
Sourdough Bread:
Cut 1″ slices. Drizzle with olive oil and salt.
Toast in the salamander and cut in five triangles.
786.706.0744; Mila Restaurant, Miami Beach
Milarestaurant.com