Mastro's Ocean Club's Chocolate Butter Cake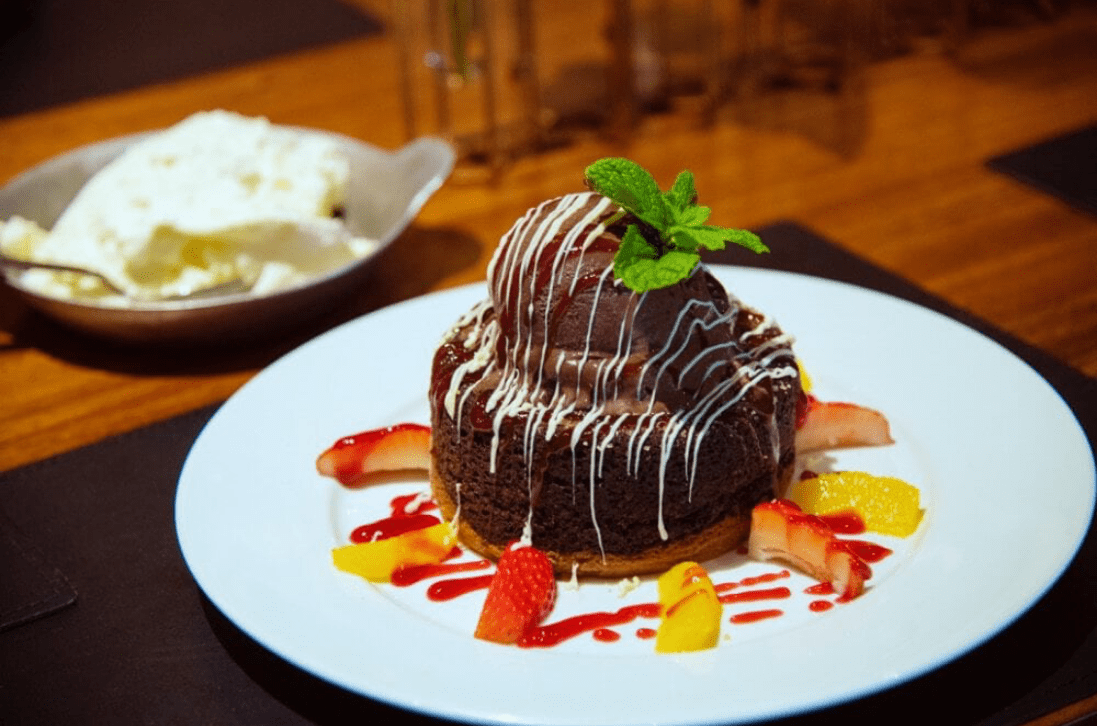 Mastro's Ocean Club's Chocolate Butter Cake - Photo Courtesy Landry's
Sophisticated and refined, Mastro's Ocean Club takes the steakhouse experience to the next level. With an immense selection of 28-day wet-aged USDA Prime steaks and dishes like a 2-foot-tall seafood tower of chilled crab legs, shrimp and oysters served over a cloud of dry ice, it may be hard to imagine saving room for dessert, but you'd be remiss to pass up the indulgent chocolate butter cake, which features a warm, decadent cream cheese center. 3000 NE 32nd Ave., Fort Lauderdale; 954.561.4800; mastrosrestaurants.com
RECIPE
Serves 8-10
For the Base:
1 pound whole butter, softened
2½ boxes Duncan Hines Devil's Food cake mix
4 whole eggs
2 cups Hershey's chocolate chips
For the Toppings:
8 oz cream cheese
1 cup powdered sugar
2 whole eggs
¼ cup Hershey's chocolate syrup 
2 strawberries, quartered
2 orange segments
1 scoop chocolate ice cream
1 tbsp raspberry sauce
1 tbsp white chocolate sauce
1 mint sprig
Method:
Melt the butter and combine with the cake mix and the 4 whole eggs. Do not overmix. Set aside. Using a mixer, whip the cream cheese until smooth. Add the other 2 whole eggs, powdered sugar and chocolate chips and mix slowly.
Spray 12 oz ramekins with a liberal amount of cooking spray. Scoop 4 oz of the reserved cake mix into each ramekin and press to flatten into the baking ramekin. Add ¼ cup of cream cheese topping to the flattened cake mix. Bake at 275 F for 45-50 minutes on low fan until the cake is set. Remove from oven and allow it to cool to touch. Remove from the ramekins and serve warm. 
Top with chocolate ice cream and garnish with strawberries and orange segments. Drizzle with raspberry sauce and white chocolate sauce, and finish with a mint sprig.