Greece: Ancient History & Island Hopping

Santorini, Greece
Thousands of years of cultural, political, religious and geological influences have made an indelible mark on this inspiring Mediterranean nation. From ancient wonders to dramatic island paradises, it's all waiting to be explored. 
SANTORINI
Welcome to Santorini, a fascinating destination where a white-washed cliffside dotted with bright-blue domes meets endless vistas of shimmering seas and spellbinding sunsets. While the island seemingly rises out of the Aegean like some mythological paradise, the steep terrain that makes up this tourism-rich island is actually a partially collapsed caldera, the result of a major volcanic eruption that took place around 1600 BC.
STAY: You'll feel like family the minute you arrive at the 19-room Iconic Santorini, perched high above the azure Aegean. Seemingly built exclusively for romantic getaways, the boutique cave hotel was literally carved from the caldera wall, and many of the accommodations have either an indoor plunge pool or outdoor jacuzzi, plus a veranda on which breakfast is served daily (at any time), encouraging guests to eat at leisure while taking in the views. Its location between the main towns of Fira (a 20-minute walk) and Oia (a 20-minute drive) makes it the perfect starting point from which to explore the island.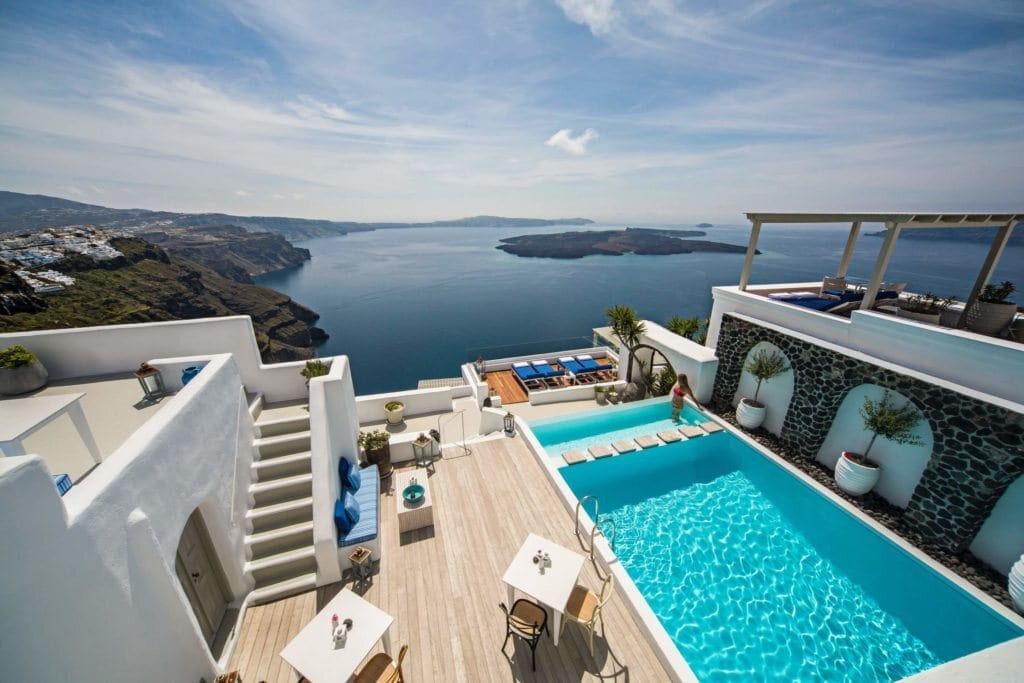 ENRICH: Stroll the winding streets of Fira and take in various historic sites, including the Cathedral of St. John the Baptist, the Orthodox Cathedral of Candlemas and the Museum of Prehistoric Thira, which offers a collection of ancient artifacts from the island prior to the aforementioned volcanic eruption. 
PLAY: Wander Fira's main streets, where dozens of shops sell everything from tacky T-shirts to high-end jewelry to local olive oil and wine. Speaking of wine, be sure to tour one of the island's many celebrated wineries.
UNWIND: There's nothing quite like witnessing a sunset in Oia, which is known for its mesmerizing, postcard-perfect views. Find an unobstructed perch and let the awe of this nightly occurrence take your breath away.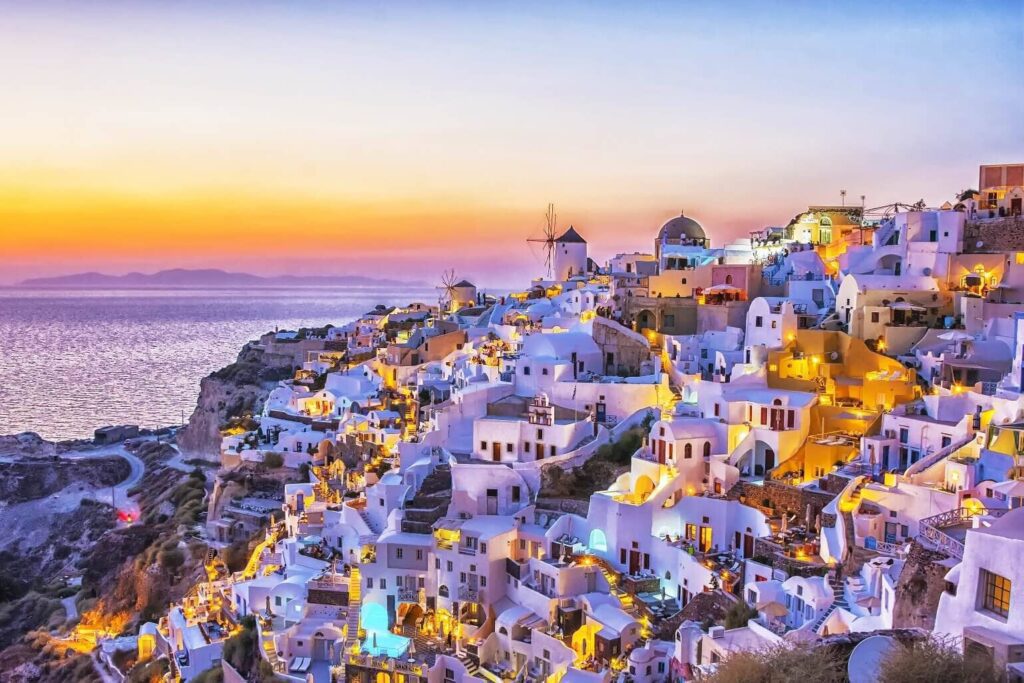 TASTE: At Iconic Santorini's cozy Pergola restaurant, you'll find a rotating daily menu of dishes featuring only the freshest ingredients. For unique and truly authentic cuisine, try Opson Restaurant at Andronis Arcadia Hotel, where Chef Stefanos Kolimadis (in consultation with a classical scholar) has created a menu inspired by the gastronomy of ancient Greeks, using techniques and ingredients that would have been available to islanders centuries ago.
ATHENS
No trip to Greece is complete without visiting the "birthplace of democracy." This sprawling metropolis of more than 3 million residents has everything you'd expect from a major world capital with one huge difference: the Acropolis, a constant reminder of the historical significance of this ancient land. 

STAY: There are plenty of lodging options within Athens' city limits, but none compare to Grand Resort Lagonissi, a five-star oasis situated on a lush, 72-acre peninsula with nearly 4 miles of Athenian Riviera coastline (about a 45-minute drive from the city). Accommodations range from well-appointed suites to spacious bungalows and dreamy villas complete with private pools. Nine restaurants and bars, extensive event and meeting spaces and a private helipad round out the resort's multitude of offerings.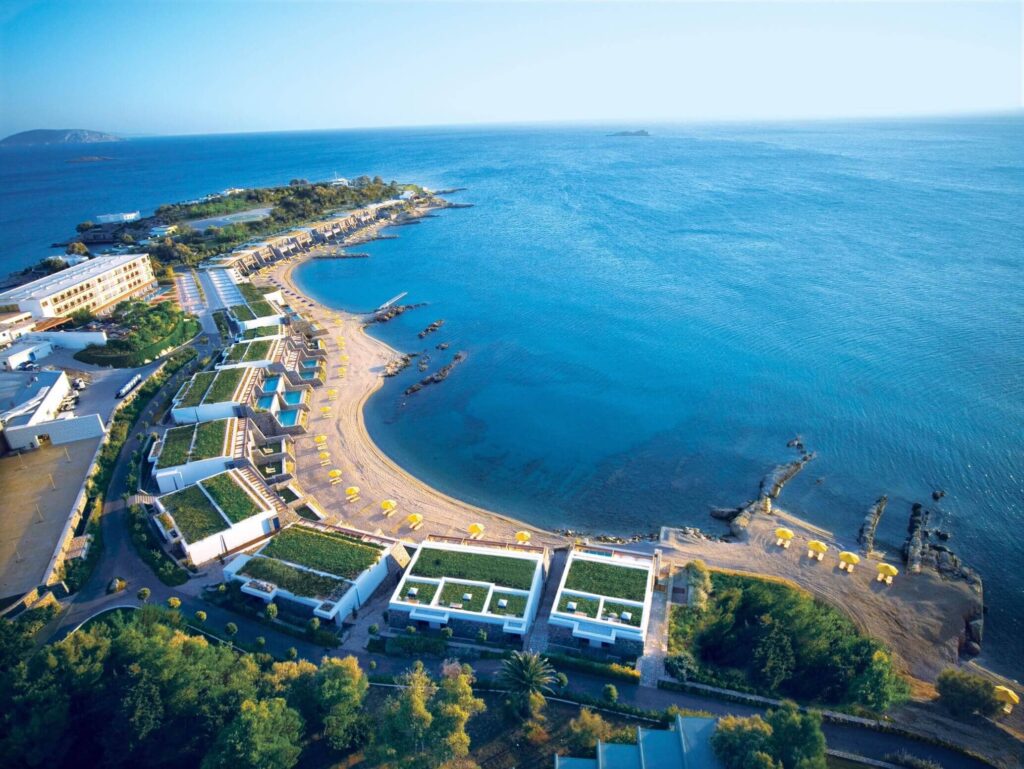 ENRICH: Plan at least a full day for sightseeing and museum-going in Athens, starting at the Acropolis and its imposing Parthenon, which date back to roughly 450 BC.
PLAY: Explore the labyrinth of streets in pedestrian-friendly Plaka, then head to Voukourestiou Street in nearby Kolonaki for high-end shopping.
UNWIND: Grand Resort Lagonissi's Thalaspa Chenot offers a range of spa therapies, massages, facials, yoga and Ayurveda sessions and more. 
TASTE: Savor international flavors in unmatched settings at Grand Resort Lagonissi, from authentic Italian at cliffside Captain's House to fresh seafood at open-air Ouzeri Aegeon to Asian-inspired dishes and sushi facing the romantic waterfront at Kohylia.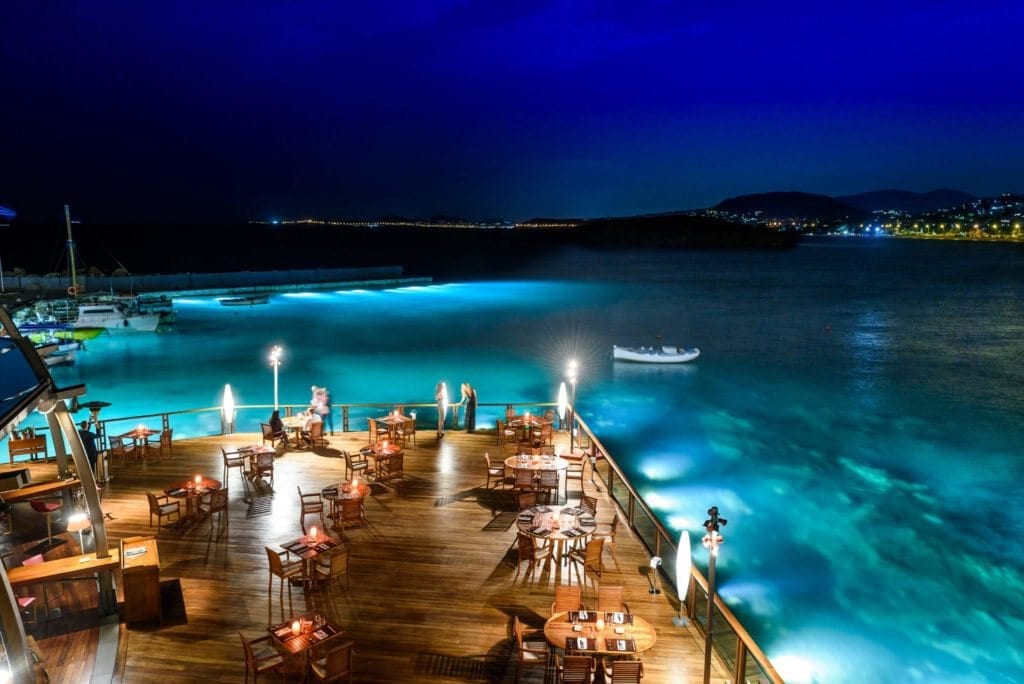 MYKONOS
When it comes to the Greek Isles, Mykonos is best known for its trendy beach clubs and jet-setting visitors. But you'll soon discover that it's more than just a playground for the rich and famous.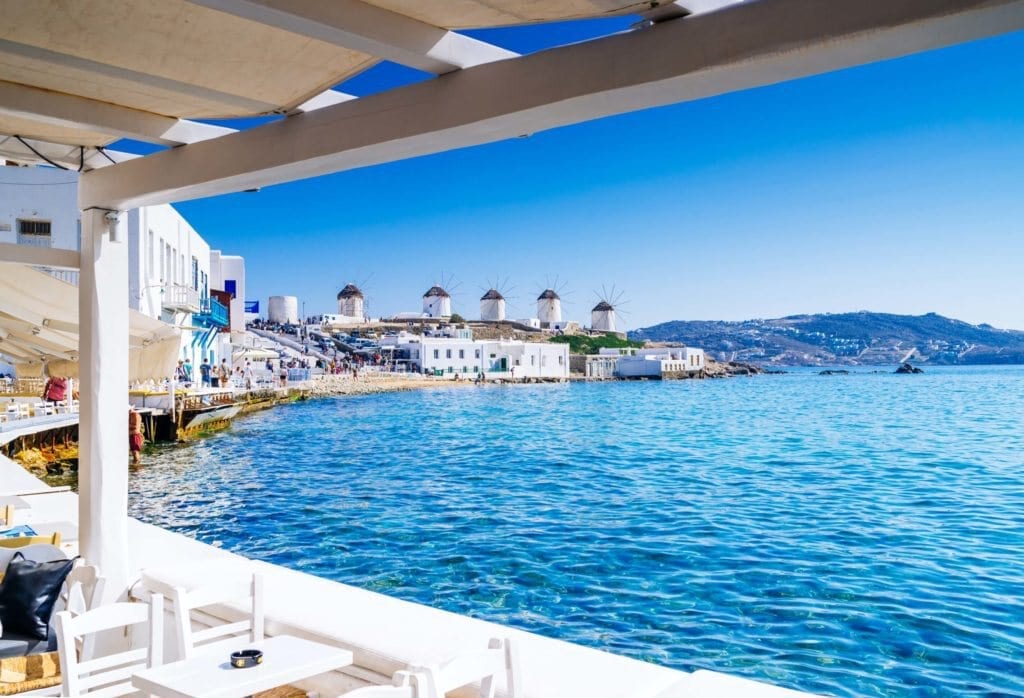 STAY: The secluded Archipelagos Luxury Hotel Mykonos, which was inspired by traditional Cycladic architecture elements, is located on Mykonos' southeastern coast, providing a quiet oasis with just 40 suites, many of which are equipped with their own private pool or hot tub.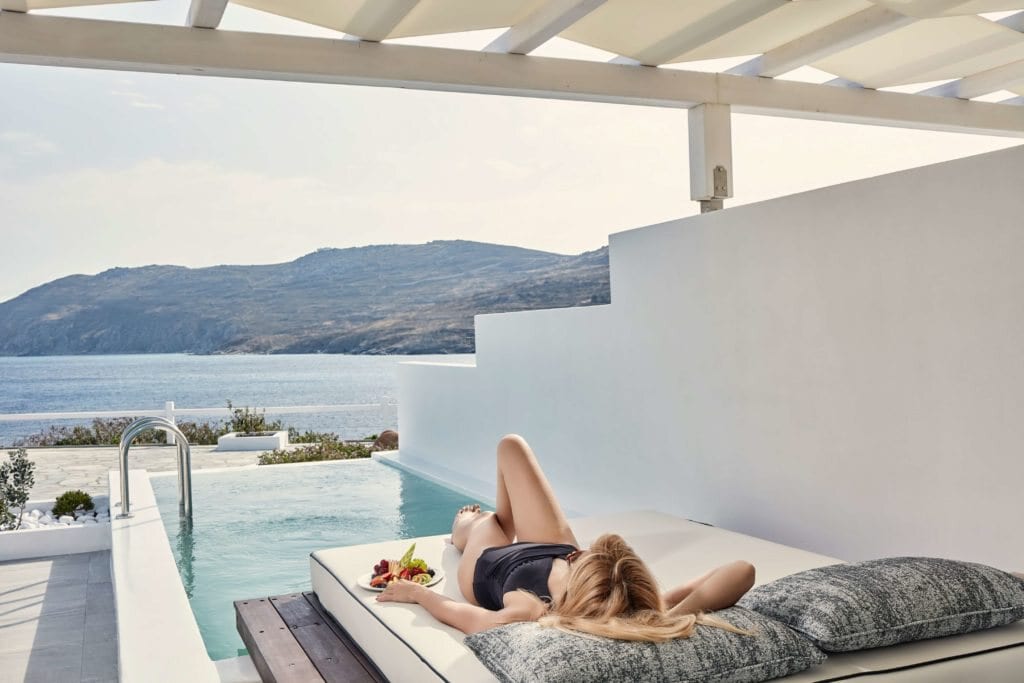 ENRICH: Get lost in the maze of alleyways of Mykonos Town, where you'll find white-washed buildings with brightly colored doors and shutters, flowing bougainvillea, quaint local shops and restaurants and the iconic windmills for which Mykonos is known. When you're done exploring, head to "Little Venice" to sip a glass of local wine and wait for the brilliant sunset.
PLAY: For a glimpse at Mykonos' trendier side, the aptly named beaches of Paradise and Super Paradise cater to a young and beautiful crowd that descends onto the island to party the days and nights away.
UNWIND: Hotel Archipelagos' main pool offers the perfect place to sit back, relax and soak up the sun. It's also just steps from some of the island's most pristine beaches.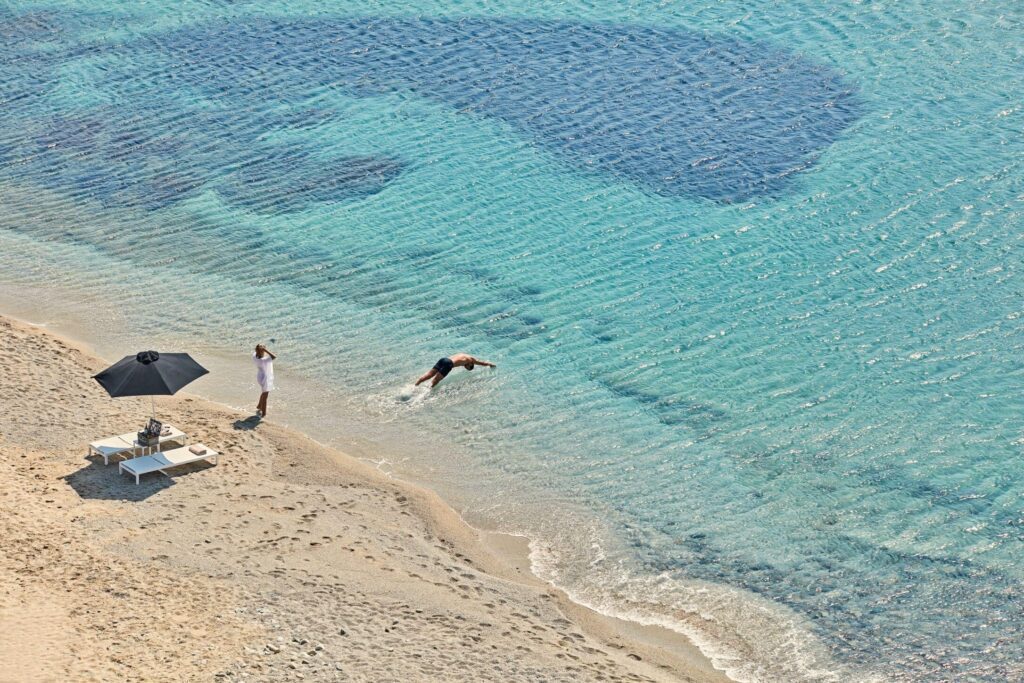 TASTE: The Asian-inspired cuisine at Buddha-Bar Beach in Ornos is a clear standout. Stay for dessert and drinks as some of the world's best DJs keep the vibe going well into the night.