Louie Bossi's 42-Layer Lasagna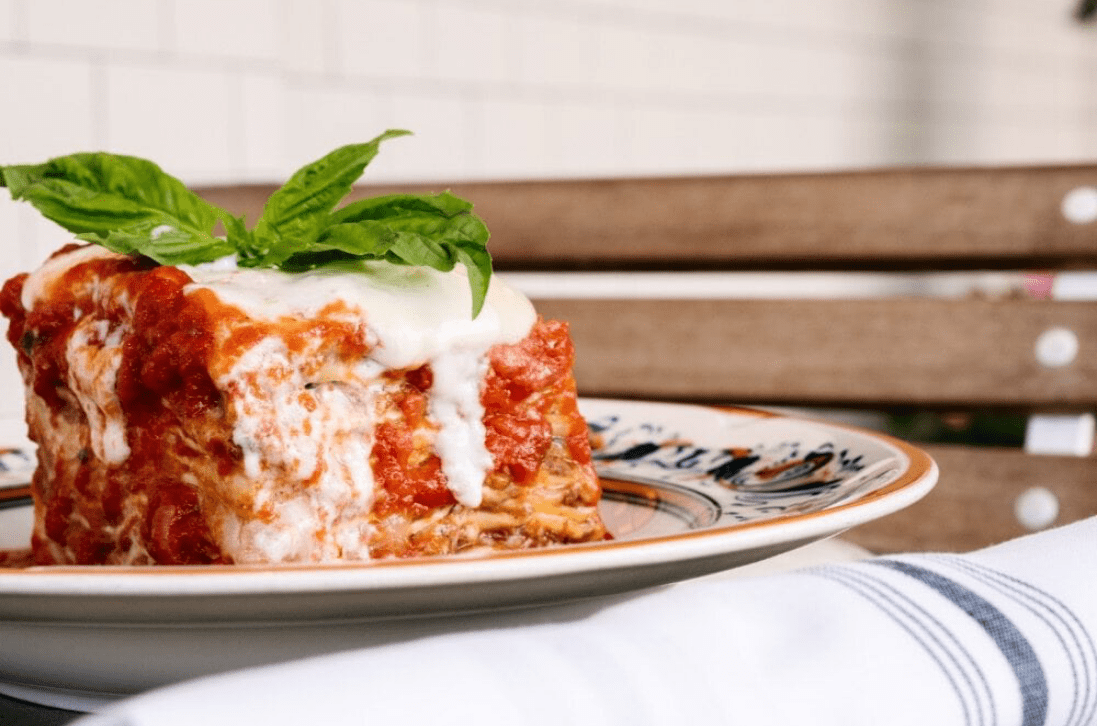 Louie Bossi's 42-Layer Lasagna
If there's ever a place to break your "no-carb" rule, it's at Louie Bossi's, where all the pasta, bread, gelato and pastries are made in-house daily. "Making lasagna is quite the project," says chef and co-owner Lisabet Summa. "Relegated to the ubiquitous frozen dinner in the 1970s or the ever-present 'Italian joint' offering, it has suffered much at many hands. Louie and I decided to present what is, in our humble opinion, a perfected version of this dish. Ours is a lighter, multi-layered fresh pasta dish comprising three separate sauces and three types of cheeses, totaling 42 layers in all its glory." 1032 E. Las Olas Blvd., Fort Lauderdale, 954.356.6699; 100 E. Palmetto Park Road, Boca Raton, 561.336.6699; louiebossi.com
RECIPE
Tip: Make all the sauces one day ahead. You'll need a deep casserole dish. 
For the Marinara:
(2) 28 oz cans whole D.O.P. San Marzano tomatoes
½ cup olive oil 
14 cloves peeled garlic, sliced impossibly thin
2 tsp salt
4 large leaves fresh basil
Pour tomatoes in a large bowl and crush them up by hand. In a heavy bottom pan over medium heat, cook the slivered garlic in the oil without browning. Carefully add the crushed tomatoes and remaining juice (careful not to let the hot oil splash up and burn you). Add the salt and basil. Simmer on low for 25 minutes. The tomatoes are transformed into a delicious sauce.
For the Béchamel:
3 tbsp butter
¼ cup all-purpose flour
½ tsp salt
3 cups milk (Whole, 2% or skim; do not use almond milk)
Dash of nutmeg
Dash of pepper
Optional: Some drops of tabasco
In a 4-quart pot, melt the butter. Once completely melted, add the flour all at once. Whisk together and cook until golden, stirring over medium heat. Do not over-brown. While whisking, add the milk until it has been scalded and whisk until all lumps have disappeared. Add seasonings. Reduce heat to just a tiny simmer and cook 5 minutes longer.
For the Bolognese:
1 cup onions, minced
1 cup carrot, minced
½ cup olive oil 
Salt and pepper to taste
3 fresh rosemary sprigs 
6 fresh thyme sprigs
1 bay leaf
10 peeled garlic cloves, slivered
1 pound ground pork 
2 pounds ground beef
½ pound ground veal 
4 cups red wine
8 oz tomato paste
(2) 28 oz cans whole San Marzano tomatoes with juice
Sauté together olive oil, onions, carrot and salt in a large pot. Set aside. In the same pot, brown minced diced meat and ground meat, discard any excess grease and season with salt and pepper. Add garlic and herbs tied together. When all is mixed well and cooked, add red wine and bay leaf. Simmer until wine has reduced a lot (low simmer 20 minutes). Add tomato paste and cook together for 5 minutes. Add canned tomatoes (previously crushed together). Simmer all on low, covered, for 1.5 hours. Correct seasoning with salt and pepper. 
To Build a Casserole:
First, have all sauces ready (previously made and chilled is fine). For a tall Lasagna of at least 3 inches, a 9-by-13-inch pan should be able to accomodate 5 layers.
Brush the casserole dish with olive oil in the bottom and then start by spreading 2 oz of San Marzano evenly before you begin your first of 5 layers.

Pasta sheets can be the no-cook kind available at the grocery store. Lay them down on the bottom of the dish evenly. Do not overlap. Then spread 2 full cups of Bolognese, followed by spreading 4 oz of San Marzano, then 1 cup shredded mozzarella cheese (you can buy this shredded or grate a block yourself, just don't use the fresh balls, they're too wet).

Spread 1 oz grated Reggiano-Parmesan, then sprinkle 8 basil leaves torn into pieces spread evenly over.

Season the whole layer with salt and pepper.
Repeat steps 1-4 for each layer, adding no more than 2 oz of béchamel evenly. Do this until you have 5 layers. (You will have some sauce left over.) 
After the fifth layer, your dish should be full. Layer a piece of parchment paper on the top and then cover in foil. Bake at 350 F until heated all the way through and bubbly at the edges. You should be able to take an internal temperature in the center of 145-165 F.
Let rest before cutting. Serve with extra sauces or slices of fresh mozzarella on top, which partially melt. Garnish with fresh basil leaves.