Grateful Palate's Eggnog Tres Leches Cake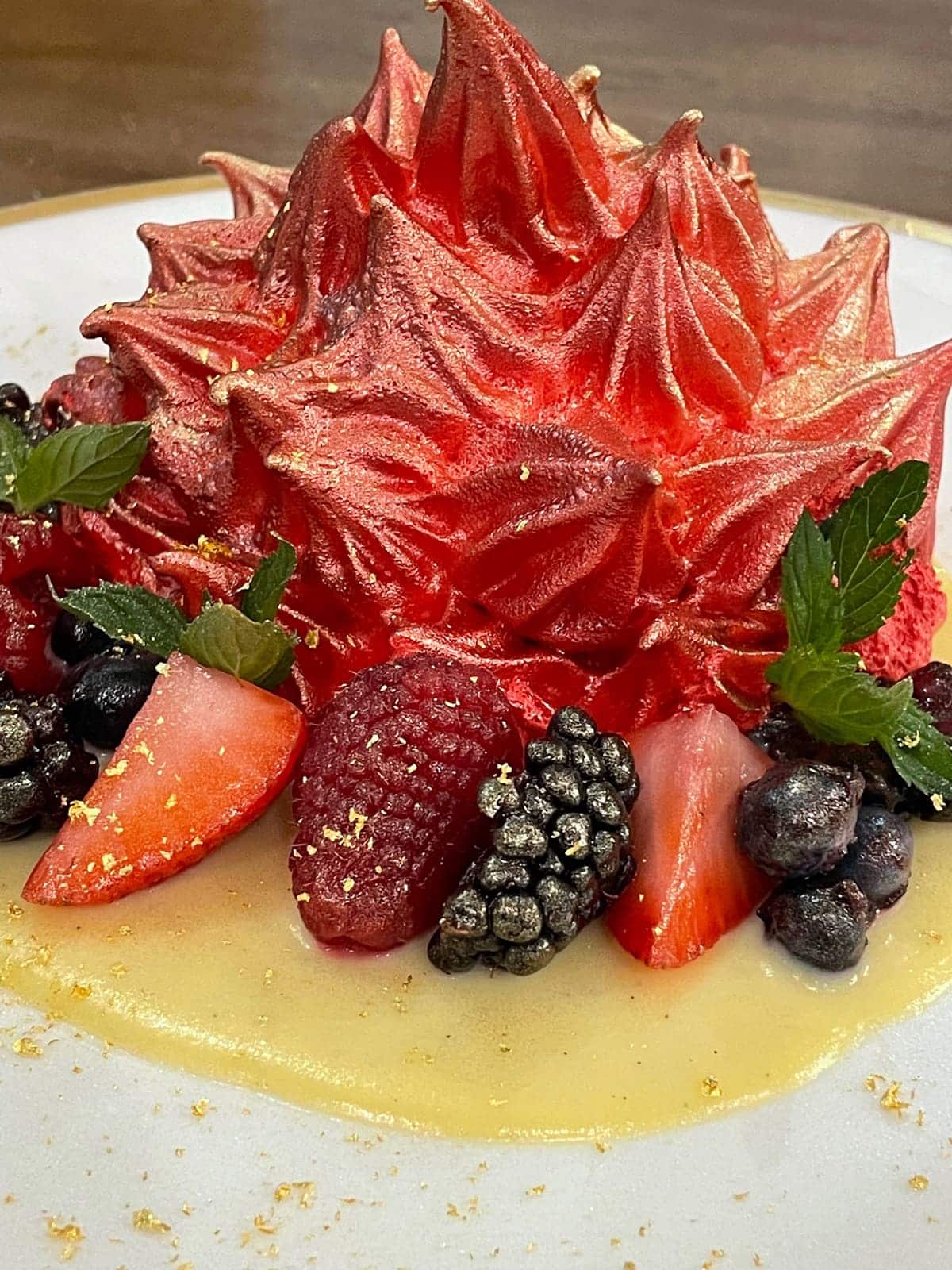 Finish off your holiday meal with this festive cake by Grateful Palate that looks almost too beautiful to eat. 3003 NE 32nd Ave., Fort Lauderdale; eventsbygratefulpalate.com
Ingredients
Cake
5 eggs
1 cup granulated sugar
1 teaspoon vanilla extract
1/2 cup melted butter
1 1/2 cups all-purpose flour
1 teaspoon baking powder
1/2 teaspoon salt
Tres Leches Mix
1 1/2 cans sweetened condensed milk
1 1/2 cans evaporated milk
1 1/2 cups whole milk
Eggnog Creme Anglaise
2 cups heavy cream
1/2 cup granulated sugar
4 large egg yolk
1/4 tablespoon salt
1 tablespoon dark rum
1 tablespoon bourbon
1 teaspoon nutmeg
1 tablespoon vanilla extract
Method
Set medium metal bowl in a large bowl of ice.
Combine rum and sugar in saucepan.
Set saucepan on medium heat stirring until sugar dissolves.
Heat mixture but do not allow to boil.
Remove from heat.
Put egg yolks and salt together in a bowl and whisk.
Pour half a cup of creme mixture gradually
Pour it into the remaining mixture in the saucepan.
Cook over medium heat, stirring consistently until custard thickens.
Don't overheat or boil.
Strain and place on ice bath.
Whisk in rum, bourbon, nutmeg and vanilla extract.
Transport to another container and cover surface with wrap and refrigerate.
Meringue Frosting
300 grams egg whites
415 grams of granulated sugar
50 grams of brown sugar
Pinch of cream of tartar
4 tablespoons of red food coloring gel
1 can of red metallic spray
Place egg white in electric mixer bowl. Whip until foamy.
Pour cream of tartar and sugar on high. Whip until white and creamy.
Pour in your red food coloring
Pipe on your tres leches cake
Spray with red metallic coloring
Garnish
Fresh mixed berries
Gold petals
Directions
Preheat oven to 350 F.
Grease your dome silicone molds.
In a large bowl, add eggs and 3/4 cups of sugar and vanilla.
Use an electric mixer and mix on high for three minutes until pole and thick.
Add melted butter and flour, then add baking powder and salt.
Mix dry ingredients until all combined.
Combine dry ingredients with wet ingredients. Do not overmix.
Pour mix into molds and bake until fork comes out clean.
While cake is in the oven, mix your sweetened condensed milk, evaporated milk, and whole milk.
As soon that the cakes come out of the oven, poke on top many times with fork.
Pour milk mixture over cake, until cake absorbs all the milk
Plating
Pour some of your crème Anglaise sauce on a dessert plate of your choice.
Place your tres leches cake on top of sauce.
Garnish with fresh mixed berries and gold petals.
This recipe is from our Winter 2021-2022 issue. Read more here.