Folklore Culinary's Chicken Schnitzel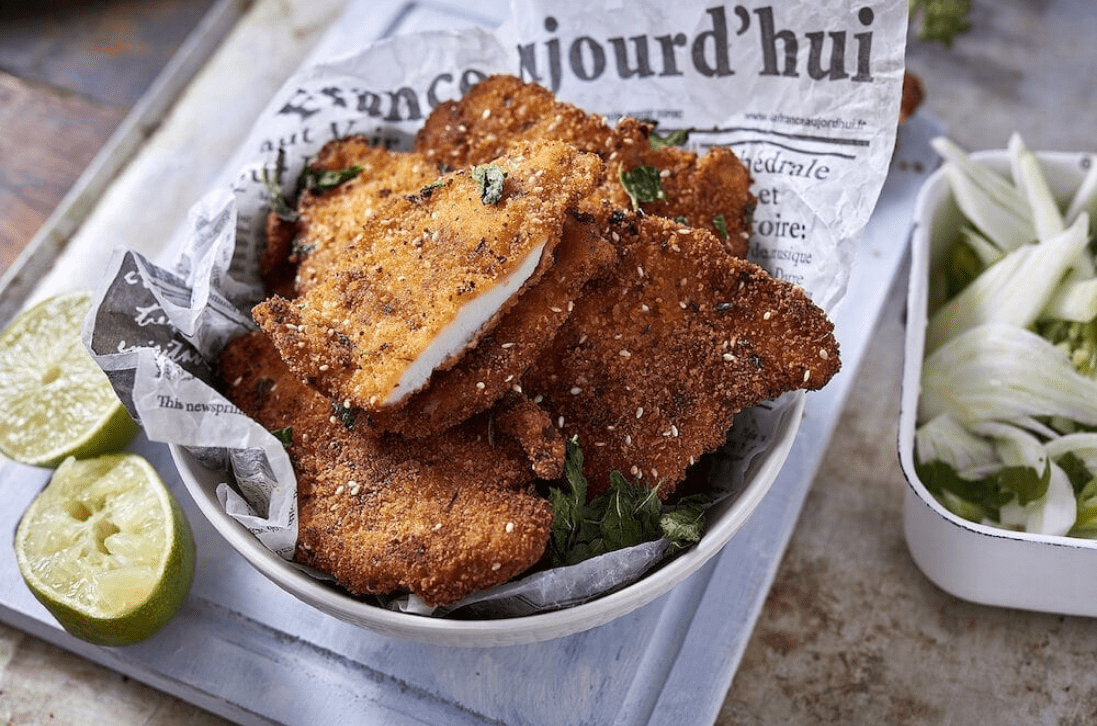 Folklore Culinary's Chicken Schnitzel
Folklore Culinary is a private catering and meal delivery and drop-off service serving Miami-Dade, Broward and Palm Beach counties. "Mediterranean cuisine has always been a go-to for me," says founder Alon Ezra, who was born and raised in Israel. "Chicken schnitzel is one of the first dishes I was taught to make when aspiring to become a chef. Whether paired with basmati rice, pasta or inside a homemade challah roll (my favorite), it is constantly delicious and an all-time favorite for my clients. It's also extremely easy to make and is kid-friendly if you're cooking as a family." 
RECIPE
Serves 4
Ingredients:
2 chicken breasts, thinly sliced
3 eggs
1 tbsp Dijon mustard
1 crushed garlic
1½ cups plain breadcrumbs
½ cup everything bagel seasoning
¼ tsp turmeric
¼ tsp salt
½ vegetable oil
Method:
Place oil in a large pan or pot and set on the stovetop at 75% heat. While the oil is heating, begin the rest of the prepping process. Slice chicken breast thinly (sometimes you can find it already sliced at your local supermarket). 

In a mixing bowl, combine eggs, Dijon mustard, crushed garlic and salt. Mix well using a whisk until it is all combined nicely. Use another mixing bowl to combine breadcrumbs, everything bagel seasoning and turmeric. Mix well.

To bread: Place the chicken into the egg wash bowl (try to do 1 piece at a time); from the egg bowl, move the chicken directly to the breadcrumb bowl. You must make sure that the breadcrumb mix is coated nicely all around the chicken (this is important). 

Place the prepared breaded chicken on a cutting board or spare plate. (I usually like to slice a little piece and place in the oil to test if my oil is hot enough. If it shows that it's cooking while creating bubbles, it means the oil is ready! If the piece is frying fast—usually the oil will make crazy frying sounds to alert you the oil is too hot—take the heat down to 50% and give it 2 minutes to drop the temperatures. Oil temperature should always be 350-375 F.

Once your oil is ready, start placing the chicken inside. SAFETY TIP: when you place the chicken in the oil, do not drop it from up high. Try to insert the chicken as close as you can to the oil, this way it will not splash and possibly burn you. You will know the schnitzel is ready by the golden-brown color, and usually it will float. The best way to check is by pulling it out and making a little cut inside to see if the chicken is raw or not.

Place the chicken on a flat plate with a paper towel on the bottom and on top of the chicken to remove excess fat. Serve with a side of rice, quinoa, fries or even on top of a fresh summer salad. You can also eat it my favorite way: inside of a fresh, warm challah roll with your favorite condiments.
305.400.0070; folkloreculinary.com