CHICA's Red Velvet Churro Bouquet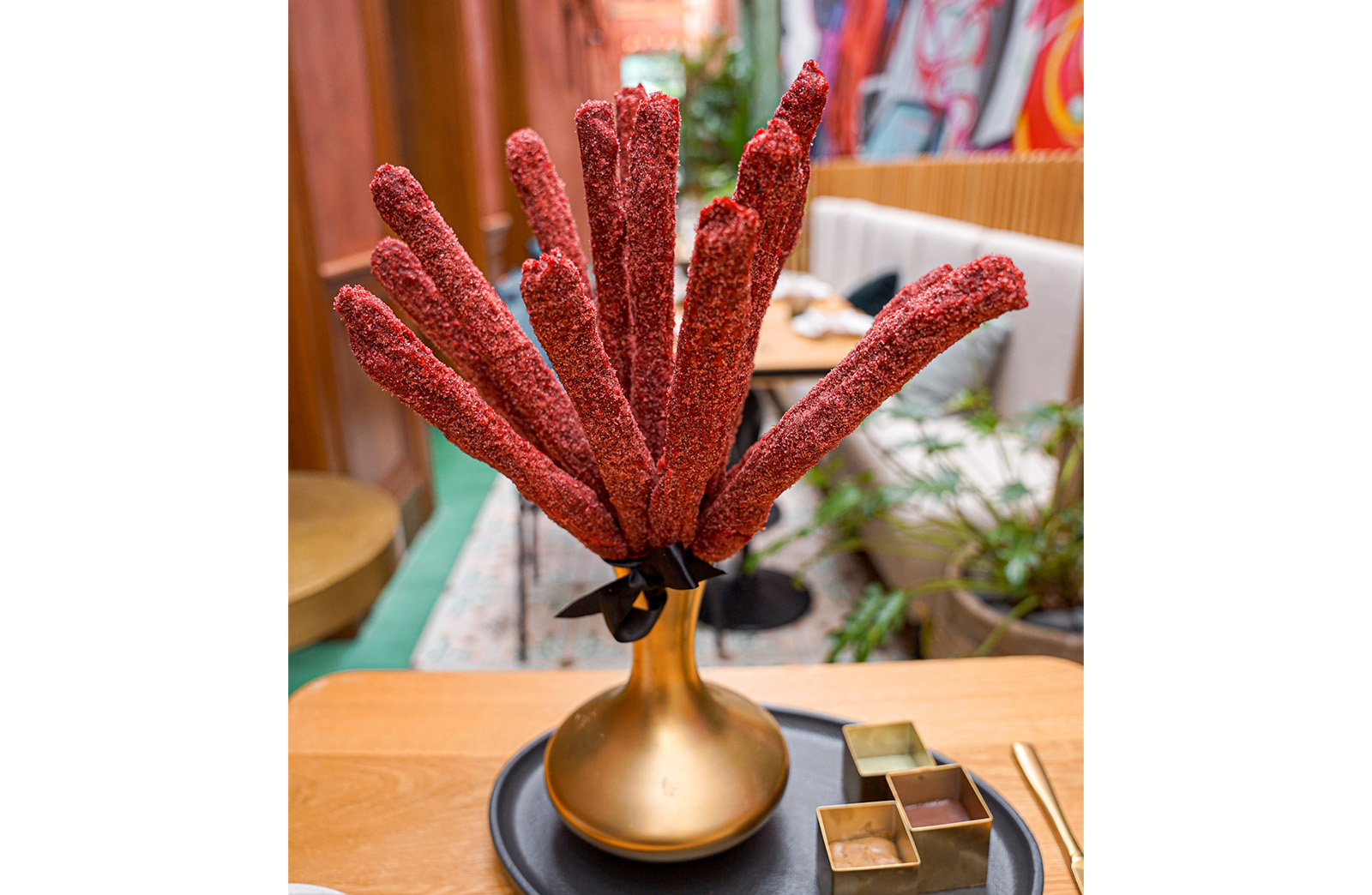 CHICA's Red Velvet Churro Bouquet
No meal at CHICA is complete without one of chef Lorena Garcia's over-the-top desserts, which celebrate the robust and vibrant flavors of Latin American cuisine and are as picture-perfect as they are delicious. While some people may want a bouquet of flowers, CHICA's Red Velvet Churro Bouquet is much more desirable—and tasty! 5556 NE 4th Court, Miami; 786.632.7725; chicarestaurant.com
Ingredients
1 stick (4 oz) unsalted butter
1 cup water
¼ tsp. salt
1 cup all-purpose flour
1 Tbsp. cocoa powder
2 eggs
1 teaspoon red food color gel
Canola or vegetable oil
Cinnamon sugar (mix 2 cups granulated sugar and 1 Tbsp. ground cinnamon)
Directions
In a sauce pot, heat butter until melted.
Add the water and salt and bring to a boil.
Lower heat and add all flour and cocoa powder. Using a wooden spoon or spatula, stir until the dough balls together and pulls away from the pot.
Place dough into a standing mixer with a paddle attachment (or in a bowl with a hand mixer) and mix until the dough has cooled and bowl feels room temperature to touch.
In a separate container, whisk together the eggs and red food color and then add to the dough a little at a time, mixing in between additions. Mix until combined, thick and sticky.
Place the dough in a piping bag with a star tip.
Fill a large pot with enough oil to fill the pot halfway. Heat to 350 degrees and keep the heat on low to keep the oil consistent with temperature.
Have a pair of scissors ready and slowly pipe the churros into the oil, and snip the falling churro dough to desired length. Be careful not to pipe too high, or the falling churro will splash the hot oil.
Fry the churros for about 6 minutes. Use a slotted spoon to remove the churros and place in the cinnamon sugar. Toss them in the cinnamon sugar to coat and enjoy.
This story is from the Fall 2021 issue. Read the magazine here.