Cafe Americano's Carrot Cake French Toast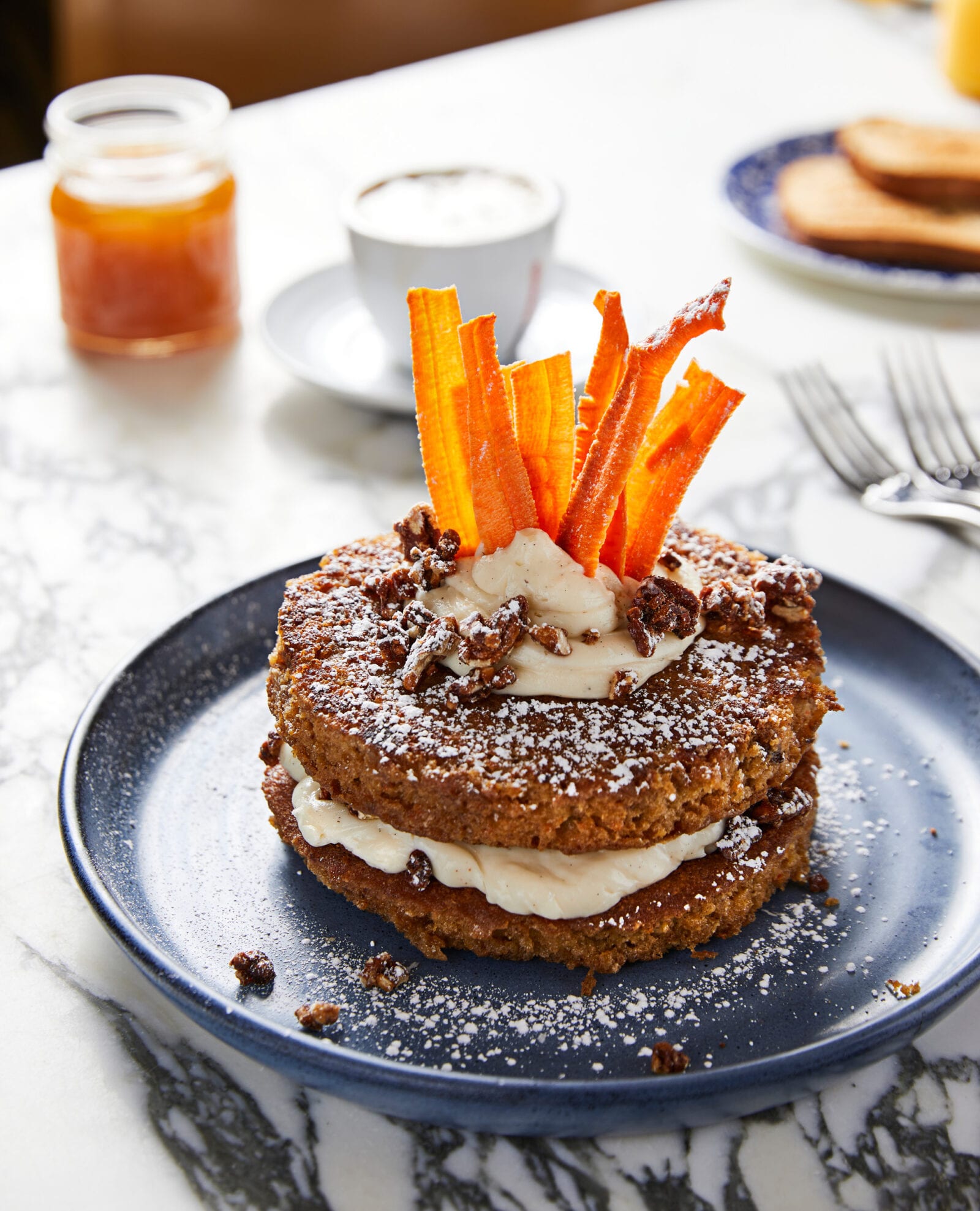 Cafe Americano's Carrot Cake French Toast
CARROT CAKE BRUNCH
They say this heaping helping is "almost too sweet to eat," but we'll be the judge of that.After establishing two Last Vegas outposts, the 24-hour* diner, Cafe Americano, took residence on Ocean Drive at the Hotel Victor and the Redbury Hotel. The new openings brought along the eatery's signature Carrot Cake French Toast, a multi-stacked marvel topped with cream cheese frosting and candied carrots.
RECIPE
Carrot Cake French Toast
Ingredients:
Cream Cheese Frosting Ingredients (yields 6 oz.)
6 oz. cream cheese
4 cups powdered sugar
1 tsp. vanilla extract
Method:
Mix cream cheese in a mixer with vanilla and powdered sugar. Set aside.
Pancake Ingredients
2 slices of carrot cake
1/4 cup Candied Pecans
7 carrot sticks
1/2 tsp. powdered sugar
2 oz. clarified butter
As needed: spiced French toast batter
Method:
Dip the cake pieces in the batter and drain off the excess.
On a buttered griddle, place the toast down and cook through about 3 minutes per side. Once done, place the first slice in the center of a round plate.
Pipe 5 oz. of the cream cheese frosting evenly on top and sprinkle with half of the pecans. Place the next slice on top of the frosting, and pipe 1 oz. of the frosting in the middle of the top of the slice. Sprinkle the remaining pecans over the top.
Stick the carrot sticks in the cream cheese frosting so that they stand vertically.
Sprinkle powdered sugar over the top.
786.730.3549; Hotel Victor, Miami Beach
cafeamericano.com