BEACON Contemporary American Grille's Lamb Chops Scottadito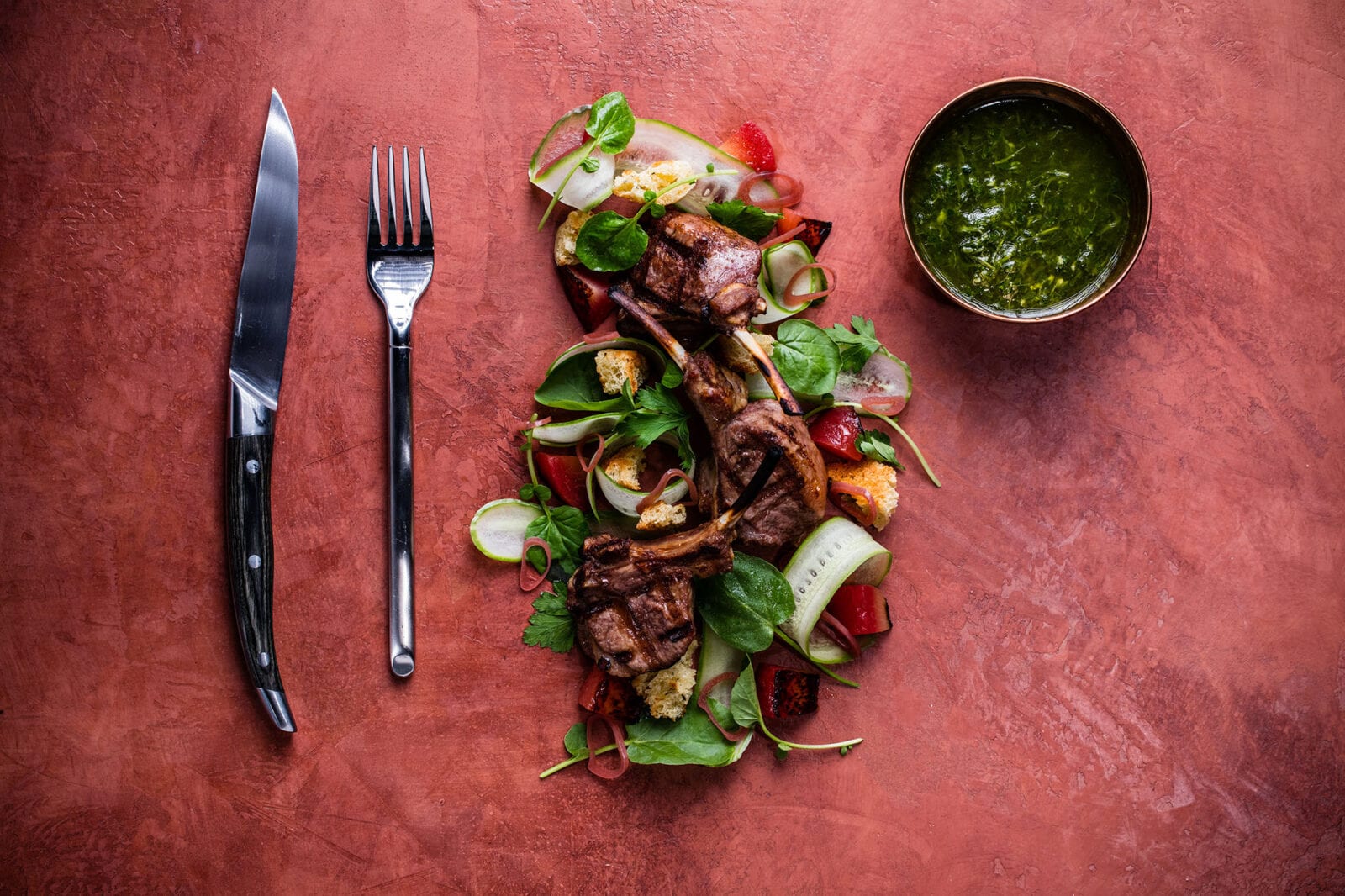 BEACON Contemporary American Grille's Lamb Chops Scottadito
LOVE AT FIRST SIGHT
The Jupiter Inlet Village welcomes Charlie & Joe's at Love Street, a four-concept dining haven on the water. Named after the founders Charlie Modica and football legend Joe Namath, this unique concept features four restaurants and one is Beacon Contemporary American Grille.
RECIPE
BEACON's Grilled Lamb Chops "Scottadito"
Ingredients:
3 lamb chops, frenched and marinated (see below)
7 Persian cucumber ribbons, shaved lengthwise
14 shallot rings, pickled (see below)
12 torn sourdough bread, 1-inch pieces
2 tsp. tomato powder
1 tbsp. garlic oil
9 wild watercress leaves
1 nectarine, cut into 1/8 pieces, grilled
4 tbsp. salsa verde (see below)
15 Italian parsley leaves
3 tbsp. extra virgin olive oil (California)
5 tsp. Pedro Ximenez sherry vinegar
Sea salt and cracked black pepper to taste
Lamb Marinade:
2 tbsp. garlic oil
1 tbsp. roasted garlic
3 tbsp. Greek yogurt
2 tsp. lemon juice
1/4 cup mint leaves, packed
1 tsp. smoked paprika
1 tsp. Dijon mustard
Pickled Shallot Rings:
5 shallots, sliced into thin rings
1 cup red wine vinegar
1 tsp. salt
3 tbsp. sugar
Salsa Verde:
3/4 cup cilantro leaves, packed
3/4 cup parsley leaves, packed
1/4 cup oregano leaves, packed
1/2 cup scallions, chopped
3 g garlic cloves, blanched
4 tbsp. grapeseed oil
3 tbsp. Banyuls vinegar
5 tbsp. extra virgin olive oil
Sea salt to taste
Method:
Blend all of the ingredients for the marinade until smooth. Rub all over the lamb chops and set aside for 30 minutes.
For the shallots, combine the vinegar, salt, and sugar, bring to a boil, and pour over the shallots, letting the shallots sit in the liquid for at least 1 hour.
Prepare the salsa verde by combining all of the ingredients in a food processor and pulse until smooth. Set aside.
Toss the torn sourdough bread with tomato powder and garlic oil. Place on a sheet pan in a preheated oven at 350 degrees, and bake until golden brown and crispy.
To finish, grill the lamb chops allowing the bones to char. Cook to the desired temperature and set aside to rest. While the lamb is resting, in a bowl, toss the bread, parsley, watercress, nectarines, pickled shallot rings, and cucumber with the olive oil and sherry vinegar, seasoning with salt and pepper to taste. Place the panzanella salad on the plate and lay the lamb chops on top of the salad. Drizzle the salsa verde over the lamb and around the plate, and serve.
561.532.3280; Jupiter Inlet Village, Charlie & Joe's at Love Street
thebeaconjupiter.com