Bachour's Gianduja Petit Gâteau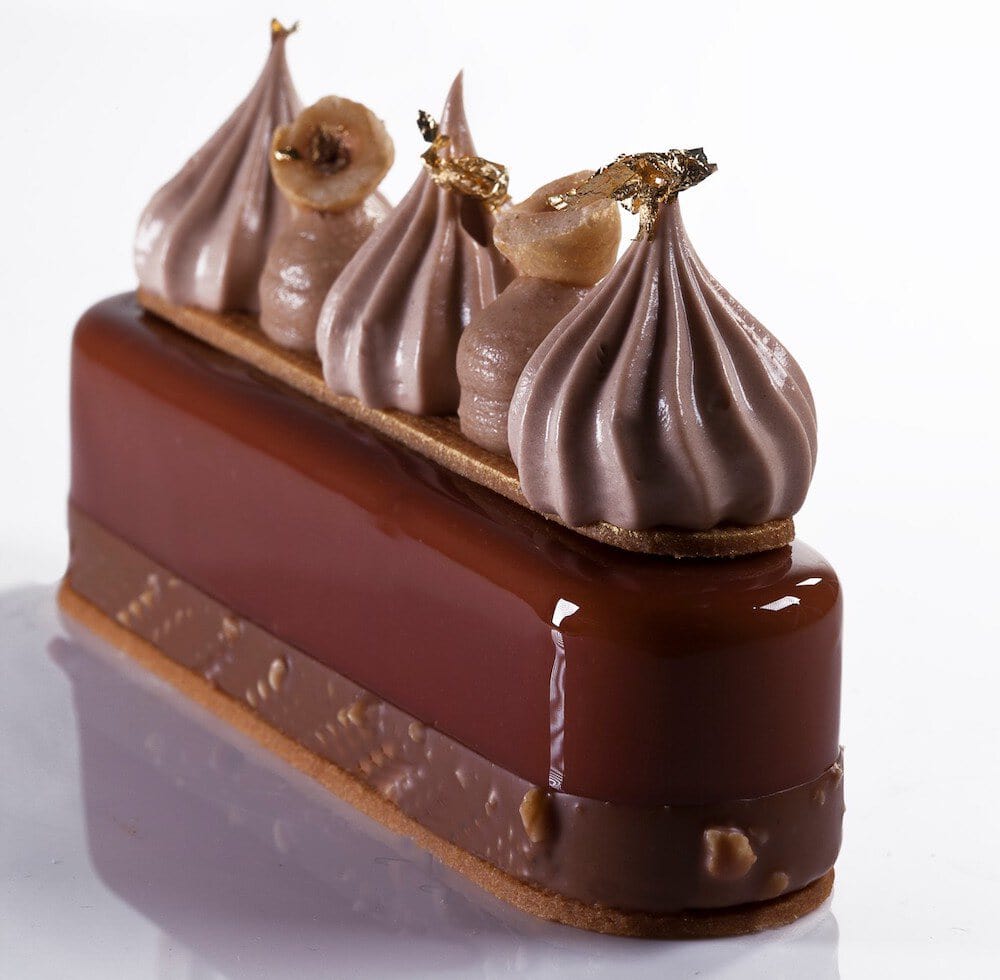 Bachour's Gianduja Petit Gâteau
Bachour Restaurant & Bakery from world-renowned pastry chef Antonio Bachour is known for its beautifully prepared, intricate and mouthwatering desserts. "The Gianduja petit gâteau is one of the first desserts I created at the start of my career," Bachour says. "It is one of the best sellers and a Bachour staple!" 
RECIPE
Yields 15
For the 70% Chocolate Cake:
120 grams eggs
190 grams sugar
180 grams flour
15 grams baking powder
245 grams milk
175 grams clarified butter
155 grams 70% chocolate 
In a mixer with the whisk attached, combine sugar and eggs. Once combined, add the milk following with the melted butter and chocolate. Finish adding the sifted dry ingredients. Bake 325 F for 10-12 minutes in a sheet pan lined with silicone mat. Let cool and cut into desired shape. Reserve in the fridge.
For the Gianduja Mousse:
6 grams gelatin sheets
375 grams gianduja chocolate, melted
220 grams heavy cream
60 grams 60% hazelnut praline
375 grams heavy cream, whipped to soft peaks 
Soak gelatin in ice water until softened; squeeze out excess water and set aside. Bring heavy cream to boil, add the gelatin and mix until the gelatin melts. Add the boiling cream to the gianduja and praline and mix with a hand blender until smooth. Set aside to cool to 95 F before folding in whipped cream. 
For the Milk Chocolate Glaze:
22.5 grams silver gelatin sheets
125 grams water
225 grams granulated sugar
225 grams glucose syrup
225 grams Jivara milk chocolate
160 grams condensed milk
90 grams Valrhona Absolu neutral glaze
Soak gelatin in ice water until softened; squeeze out excess water and set aside. In a medium-sized pot, bring water, sugar and glucose to a boil 215 F. When hot, stir in the drained gelatin. Place the chocolate in a medium bowl. Pour the hot mixture onto the chocolate and emulsify with the hand blender. Stir in the condensed milk and neutral glaze. The glaze will be ready when it reaches 95 F.
For the Milk Chocolate Caramel Whipped Ganache:
250 grams heavy cream (35% fat)
25 grams glucose syrup
30 grams sugar
170 grams milk chocolate
375 grams heavy cream (35% fat)  
Bring the 250 grams cream and glucose syrup to the boil.
Make a dry caramel with the sugar and stop the cooking with the hot cream. Wait until the temperature has fallen to around 140 F, then pour onto the melted couverture. Mix until smooth, glossy and elastic with a hand blender. Blend to perfect the emulsion.
Add the chilled cream and blend again.
Set aside in the refrigerator to set overnight.
For the Crunchy Milk Chocolate:
400 grams milk chocolate
60 grams cocoa butter
80 grams ground hazelnut 
Melt the chocolate and cocoa butter to 95 F and add small pieces of ground hazelnut. Use immediately.
To Assemble: Pour the mousse over a Pavoni Pastel Mold and cover with the cake. Place in the freezer and freeze. Unmold and glaze. Use two toothpicks to help dip the glazed cakes into the crunchy milk chocolate. Pipe the whipped ganache on top of the cake. 
2020 Salzedo St., Coral Gables; 305.203.0552; antoniobachour.com