Where to Live By How You Live: Florida
Top Florida cities and towns to make your dream life a daily reality.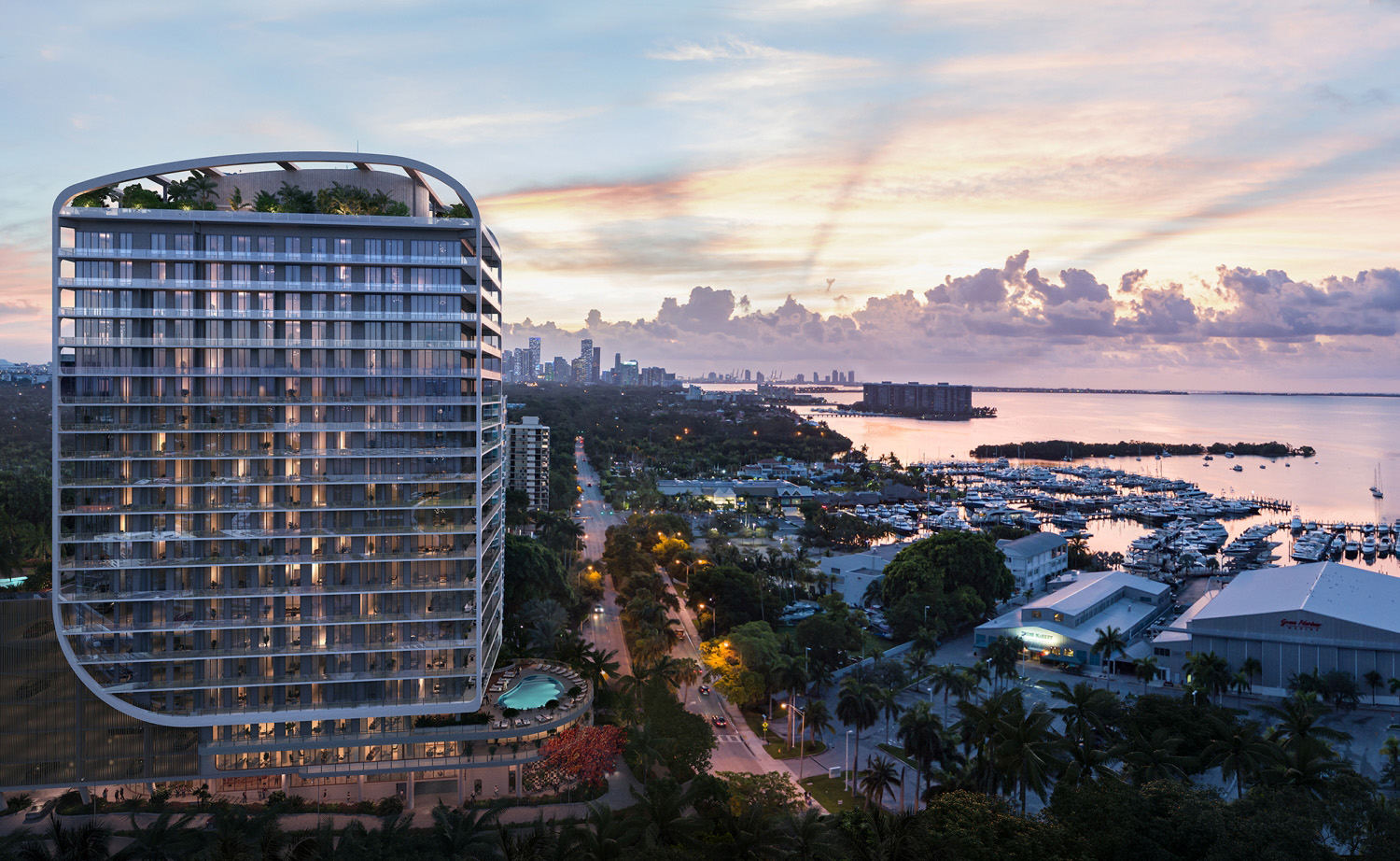 Learn about top places in The Sunshine State that will suit anyone's way of life. It's "Lifestyle real estate," one of the hottest new residential property trends in America, especially with so many more people now working from home. Here's our roundup of some of the best—with a few extraordinary places that truly will blow your mind.
Polo Fanatics
Polo players are known for their well-heeled tastes and affinity for luxury real estate. This exclusive enclave won't let them down.
Wellington: Five miles west of the glitz and glamour of Palm Beach is America's polo epicenter, where some of the world's best players (and their horses) reside and train.
Active Families
If the pace of life is what keeps you and your family healthy, happy, together and on the move, these cities will be impossible to resist.
Kissimmee: Average winter highs of 75 degrees, proximity to Orlando and its world-famous amusement and water parks, high-end shopping and endless lakefront trails make this city a snowbird's paradise.
Fort Myers: Known as the gateway to Southwest Florida, this small Gulf Coast city is a major tourist destination known for its rich history, beautiful natural scenery, safety and family-friendly outdoor lifestyle catering to both retirees and young families.
St. Petersburg: You'll never run out of things to do in the "Sunshine City," from boating to beachgoing to endless other outdoor activities. St. Petersburg is also home to the Tampa Bay Rays, while Major League Baseball's Spring Training season is in nearby Clearwater.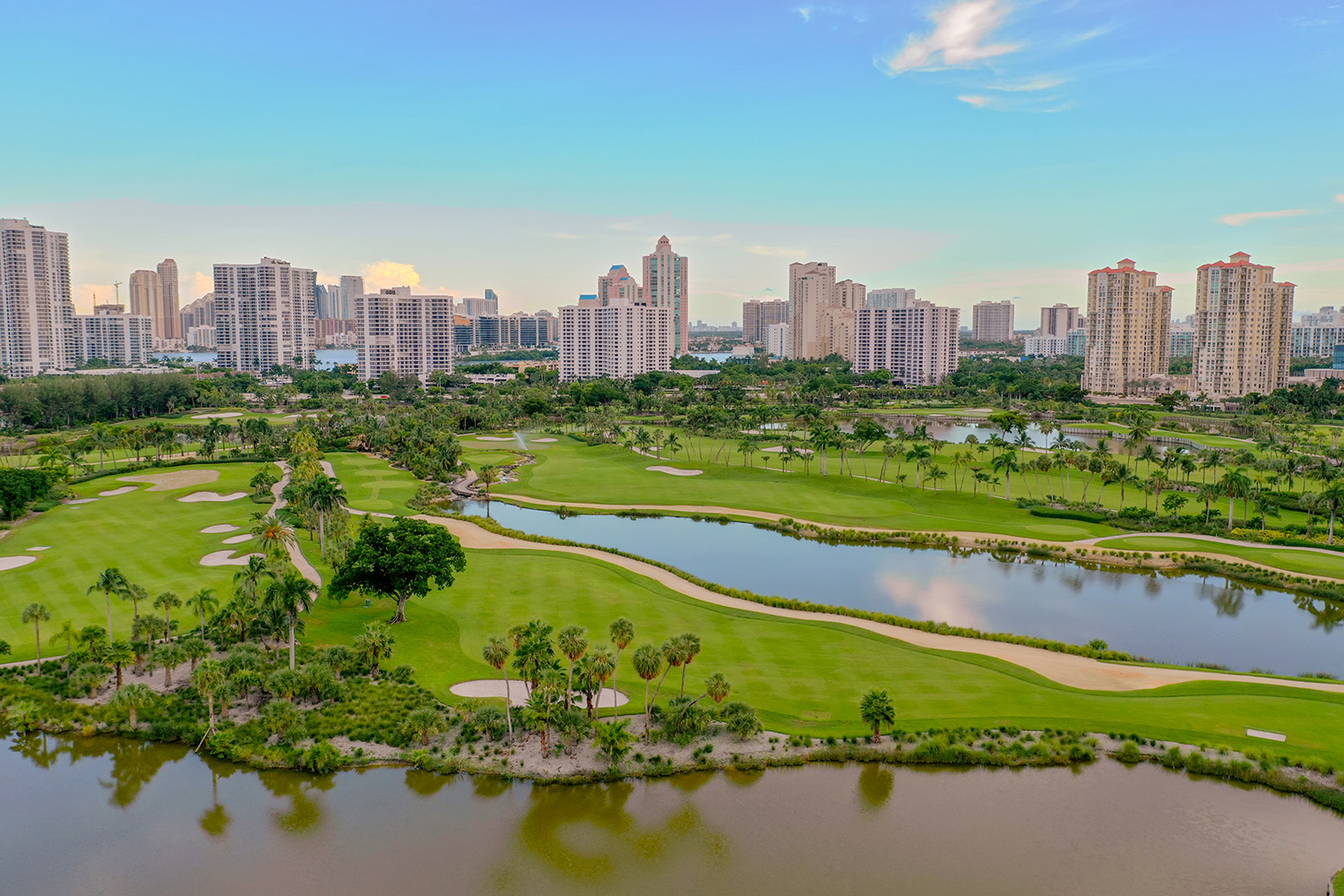 Golf Lovers
Golf lovers who crave idyllic climates, legendary course quality and the private club lifestyle won't be able to get enough of these three towns.
Aventura: Turnberry Isle Country Club is a South Florida landmark, featuring one of Florida's most celebrated resorts, JW Marriott Miami Turnberry Resort & Spa, two championship golf courses, and a luxurious, cosmopolitan lifestyle.
St. Augustine: America's oldest city is home to World Golf Village with two championship courses, the World Golf Hall of Fame and the iconic island green at TPC Sawgrass.
Jupiter Island: More than 40 PGA golfers call this uber-exclusive Atlantic Coast island home, including Gary Player, Rickie Fowler, Rory McIlroy, Brooks Koepka, Jack Nicklaus and Tiger Woods. There are 78 golf courses within 20 miles, including the legendary Bear's Club.
On the Horizon Properties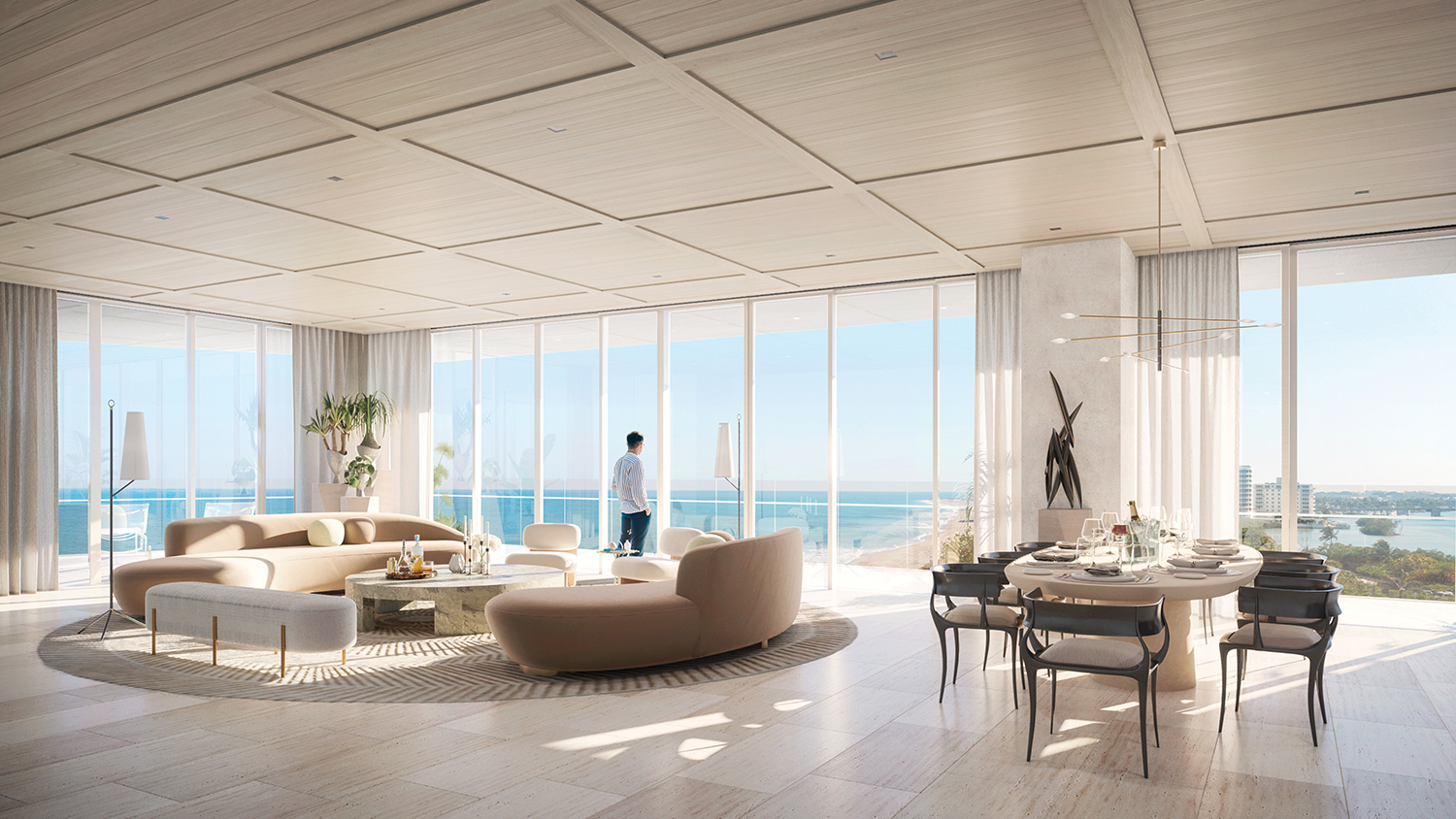 SEAGLASS JUPITER ISLAND
Developer: Fontainebleau Development and Perko Development Partners
The only condominium development on one of America's most exclusive island enclaves, this 10-story luxury building will offer Atlantic and Intracoastal frontage, lavish amenities, and sleek contemporary architecture to only 21 owners. 1500 Beach Road, Tequesta; seaglassjupiterisland.com
Price Range: $6.9M – $12M
Sq. Ft. Range: 3,781 sq. ft – 5,323 sq. ft.
Completion Date: Winter 2022
Key Amenities: Private gated entry, air-conditioned private garages and an oceanfront pool surrounded by the undisturbed, natural habitat of Coral Cove Park.
Sales Contact: 561.818.5388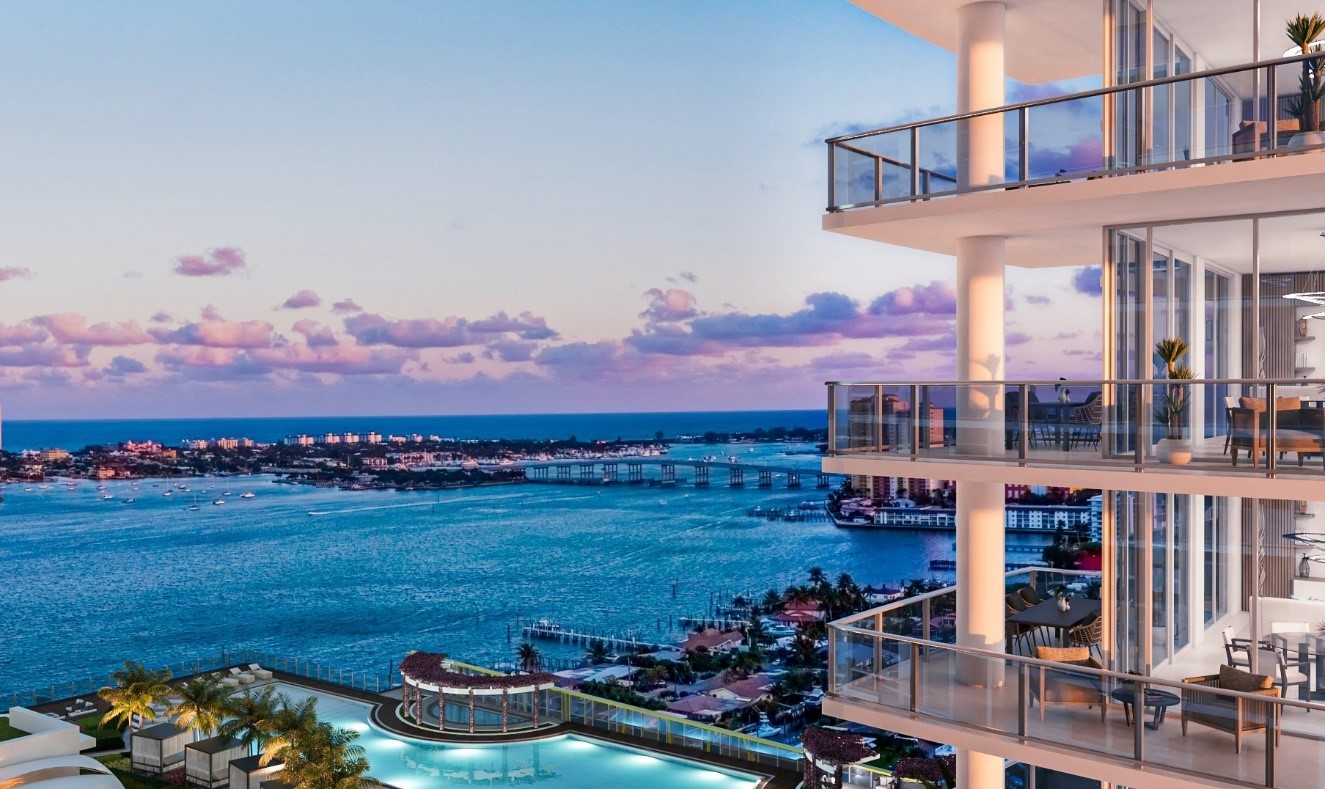 NAUTILUS 220
Developer: Forest Development, LLC
Nautilus 220 features 330 one- to four-bedroom residences in two towers boasting unobstructed water views and a poloperfect location equidistant between the Palm Beaches and the Palm Beach International Polo Club in Wellington. 220 Lake Shore Drive, Lake Park; nautilus220.com
Price Range: $800,000 – $3M+
Sq. Ft. Range: 1,100 sq. ft. – 3,400 sq. ft.
Completion Date: Winter 2023 Key Amenities: Marina with 100 slips for yachts up to 100 feet, waterfront restaurants and retail, penthouses with private rooftop terraces, plunge pools, summer kitchens and cabanas.
Sales Contact: 561.475.4513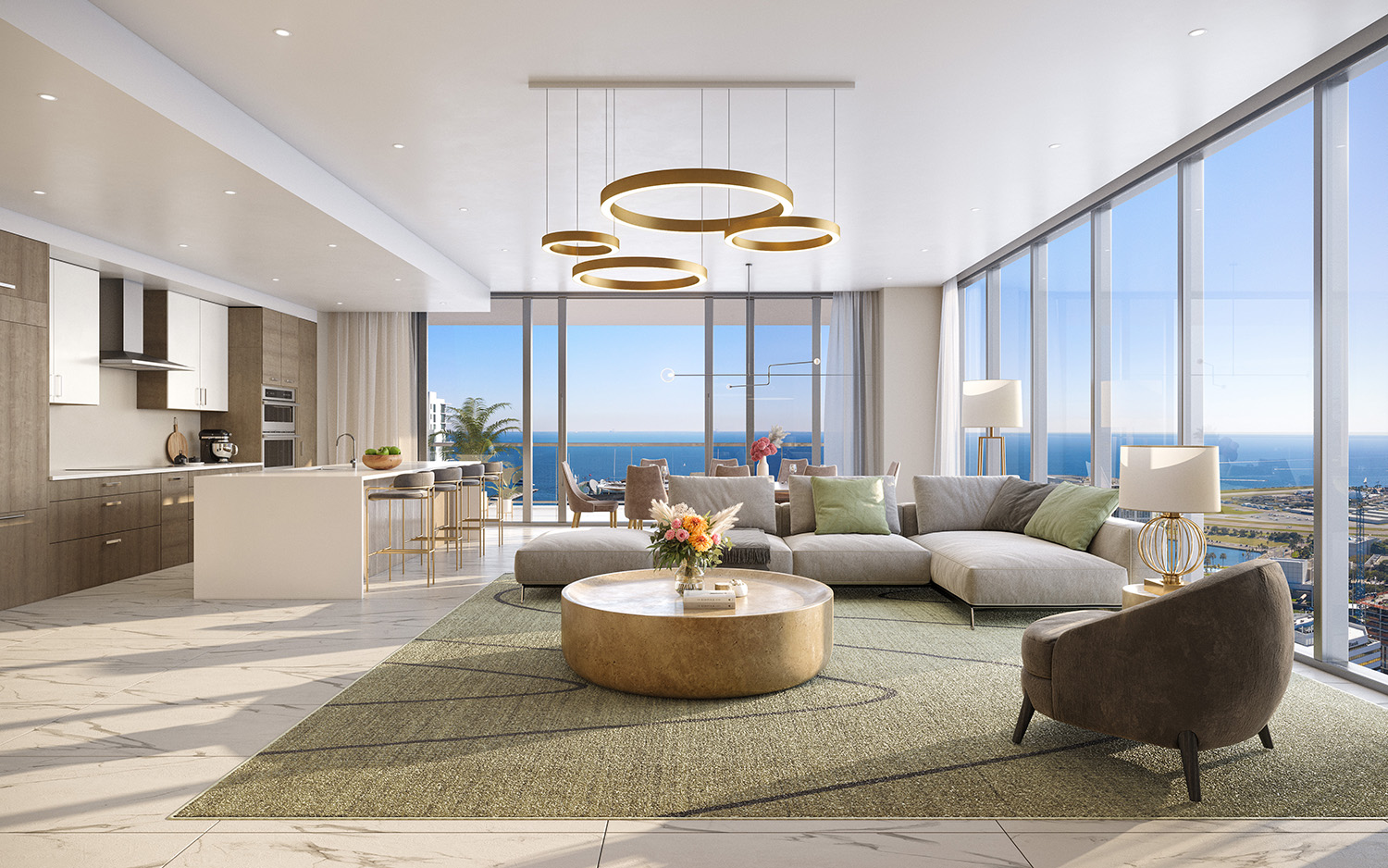 ART HOUSE ST. PETERSBURG
Developer: Kolter Urban
Billed as the latest innovation in St. Petersburg living, this recently announced 42-story glass tower merging groundlevel retail and restaurants with 244 two- and three-bedroom units will bring a new level of luxury to the downtown waterfront. 200 Central Ave., St. Petersburg; arthousestpete.com
Price Range: Starting in the $800,000s
Sq. Ft. Range: 1,380 sq. ft. – 2,637 sq. ft
Completion Date: 2024 Key Amenities: A full-floor amenity deck called Cloud 9 features a resort pool, a cocktail bar and cabanas. Indoor amenities include a simulated video game room, a full spa and a co-working space with communal and private meeting rooms called The Hub.
Sales Contact: 727.240.3840
ARTS & CULTURE
Music, art, theater and offbeat local events that bring kindred spirits together are the yearround pulse in these three cities.
Sarasota: The epicenter of Florida's "Cultural Coast," this waterfront city is packed with galleries, year-round performances and some of the most notable midcentury architecture and homes in the U.S.
Jacksonville: Exploring Jacksonville's rich history, arts, music and restaurant scene will soothe your soul. Plus, enjoy invigorating beach workouts, outdoor fitness activities, group yoga and meditation, spa treatments, and plenty of time to soak up the sun.
Edgewater/Miami Arts & Entertainment District: This booming and eclectic neighborhood along Biscayne Bay is home to the Adrienne Arsht Center for the Performing Arts and the famed Art Miami art fair. It's also equidistant from downtown's museum district and Wynwood's murals, drive-in theaters and funky culinary scene.
YACHTING LOVERS
Superyacht owners and sailors seeking blue water, big boat slips and the bespoke lifestyle will want to pull up anchor in these three waterfront paradises.
Fort Lauderdale: America's sailing capital is home to some of the finest yacht builders and craftsmen in the U.S.—and is now one of the hottest cities in South Florida for the high-net-worth class.
Tampa: Tampa Bay has some of the best boating in Florida, with hundreds of hidden coves and rivers, as well as direct access to the Gulf Coast with its sugar-sand beaches and uninhabited barrier islands. Downtown Tampa is also undergoing an unprecedented revitalization.
TASTE AFICIONADOS
If you fancy food, wine and all things culinary, these three sensory epicenters will have you salivating.
Key West: Famed Duval Street is home to more restaurants in its mile length than almost anywhere else in America, spanning cuisine from James Beard to Jimmy Buffet. The bars (wink) are pretty legendary as well.
South Beach: It seems like every other month, a new restaurant opens in South Beach, drawing a line that stretches around the corner. SoFi (South of Fifth) is the epicenter of this new culinary awakening, while the South Beach Food & Wine Festival has become one of America's premier foodie events.
On the Horizon Properties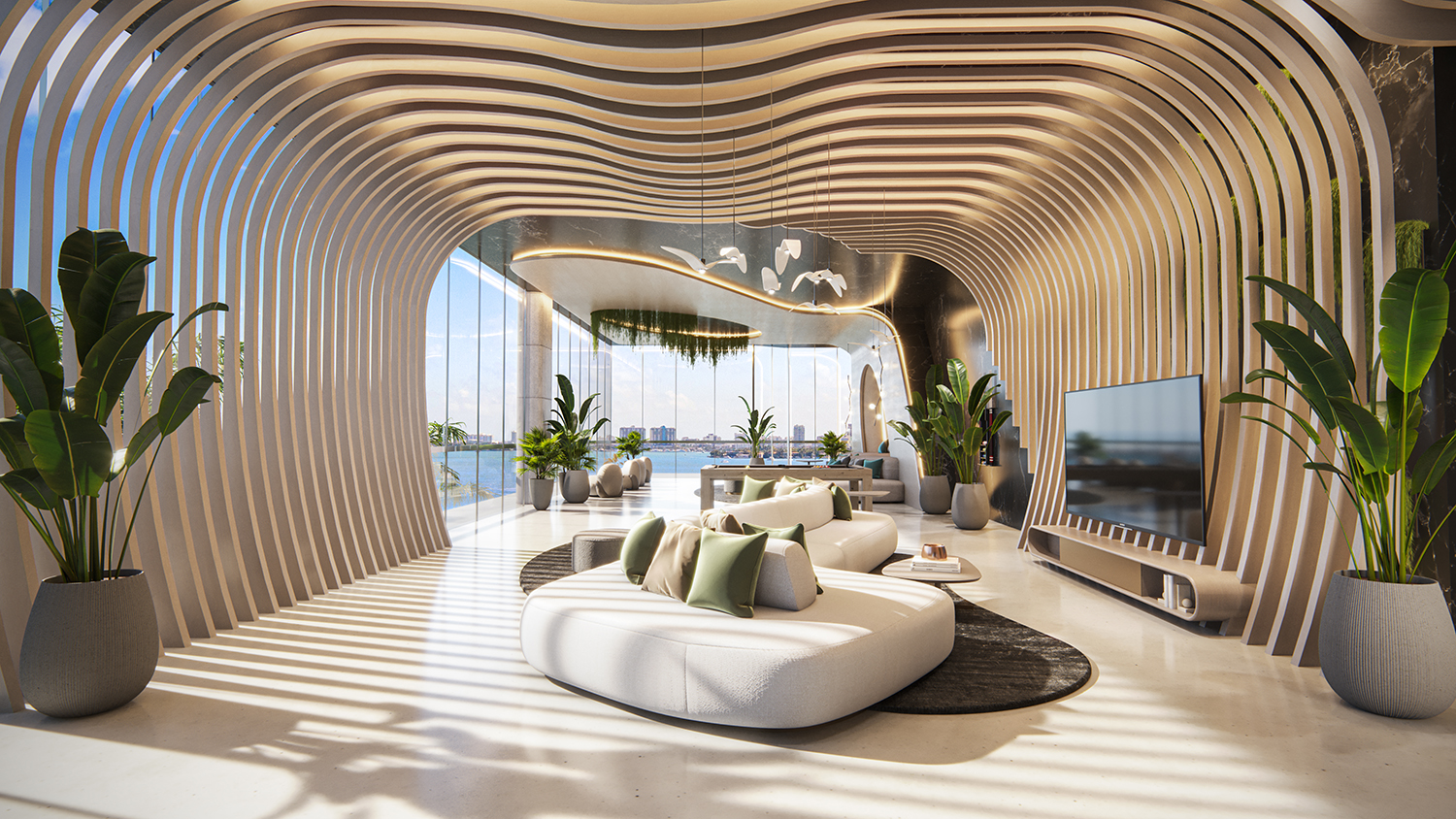 Developer: The Melo Group
Billed as the tallest dual waterfront residential towers in the U.S., this groundbreaking development will transform Edgewater's skyline with an unprecedented mix of sleek modern architecture, luxury amenities and a state-of-theart lifestyle at the edge of Biscayne Bay. 700 NE 24th St., Miami; ariareserve.com
Price Range: $850,000 – $2M (not including the penthouses)
Sq. Ft. Range: 1,100 sq. ft. – 2,600 sq. ft.
Completion Date: 2024
Key Amenities: Custom-designed owners' lounges at the SkyLobby level, a wine lounge, private meeting rooms, a semi-Olympic-sized lap pool, five acres of waterfront reserve and 550 feet of private bayfront.
Sales Contact: 305.800.8888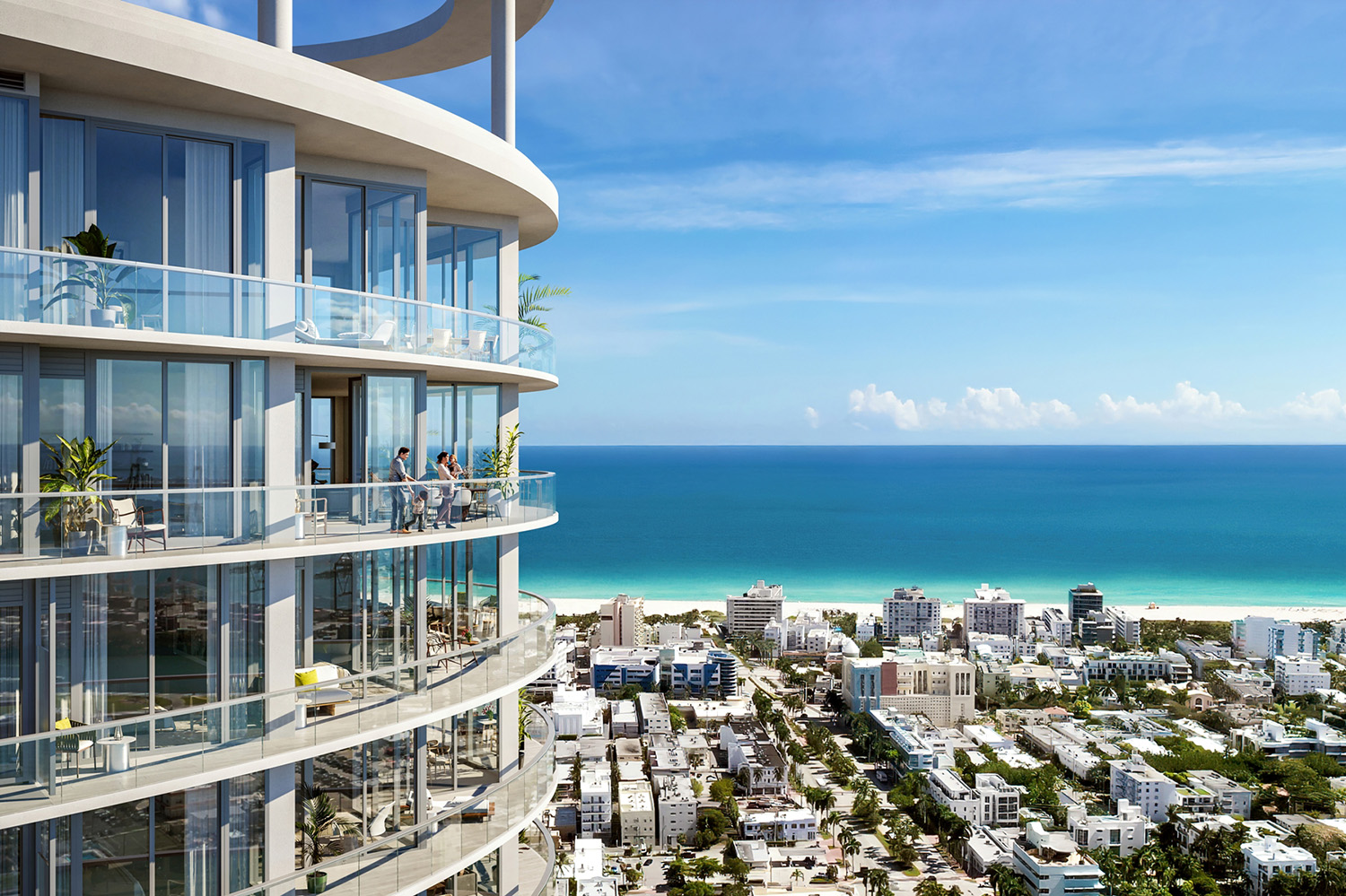 FIVE PARK
Developer: Terra Group, GFO Investments
This luxury condominium development at the gateway to the historic Art Deco District, the convergence of Fifth Street and Alton Road, will be the largest and tallest building ever built on Miami Beach—and one of its most luxurious to boot. 500 Alton Road, Miami Beach; fivepark.com
Price Range: Starting at $2.5M
Sq. Ft. Range: 1,434 sq. ft. – 6,000 sq. ft.
Completion Date: Fall 2023
Key Amenities: Private elevator access, elevated pool deck with a clubhouse, electric vehicle charging stations, co-working spaces, a private spa with treatment rooms and a ground-level 3-acre park.
Sales Contact: 786.636.3125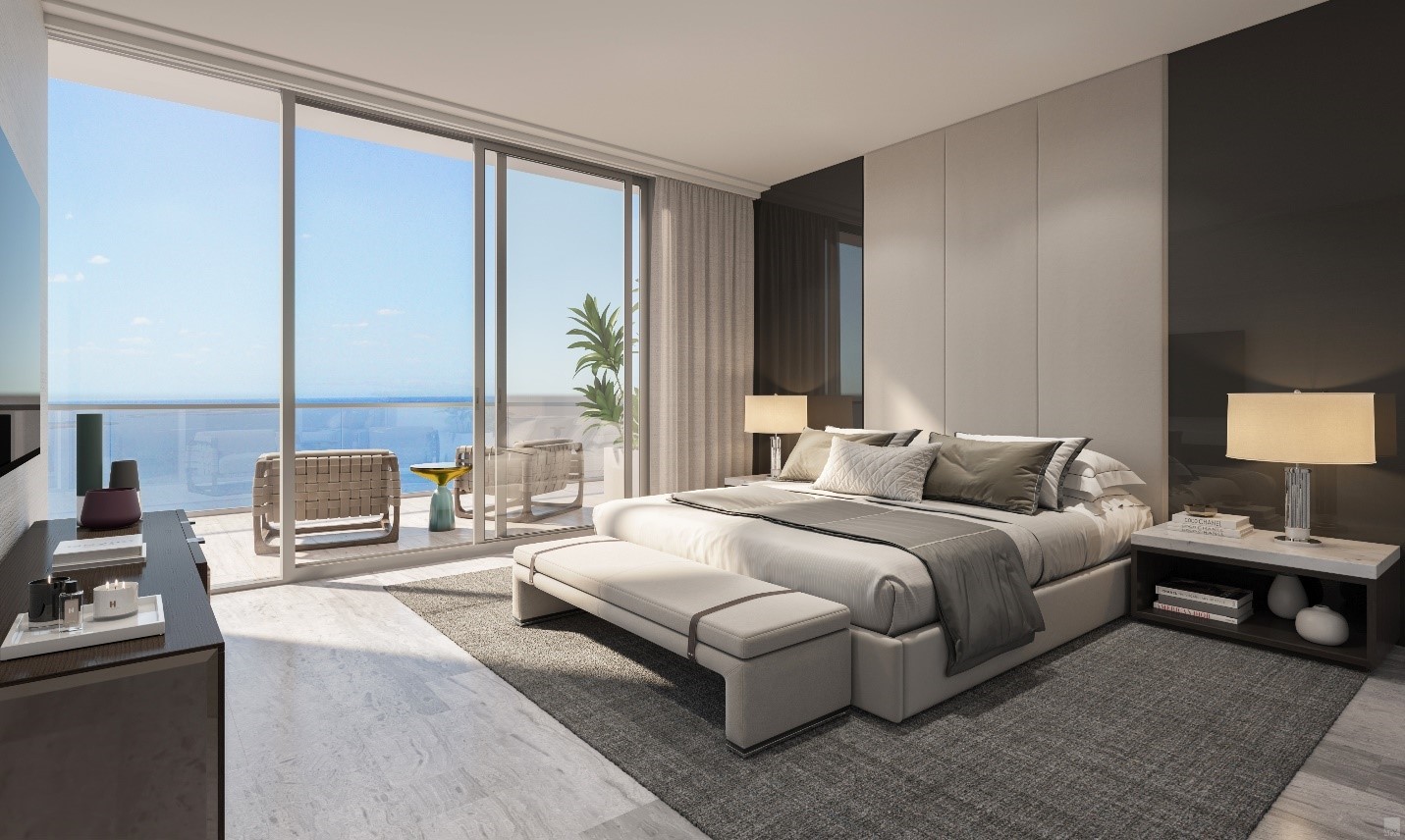 THE RITZ-CARLTON RESIDENCES TAMPA
Developer: Related Group
The Ritz-Carlton Residences Tampa is a one-of-a-kind, luxury condominium development on Tampa's up-and-coming waterfront. The $400 million project—spanning 3.5 acres and 27 stories—is Ritz-Carlton's first branded residence in Tampa and Related Group's first Central Florida development. 3101 Bayshore Blvd., Tampa; theresidencestampa.com
Price Range: $1.7M – $5.2M
Sq. Ft. Range: 2,405 sq. ft. – 5,570 sq. ft.
Completion Date: Spring 2024
Key Amenities: Hand-curated, museum-quality art, including a striking 8-foot-tall Fernando Botero sculpture. Every unit will also incorporate a state-of-the-art purification system, Darwin Home Wellness Intelligence Network and a touchless Related Living mobile app.
Sales Contact: 813.535.5978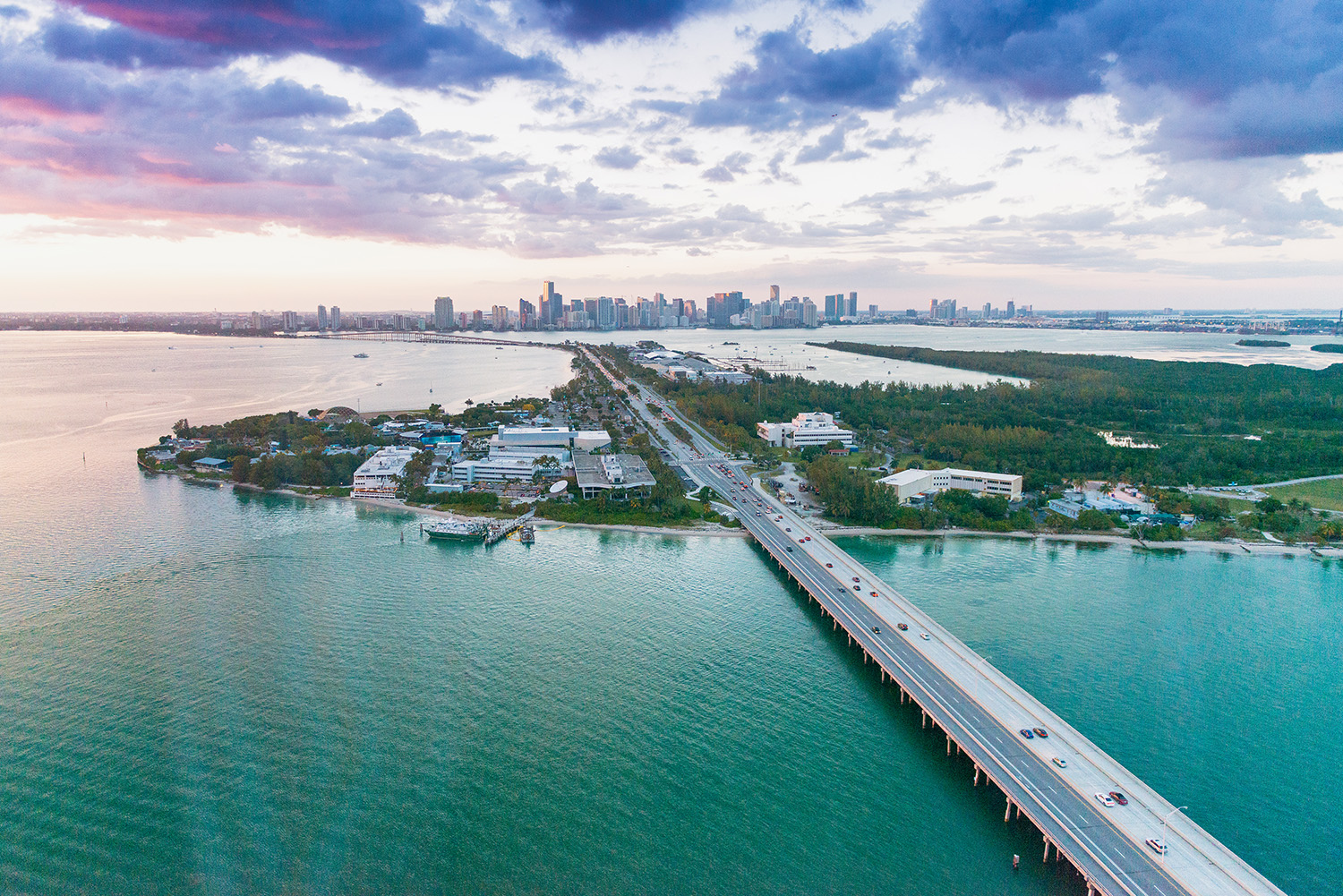 ISLAND LIVING
These three towns combine proximity to America's busiest metropolitan centers with access to the outdoors, clubs, great schools and thriving social scenes.
Fisher Island: One of America's most exclusive zip codes (accessible by a five-minute ferry ride), Fisher Island touts world-class tennis and golf, a private beach club, an elementary school and its own helicopter pad.
Key Biscayne: You don't have to live in the Florida Keys to experience the "keys" lifestyle. This beachy, laid-back community connects to Miami by bridge, and its high-end homes and condos are flanked by preserved open space and parks on either side.
Palm Beach Islands: These three islands—Peanut, Singer and Palm Beach—comprise more than 47 miles of Atlantic Ocean coast, luxury resorts and extravagant waterfront mansions. Palm Beach is now also one of the most popular destinations in Florida for people relocating from the Northeast.
MILLIONAIRE NEIGHBORS
Want to bump into millionaires (or billionaires), tech titans and power brokers in their jeans and T-shirts? Try these towns on for size.
Naples: Naples is home to a higher percentage of millionaires and a higher average income per capita than almost any other city in the U.S.—and it has the waterfront real estate values to back that up.
Windermere: Oprah, Tiger Woods and Arnold Palmer have all called this swanky suburb home—it's no wonder it has the highest per-capita income in Central Florida. It also includes its fair share of billionaires. You probably won't know who they are, and that's the way they like it.
Star Island: The name pretty much says it all if you want to live in one of Miami's most exclusive private island neighborhoods between South Beach and downtown. Sean Combs, Emilio and Gloria Estefan, Don Johnson, Rosie O'Donnell and Shaquille O'Neal all own or have owned homes here
WOW-WORTHY REAL ESTATE
Sometimes big things come in even bigger, more eyepopping packages.
Palm Beach: The mansions on Billionaires Row along South Ocean Boulevard will make even a sultan swoon. Grandeur, opulence and over-the-top don't even come close to the words we'd use to describe them—and they're even better viewed from the water.
Gables Estates: This canal-front neighborhood just south of Miami's famed Coconut Grove neighborhood is one of the most prestigious addresses in the U.S. with the architecture to match, from Spanish Mediterranean-style homes to sleek modern designs.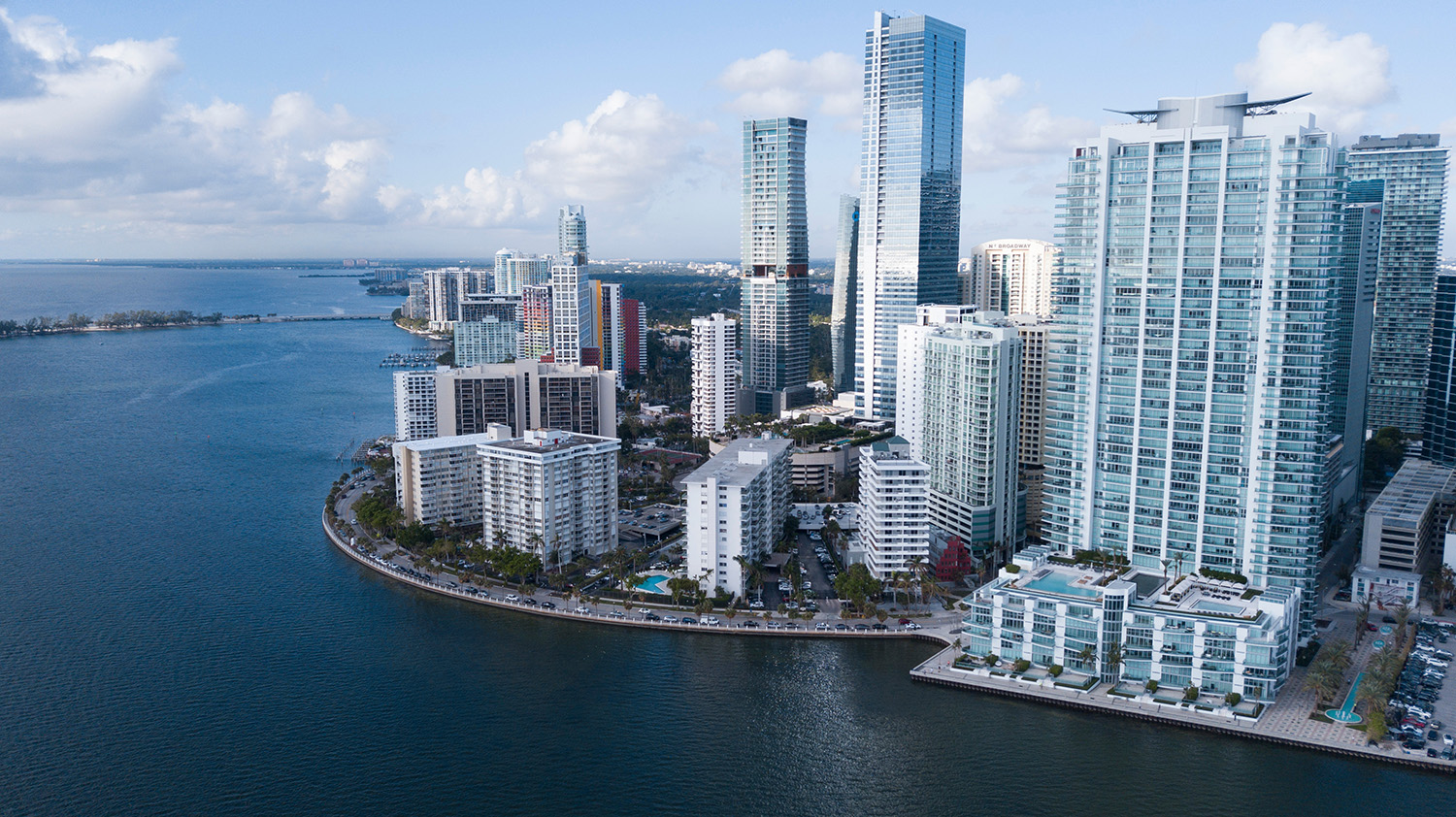 HIGH-RISE LIVING
Some people just prefer living high in the sky where the air is clear, the bustle abates and the views go on for miles. Penthouses aren't bad either, of course.
Brickell: Miami's financial district—and more recently dubbed "Manhattan South" due to an influx of new companies from New York City— Brickell soars over Biscayne Bay, the Florida Keys, the Everglades and downtown Miami.
Sunny Isles Beach: Porsche Design Tower, The Ritz-Carlton Residences, The Mansions at Acqualina, Residences by Casa Armani, and six (yes six) Trump towers all call this South Florida beach city home.
On the Horizon Properties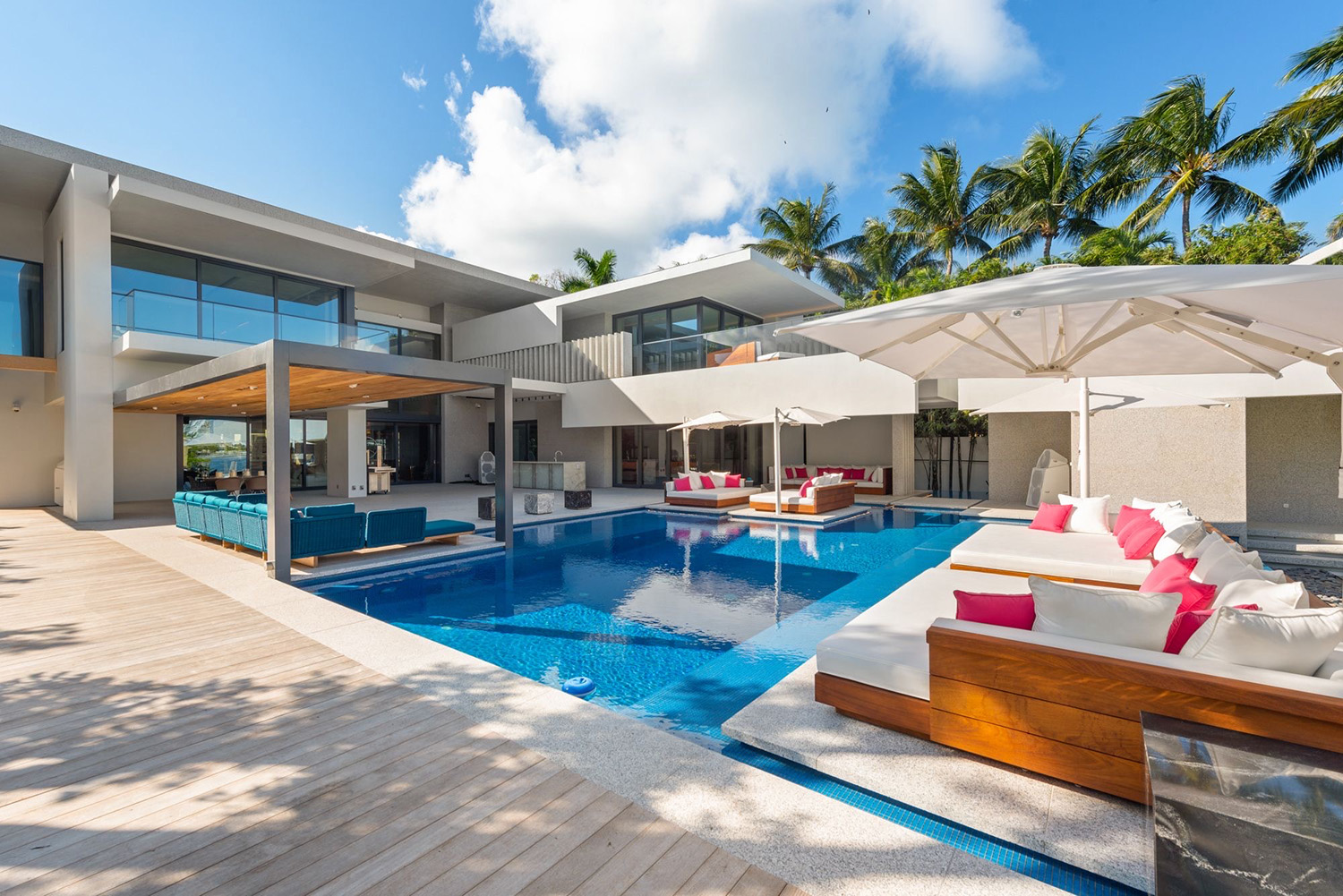 STAR ISLAND ESTATE
This sprawling estate designed by starchitect firm SAOTA screams exclusivity and includes two separate homes: a completely restored 1924 three-bedroom "guest house" that embodies the Roaring '20s and a modern six-bedroom masterpiece on the water. 27 Star Island Drive, Miami Beach
Price: $90M
Sq. Ft.: 27,737 sq. ft.
Key Amenities: 100 feet of east-facing waterfront with a gym, sauna, steam room, cold plunge, Jacuzzi, cabana, spa, massage room, hair salon and a true chef's kitchen with different cooking methods.
Sales Contact: 305.804.2921, Alyssa Morgan of ONE Sotheby's International Realty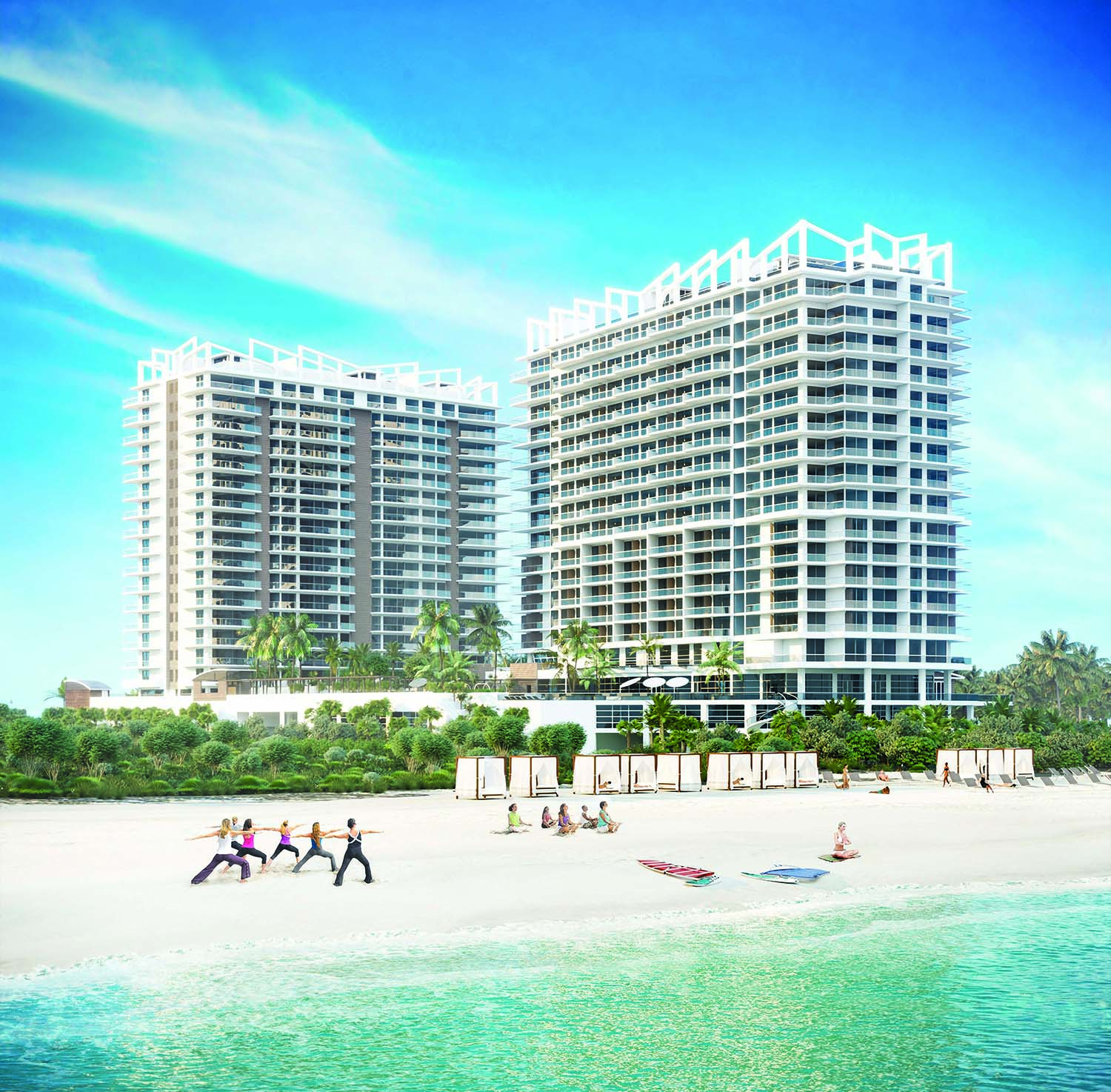 AMRIT OCEAN RESORT & RESIDENCES
Developer: Creative Choice Group
Eastern mindfulness and well-being converge with Western opulence and first-class service at this luxury condominium development, including a five-star resort anchored on 7.5 acres of undisturbed beach. 3100 N. Ocean Drive, Singer Island – Riviera Beach; amritocean.com
Price Range: $1.2M – $3.65M
Sq. Ft. Range: 1,300 sq. ft. – 3,400 sq. ft., including 1,000 sq. ft. of outdoor terrace space
Completion Date: Fall 2022
Key Amenities: Cutting-edge wellness programs and technologies (including hydrothermal pools and inhalation therapy chambers are sprawled across four stories and 100,000 square feet of indoor and outdoor amenity space.
Sales Contact: 561.944.7150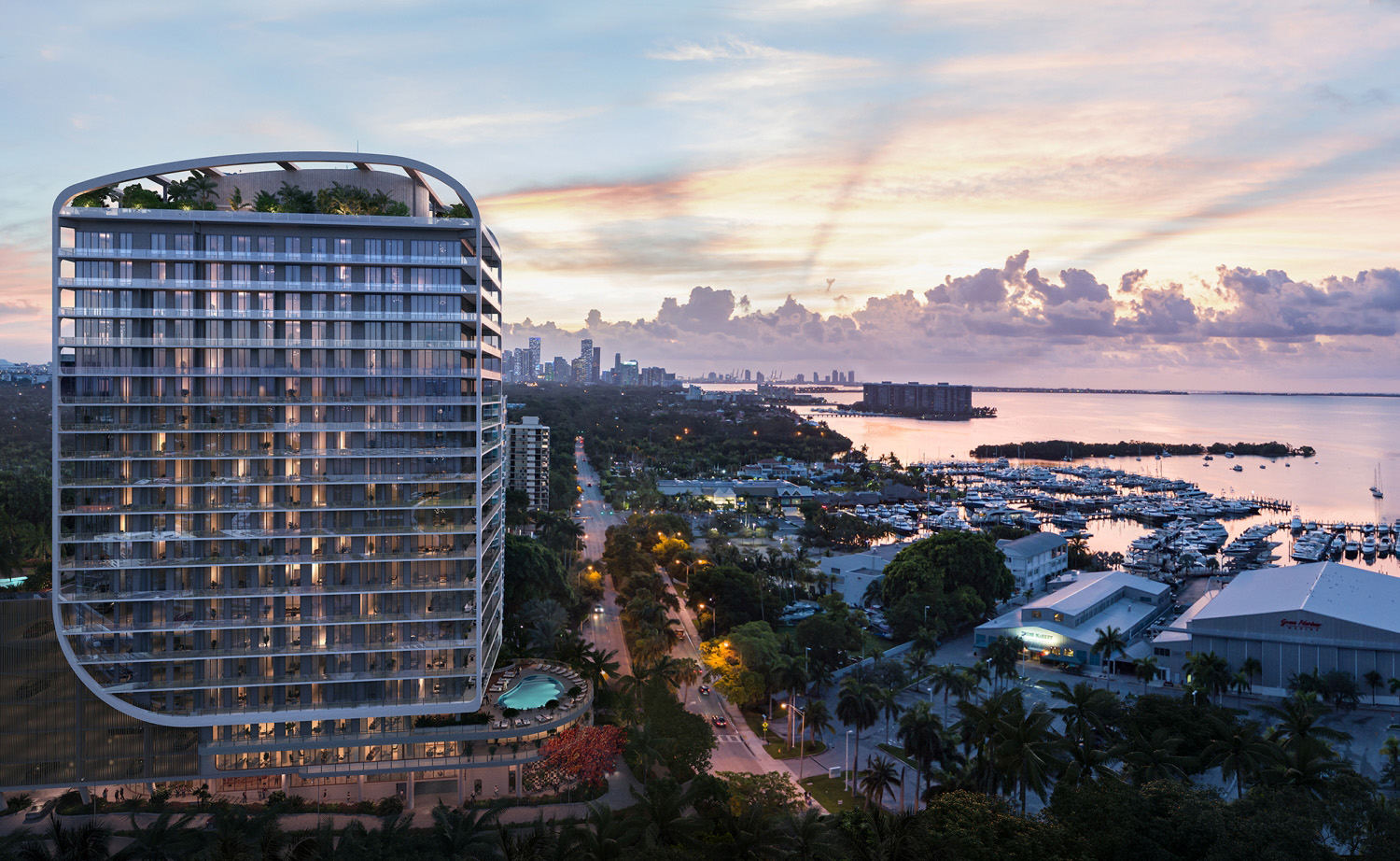 C RESIDENCES
Developer: Terra Group
A contemporary take on classic European living infused with South Florida's nautical history shapes this world-class waterfront development in the heart of Coconut Grove, putting the yachting lifestyle at residents' fingertips with Italian-style dining just steps from their front door. 2678 Tigertail Ave., Coconut Grove; mrcresidencescoconutgrove.com
Price Range: $600,000 – $5M+
Sq. Ft. Range: 765 sq .ft. – 3,500 sq. ft.
Completion Date: Fall 2023
Key Amenities: Rooftop pool, bar and lounge, personal trainers with specialty classes, fine dining, elevated living and waterfront views across Key Biscayne all the way to the Bahamas.
Sales Contact: 305.521.9120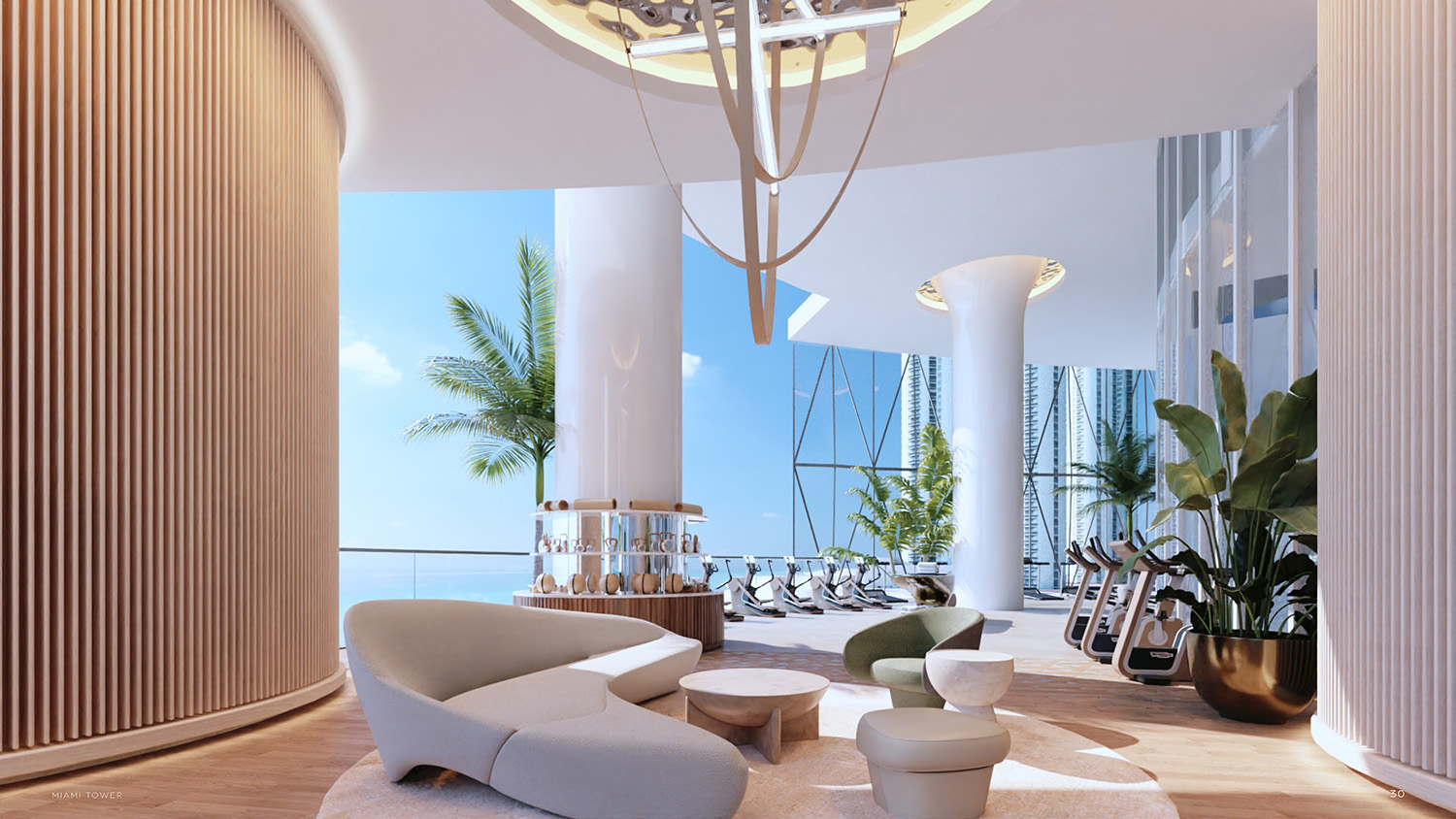 BENTLEY RESIDENCES
Developer: Dezer Development The world's first Bentley-branded luxury residential tower is a private beachfront enclave encompassing a one-of-a-kind collection of 216 exquisitely finished residential units, each embracing an exquisite balance of indoor-outdoor living. 18401 Collins Ave., Sunny Isles Beach; bentleyresidencesmiami.com
Price Range: Starting at $4.2M
Sq. Ft. Range: 6,000 sq. ft. with 1,150 sq. ft. – 2,000 sq. ft. of outdoor living space
Completion Date: 2026 Key Amenities: Each residence will feature an in-unit multicar garage driven by the patented "Dezerator" car elevator and a private balcony pool. The building's resort-style amenities will include a private restaurant with a resident chef, cinema, whiskey bar and cigar lounge.
Sales Contact: 305.932.1000
This story is from the 2022 Annual Florida edition. Click to read more.