Uchi's Jasmine Cream Dessert
For a sweet dessert infused with light jasmine tea, look no further than this dish by Uchi.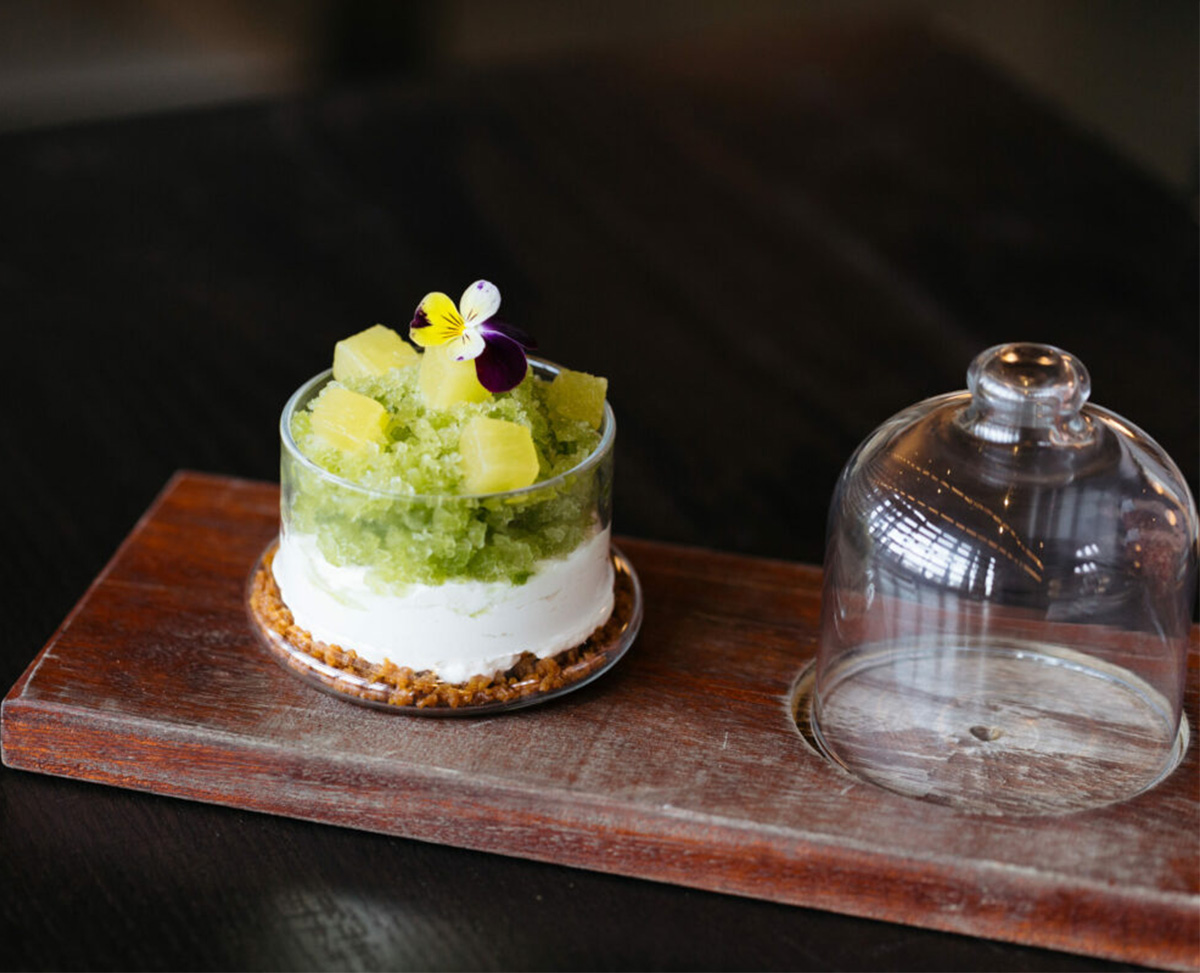 Photo by Brittni Bell
Yield: 6 to 8 portions
Jasmine Cream
2 ½ cups cream
¾ cup milk
¾ cup sugar
1 tbsp. jasmine tea
1 envelope gelatin
Method:
In a small bowl, add milk and sprinkle gelatin to start blooming. Set aside to bloom.
In a small saucepan, scald cream together with sugar. Add jasmine tea and allow to steep for 8 min.
Add bloomed gelatin and stir to dissolve.
Pass through the strainer and pour into the container . Allow it to sit overnight to set.
The next day, whip jasmine cream in mixer on medium low speed with whisk attachment until medium peaks. Set aside until ready to use.
Cilantro Granita
1 cup sugar
½ cup lemon juice
1 cup orange juice
½ cup ice
1 cup cilantro
1 ½ cup cold water
In a small saucepan, warm together lemon juice and sugar until sugar is dissolved. Set aside and allow to fully cool down.
In a blender, combine orange juice, ice and cilantro. Blend until well blended with no large pieces of herb and ice is crushed.
Pass through the strainer and skim off any foam.
Add cold water and lemon syrup. Stir to combine.
Pour into a small glass container and set in the freezer. Freeze overnight.
When ready to enjoy, use a fork to gently scrape layers of the granita. Separation is possible, so you may need a light stir to combine.
Honey Tuile
12 tbsp. butter
½ cup honey
1 cup sugar
1 cup all purpose flour
Pinch of salt
In a small saucepan, warm together butter, honey and sugar until melted.
Off heat, slowly add flour and salt in small increments using whisk to combine. Make sure that all the flour has been incorporated before adding the next addition.
Pour into a heat proof container and allow to cool down and set up slightly for ease of scooping. When cool enough to scoop, set up a sheet tray lined with parchment.
Drop teaspoon-size scoops of tuile mix onto tray, 4 inches apart to allow for spreading.
Bake at 350F for 10 to 15 minutes, depending on your oven. Rotate halfway through bake time. Bake until uniformly golden brown and delicious. Any lighter spots will be chewy and will not crush nicely. Allow to cool down before crushing.
To crush tuile, pulse baked tuile in food processor until uniform in texture. Alternatively, put baked tuile in a zip bag and use a rolling pin to crush.
Store in an airtight container until ready to enjoy.
PRO TIP: Any leftover tuile can be scooped and frozen like cookies. Thaw before baking.
Assembly
In a serving vessel, put two spoonfuls of crushed honey tuile in the bottom.
Using a serving spoon, add one large spoonful of jasmine cream on top.
For cleaner assembly, you can use a piping bag to dispense cream into the vessel if you'd like. Snipping the corner off a zip bag will achieve the same results.
Layer granita on top of jasmine cream. Be sure to stir lightly and fluff granita before spooning on top.
Finish with small chunks of fresh pineapple.
Enjoy!