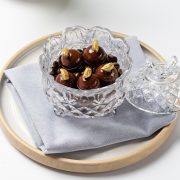 View Gallery
As caviar is trending and in season right now, Chef Christian Chirino has recently elevated TUR Kitchen's menu by giving guests the opportunity to embark on an indulgent culinary journey through the Mediterranean starring his made-from-scratch caviar-forward dishes. During the table side Caviar Service, every bead of Petrossian Caviar used is sustainably raised and hand-selected from the finest farms across the globe. Guests now have the chance to enjoy different caviar journeys shown below: 
For The Sophisticated
Royal Ossetra // $145 (30 grams)
This rich expression of Ossetra has inspired generations of caviar lovers with its perfect balance of refined, savory brine and subtle notes of dried fruit and toasted grains.
For the Romantic
Royal Baika // $115 (30 grams)
This dark, rich caviar is filled with old-world flavors of fresh brine and the sea breeze that will set the mood for any occasion. Fall in love with Baika's firm grains, and delicate texture.
For the Curious
Petrossian Trio // $215 (36 grams)
Caviar & Bubbles // $230 (36 grams)
Sample all three caviars with a glass of Veuve Clicquot, Yellow Label, Brut Champagne