Harborwood Urban Kitchen's Cornflake-Crusted French Toast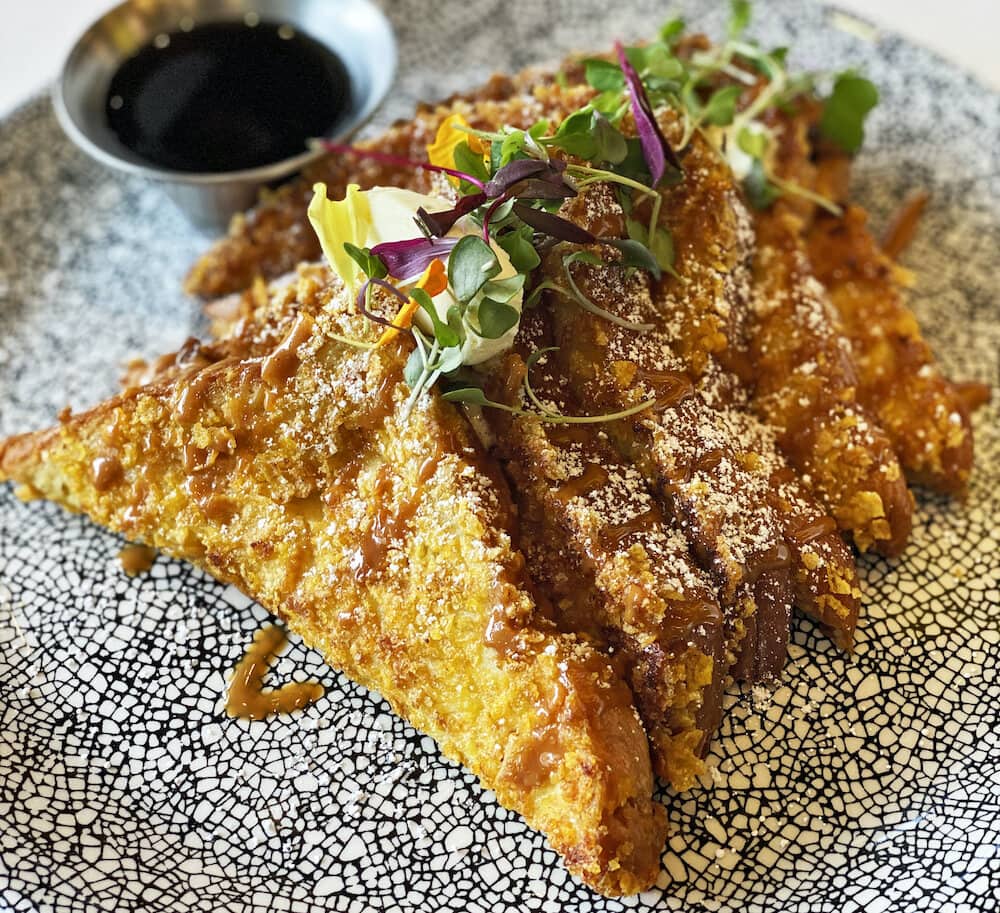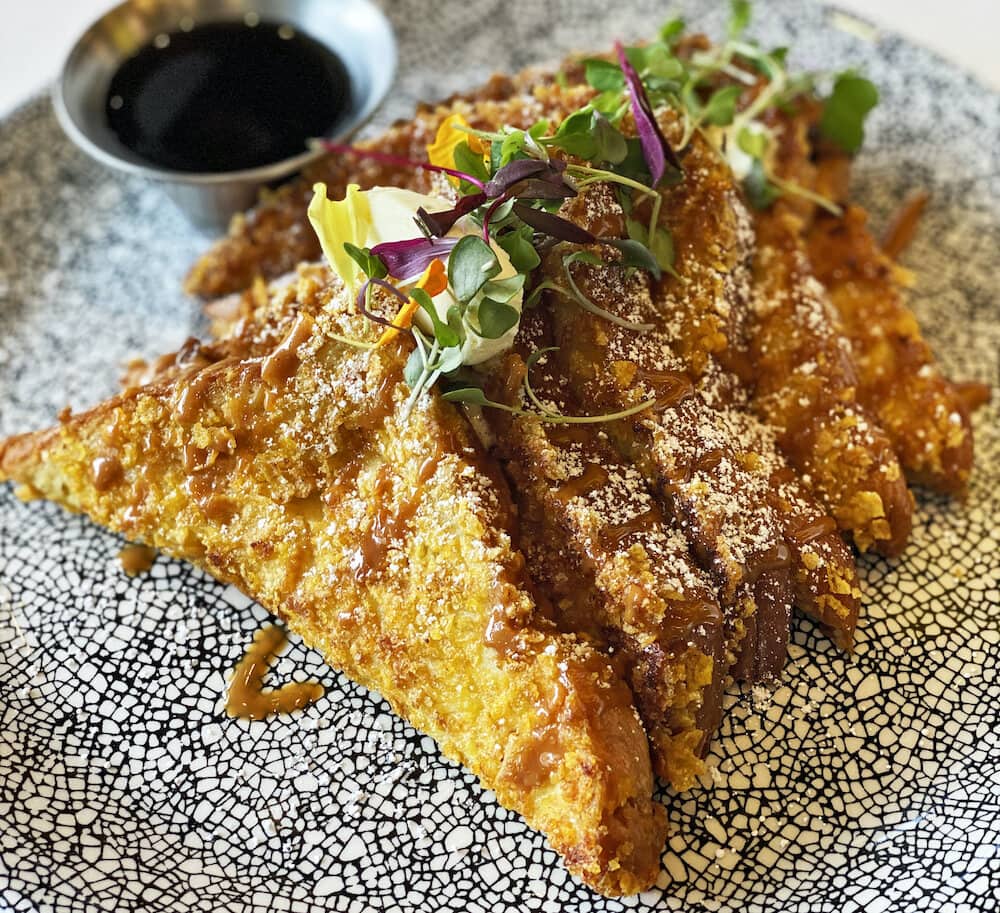 Harborwood Urban Kitchen's Cornflake-Crusted French Toast
Fort Lauderdale's skyline is forever changed thanks to the completion of 100 Las Olas, the city's tallest skyscraper. The tower is home to Hyatt Centric Las Olas and its lobby-level restaurant Harborwood Urban Kitchen & Bar, featuring modern American cuisine by award-winning Executive Chef Greg McGowan. "The smell of French toast always conjures great memories of Saturday mornings as a child," says McGowan. "Adding a bit of Latin flair and drawing inspiration from South Florida's produce, this recipe uses dulce de leche and a Maldon citrus butter for a breakfast staple that's incredibly decadent but easy to re-create at home." 
RECIPE 
For the Custard for French Toast:
3 large eggs, whipped
1 tbsp condensed milk
1 tbsp Coco Lopez
½ tsp cinnamon
½ tsp nutmeg
½ tbsp vanilla paste or extract
¼ cup coconut milk
½ cup coconut milk
1 tbsp sugar
Whisk eggs in a bowl. Then add all ingredients and whisk until ingredients are combined. Set aside in the fridge. This can be done one day in advance. 
For the Dulce de Leche Drizzle:
¼ cup dulce de leche
3 tbsp evaporated milk
Combine in a saucepan and warm on low heat. Mix until the milk has combined with the dulce de leche. Optional: Finish with 1 tbsp Malibu liquor. 
For the Citrus Butter:
¼ pound butter
1 tbsp orange marmalade
½ fresh lime juice
½ fresh lemon juice
¼ zest of lime
¼ zest of lemon
½ zest of orange 
Combine room-temperature butter with all of the ingredients in a mixer. Mix on medium speed until everything is combined. The butter can be frozen for up to a month and used as needed. It is also a nice addition to warm muffins or scones. 
For the Ginger Maple Syrup:
1 pint maple syrup
1 oz fresh sliced ginger 
Combine ginger and maple syrup in a pot and bring to a slow simmer for 10 minutes. Save the bottle. Next, let the syrup cool down completely with the ginger inside. Strain the ginger out and add syrup back to the bottle. 
To Assemble:
2 cups cornflakes, crushed. (You can place them in a Ziploc freezer bag and crush with a pan or rolling pin. You want them to be a coarse breadcrumb.)
3 pieces 1-inch sliced brioche
Powdered sugar and fresh sliced strawberries for garnish. 
Preheat skillet on medium heat. Place crushed cornflakes on a plate. Soak each piece of brioche in the custard for about 1 minute each. Place one side of the bread onto the cornflakes and press lightly to coat one side, then immediately place on lightly buttered skillet. Repeat this process with the next two pieces of bread. Cook until golden brown on both sides, about 2 minutes each.
To Plate:
Cut the bread in half and layer it out on the plate. Drizzle with dulce de leche glaze. Serve with 1 oz of ginger maple syrup. Place citrus butter over the sliced brioche and lightly salt with Maldon sea salt. Add sliced strawberries and powdered sugar for garnish. You can also add microgreens or mint for color.
100 E. Las Olas Blvd., Fort Lauderdale; 954.353.1234; hyatt.com