Scusi Trattoria's Agnolotti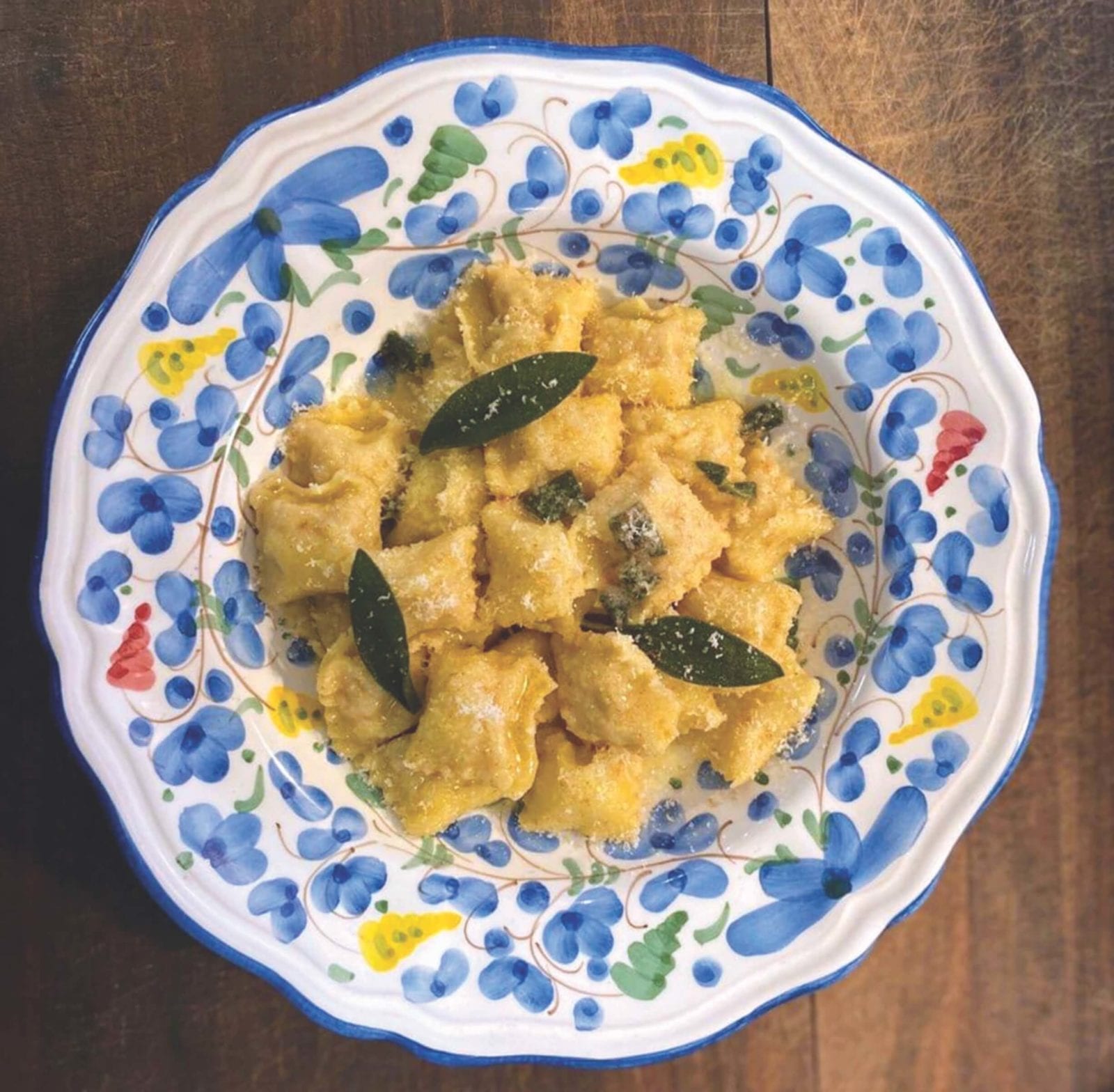 Scusi Trattoria's Agnolotti
Chef Laurent Tourondel brings the mouthwatering dishes and casual-elegant atmosphere of a coastal Italian town to Scusi Trattoria at PGA Commons. A new addition to the menu, the agnolotti is already a guest favorite: bite-size pillows of dough stuffed with veal and prosciutto, and topped with a savory sauce. "The flavors in this dish are soothing and warm," says Tourondel. "I remember my grandmother making agnolotti with lemon mascarpone during our Sunday suppers. Scusi's version is my re-creation of those memories."
RECIPE
Serves 3-4
For the Prosciutto Filling:
4 oz prosciutto, finely chopped
4 oz ground veal
8 oz sheep's milk ricotta
1 oz grated Parmigiano-Reggiano
1 egg white 
Make sure all ingredients are very cold before processing. Place the egg white in a bowl and place the prosciutto and veal on top. With gloved hands, mix the ingredients together, then add the ricotta. Process until it's a homogenous forcemeat. Place in a disposable pastry bag or Ziploc bag and refrigerate.
For the Ravioli Dough:
2⅓ cups all-purpose flour
Pinch of salt
2 large eggs
6 egg yolks
1 tbsp olive oil 
Put flour on a clean surface like a volcano. Add eggs, egg yolks, salt and olive oil in the middle. With a fork, break the eggs and mix the flour into the wet ingredients little by little until liquids are absorbed. With your palm, knead the dough for 1 minute until everything is blended together evenly. Fold and knead the dough for an additional 2 minutes until it reaches a Play-Doh-type consistency. Cover with plastic wrap and refrigerate for 30 minutes.
Making the Agnolotti:
Ravioli dough
Prosciutto filling 
Roll out the pasta on a flour-covered surface with a rolling pin until it reaches ⅛-inch in thickness. Lay it on a flour-covered board and cut it into rectangular sheets about 12 inches long. Sprinkle flour lightly on each sheet after you cut it, and continue stacking sheets on top of each other. 
Using a 3-inch fluted ring cutter, punch out circles in the dough. Pipe ½ tsp of the filling in the center of each of the circles. Fold the circle over and around the filling to create a half-moon shape. Take the corners of the two flat sides and pinch together to form a circle, and fold the ridges up to create the agnolotti shape.
To Put Together:
Agnolotti
4 oz pasta water
4 tsp chopped sage
1 stick of butter
4 oz grated Parmesan cheese
12 pieces of fried sage leaves (optional) 
Cook the agnolotti pasta in 4 quarts of boiling, salted water until warmed through, about 2½ minutes. While the pasta is cooking, add the stick of butter to a sauté pan and let it brown. Quickly add the chopped sage and 4 oz of pasta water, and let it emulsify. Strain pasta and put on a serving platter. Top with Parmesan cheese, then pour sage brown butter over the top. Garnish with crispy sage leaves.
4520 PGA Blvd., Palm Beach Gardens; 561.429.6938; scusirestaurants.com