Public Art Around the U.S.
Eight art installations in the United States worth venturing to see.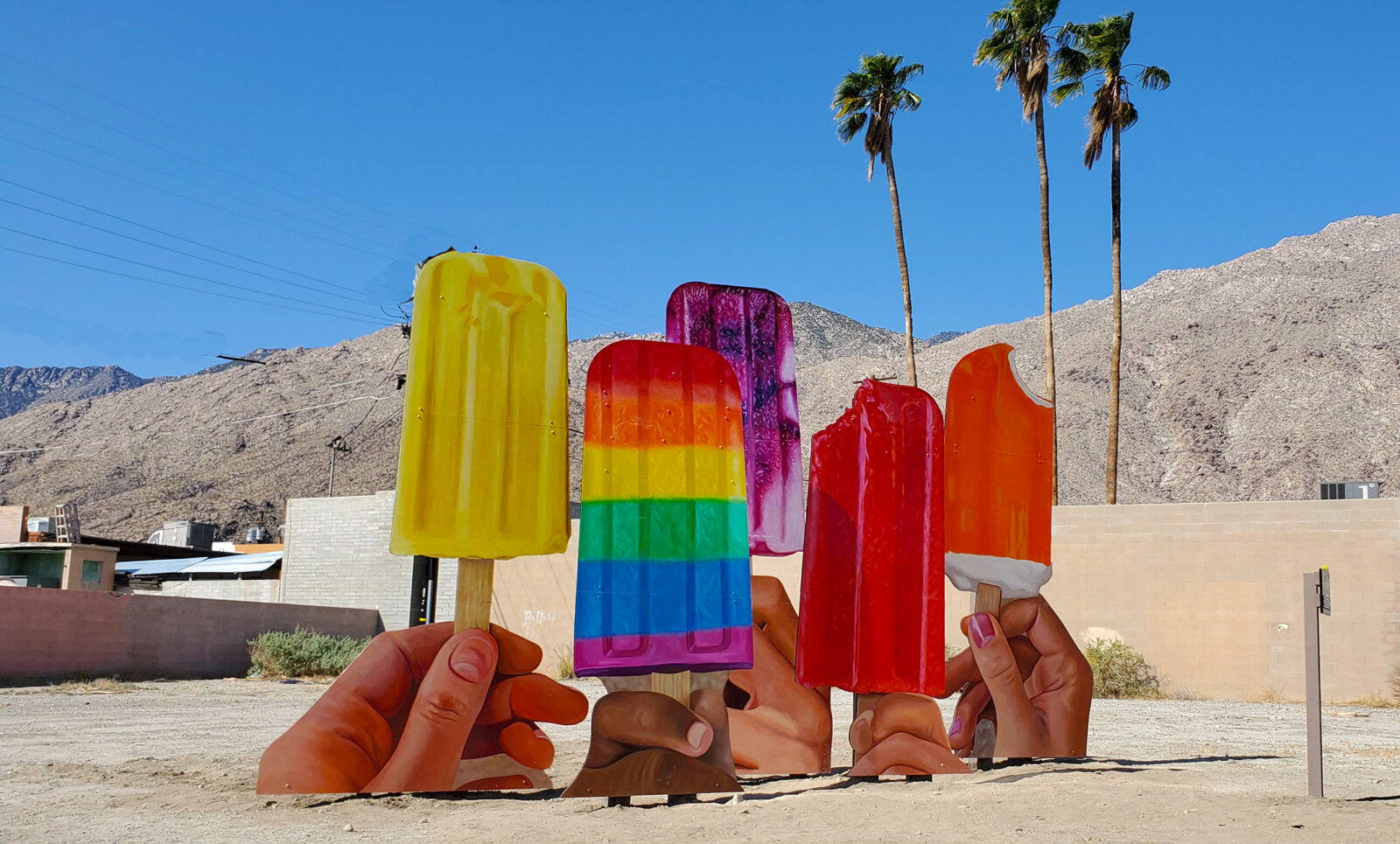 Popsicles in Palm Springs
PALM SPRINGS, CA
Popsicles
No, this is not a desert mirage! Giant popsicles have popped up in Palm Springs by artist John Cerney, known for his large roadside installations. The popsicles are keeping Palm Springs cool—and yes, pun intended. See Popsicles while you can, as they'll be gone by the New Year.
@visitpalmsprings  | visitpalmsprings.com
VALENTINE, TEXAS
Prada Marfa
Located on a lonely stretch of highway, Prada Marfa is modeled after a Prada boutique and is home to the fashion house's 2005 collection of shoes and bags. The piece is by artists Elmgreen & Dragset.
@visitmarfatx  | visitmarfa.com
PHOENIX, ARIZONA
Her Secret Is Patience
Suspended above the new two-city-block Civic Space Park, the 145-foot-tall aerial sculpture was created by artist Janet Echelman. The sculpture consists of painted galvanized steel, twine netting and colored lights.
@visitphoenix  | visitphoenix.com
BIRMINGHAM, ALABAMA
LightRails
Installed in a 1931 art deco railroad underpass, LightRails is an architectural light sculpture by artist Bill FitzGibbons.
@inbirmingham  | birminghamal.org
CHICAGO, ILLINOIS
Cloud Gate
Created by artist Sir Anish Kapoor, Cloud Gate—also referred to as "The Bean"—is one of Chicago's most popular sights.
@choosechicago | choosechicago.com
TACOMA, WASHINGTON
Fluent Steps
Located at Tacoma's Museum of Glass, Fluent Steps is a glass sculpture created by artist Martin Blank.
@traveltacoma  | traveltacoma.com
DENVER, COLORADO
I See What You Mean
Denver artist Lawrence Argent's Blue Bear is a Mile High City must-see, as it curiously peeks into the Denver Convention Center.
@visitdenver | denver.org
BOCA RATON, FLORIDA
Rocket
Located on the Boca Raton Innovation Campus and created by artist Hubert Phipps, Rocket is valued at $1.5 million, stands 30 feet tall, weighs 9.8 tons, and took more than 2,200 square feet of stainless steel to construct.
@bocamuseum| bocamuseum.org

For more information, make sure to visit the websites listed.
This story is from our Winter 2021-2022 issue. Read more here.