Maple & Ash's Fire-Roasted Pro Seafood Tower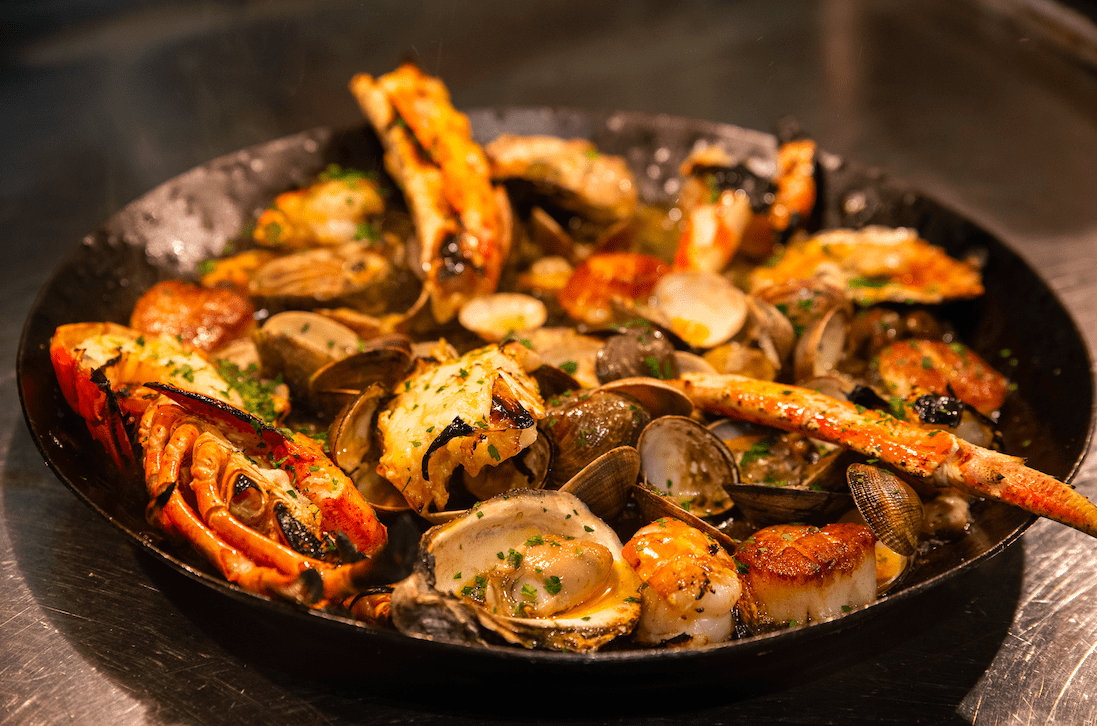 Maple & Ash's Fire-Roasted Pro Seafood Tower
Two-Michelin-star chef Danny Grant is redefining today's steakhouse experience, one dish at a time, at Maple & Ash, one of the first retailers anticipated at the 27-acre city-within-a-city under development in Downtown Miami. Grant's elaborate seafood tower, a collection of seafood roasted in Maple & Ash's hearth, is a dream come true for all seafood lovers. mapleandash.com
Ingredients:
Oysters (4 each)
Scallops (4 each)
1/2 Lobster (1.75 lb)
Clams (15 each)
Freshwater prawns or shrimp (4 each)
King crab (1/2 lb)
Garlic butter (5 Tbsp.)
Chili oil (5 Tbsp.), recipe below
Parsley (1 tsp.), recipe below
Garlic Butter Recipe
Ingredients
1 lb room temperature butter
1 cup microplaned garlic
Salt to taste
Using a mixer with a paddle attachment or a spatula and a bowl, mix together all ingredients and set aside.
Chili Oil Recipe
Ingredients
1 lb. guajillo chilis
4 quarts neutral oil
2 1/2 garlic cloves
2 tbsp.eExtra virgin olive oil
Toss the garlic and chilis in the olive oil and toast at 350 degrees for 5 minutes until dark.
Slowly add chilis and garlic to oil and puree with a stick blender on low until full. Once full, run on high speed until fully incorporated in the oil.
Pass through a strainer and let sediment sink to the bottom of the container.
Sift the clear red oil from the top and set aside.
Seafood Tower Recipe
Heat a small iron round pan over a high flame (using a grill or hearth), which will be used for plating and serving.
Place crab, prawns (or shrimp), oysters and lobster on a large sheet or paella pan and add the garlic butter.
Place pan onto the grill; cook 3 minutes, rotate and cook for 3 more minutes.
Check that the seafood is cooked thoroughly and that the clams have all opened up.
Remove the pan from the heat and place scallops into the pan to sear. Flip the scallops and return to the grill.
Cook on the grill for 1 minute (scallops are typically cooked last), remove and plate.
Remove the small iron pan from the flame and plate all remaining seafood items on the hot small iron round pan.
Drizzle with the melted garlic butter, finish with chili oil and sprinkle with parsley.
This story is from the Fall 2021 issue. Read the magazine here.