Green Bar & Kitchen's GBK Burger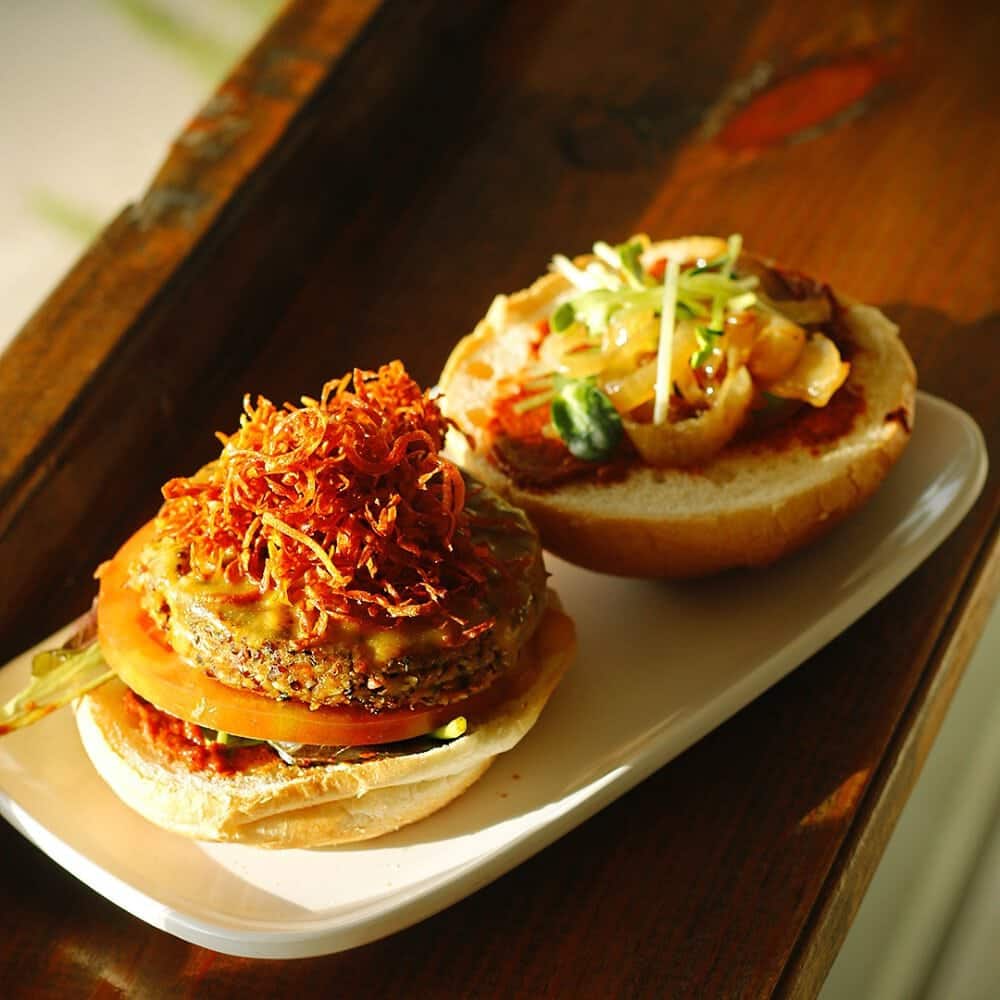 Green Bar & Kitchen's GBK Burger - Photo Courtesy 3J Hospitality
Who said burgers are just for carnivores? At Green Bar & Kitchen, a 100 percent vegan restaurant part of the Damn Good Hospitality portfolio, the burgers are the highlight of the menu. "Plant-based burgers are best when cooked on a griddle, cast-iron pan or nonstick sauté pan," says Executive Chef Jen Knox. "The cooking is much quicker than a beef-based patty, taking about 2 minutes per side. And if you're looking for additional toppings or condiments, try barbecue sauce or spicing up your average mayo with chipotle." 1075 SE 17th St., Fort Lauderdale; 954.533.7507; greenbarkitchen.com
RECIPE
Yields 12-16 patties
Ingredients:
1½ cup brown rice, cooked separately
¾ cup quinoa, cooked separately
1 cup chickpeas, cooked, processed to look fluffy
¾ cup sunflower seeds, process to a fine powder
1½ tbsp dry parsley
1 tbsp smoked salt
For the Roasted Vegetable Mix & Seasoning:
1½ cup carrots, small dice
1½ cup onions, large dice
3 tbsp fresh garlic
2 tbsp olive oil
2 tbsp apple cider vin
3 tbsp tamari
1 tsp black pepper
1 tsp dry thyme
½ tsp dry rosemary
½ tsp dry sage
Method: 
Prepare roasted vegetable mix. Roast at 350 F for 25 minutes or until the liquid evaporates and the vegetables are tender, charred and fully cooked. Rotate halfway for even cooking. Cool and reserve. 
In a food processor, blend the brown rice, veggie mix and parsley until smooth. Transfer to a large bowl. In a food processor, blend the chickpeas until fluffy Add to bowl. Add quinoa unprocessed. Mix everything to form a homogenous mixture. Form patties (chef suggests using wax paper and the lid from a mayo jar to form patties). 
Make sure your pan is well-oiled. Next, be sure to let the pan get hot (this is a crucial step in making sure caramelization takes place, and you achieve that beautiful brown sear on your burger patty). Place the patties in the pan, wait for 2 minutes. Don't play with the burger, let it do it's thing. Flip the patty and cook for an additional 2 minutes. Remove from the pan and your burger is ready to plate. 
If using a cashew/vegan cheese as a topping: These cheeses tend to be harder to melt, but there is a fix. Same as above, place the patty in the pan and cook for 2 min. Then when you flip the patty to cook on the other side, turn off the heat, place the cheese on the burger, gently pour 1 tbsp water into your pan and cover with a lid. The residual heat will cook the burger for the remainder of the time and ensure the cheese is melted. 
Suggested Toppings and Condiments: 
Try BBQ sauce, or maybe spicing up your average mayonnaise with chipotle. Other easy additions are avocado slices, sautéed onions or roasted mushrooms.