Four Seasons Orlando's Vanilla Panna Cotta, Pistachio Baklava and Plant City Strawberry Confit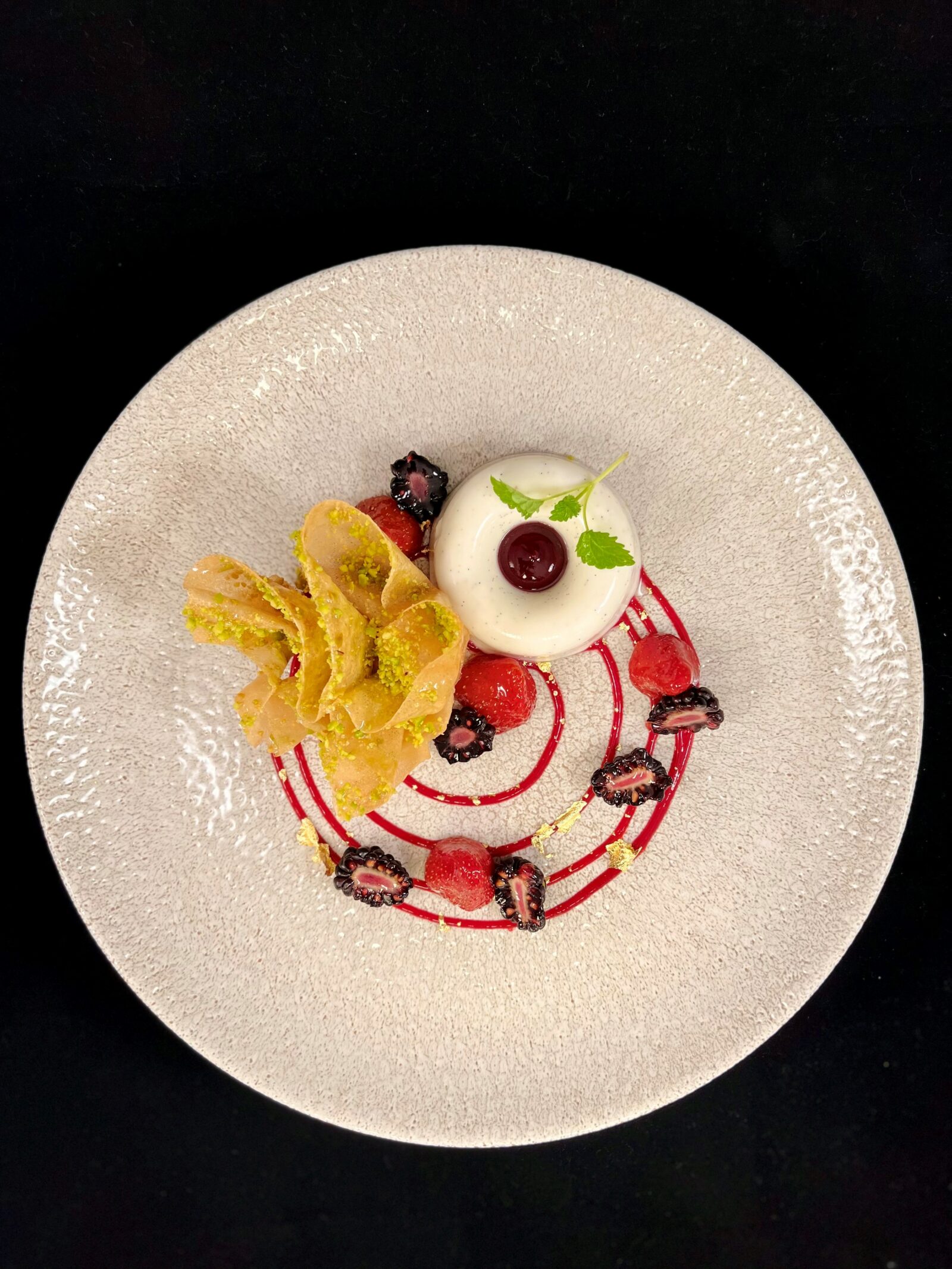 Why have just one dessert when you can plate three? This recipe by Executive Pastry Chef Rabii Saber hits all the right notes for your sweet tooth by grouping together vanilla panna cotta, pistachio baklava, and strawberry confit. To add a local flavor to the dish, use strawberries from Plant City, the winter strawberry capital of the world!
Four Seasons Orlando, 10100 Dream Tree Blvd., Lake Buena Vista; 407.313.777; fourseasons.com/orlando
Ingredients:
Vanilla Panna Cotta
2 ½ cups whole milk
1 cup heavy cream
½ cup sugar
2 tbsp. gelatin powder
4 tbsp. water (for gelatin)
1 vanilla bean or ½ tbsp. vanilla extract
Plant City Strawberry Confit
8 oz. Plant City strawberries (or other fresh strawberries)
4 oz. sugar
½ tbsp. pectin
1 oz. sugar
1 vanilla bean or ½ tbsp. vanilla extract
Pistachio Baklava
6 brick of filo dough
1 oz. clarified butter
10 oz. sugar
½ cup water
½ lemon zested
3 tbsp. rose water (optional)
Garnish
Blackberries
Micro-lemon balm or mint
Slightly toasted sliced pistachios
Method:
Panna Cotta
Bloom gelatin in water for couple minutes (pour 4 tbsp. water over the gelatin).
Microwave until gelatin is completely melted (approx. 30 seconds, stir, another 30 seconds if needed until dissolved completely).
Bring to boil the milk, the scraped vanilla bean/extract and sugar.
Strain the milk and add gelatin.
Add the cream.
Portion into any shape silicone mold and freeze for 2-3 hours. You can also use a ramekin dish or other bowl, and then can skip the freezing step.
Strawberry Confit 
Wash, trim and drain strawberries.
Mix strawberries, 4 oz. of sugar, vanilla bean on a small pan on the stove (and add 2 tbsp. water to prevent burning).
Bring the mixture to a boil.
Mix together the sugar and pectin (to prevent lumping) and pour over the boiling strawberries.
Turn off and let sit for 15 minutes to allow time for the pectin to dissolve.
Bring to a boil again and let cook on low heat until strawberries are tender.
Cool down and set aside for garnish.
Baklava
Melt the clarified butter.
Brush each sheet of brick dough with the butter.
Fold into muffin or any baking cup and let it set aside.
Bring to boil 10oz sugar and ½ cup water and cook on low heat for 5 minutes.
Add lemon zest and rose water and infuse for 10 minutes.
Keep the sugar syrup warm.
Bake the brick dough in the oven at 350F until golden brown.
Soak with the syrup while still hot and let set for few minutes.
Drain the excess of syrup and garnish with slightly toasted pistachio.
Set aside.
Finishing:
Unmold the panna cotta, plate and let it defrost for 30-45min.
Garnish the panna cotta with the strawberry confit and strawberry syrup.
Optional: Sprinkle some fresh blackberries, mico-lemon balm, slightly toasted pistachio and serve with the baklava.
This recipe is from our 2022 Annual Florida edition. Click to read more.