Florie's Heirloom Tomato & Peach Carpaccio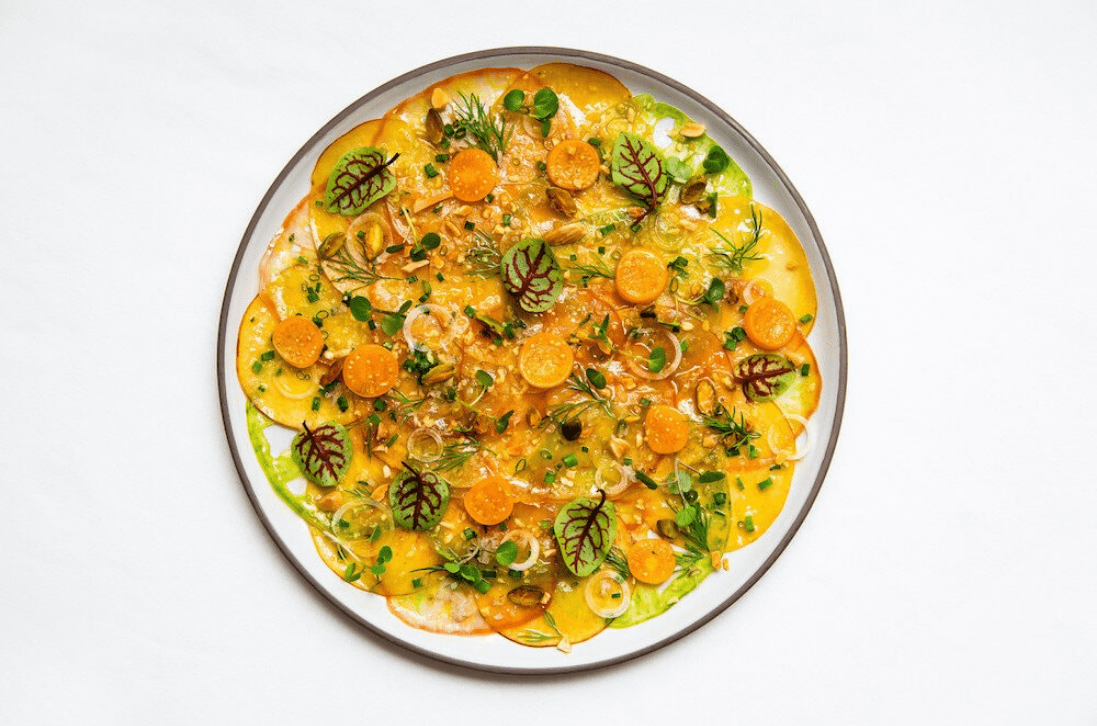 Florie's Heirloom Tomato & Peach Carpaccio - Courtesy Emily Hawkes Photography
It's been over a year since Florie's opened at Four Seasons Resort Palm Beach, bringing South Floridians the cuisine of one of the world's top-ranked chefs. "The heirloom tomato and peach carpaccio is a nod to our three Michelin-starred chef-partner Mauro Colagreco and his passion for gardening," says Head Chef Nino La Spina. "Some of the ingredients, such as dill and wild chives, are grown on-site at the resort's garden." 
RECIPE
For the Basil Vinaigrette:
Makes approximately 2 cups
3 torn basil leaves
½ oz rice wine vinegar
1 oz fresh-squeezed lemon juice
3½ oz white onion, chopped fine
1 oz garlic, chopped fine
½ tsp fresh black pepper, ground
½ oz ginger, chopped fine
2 cups extra-virgin olive oil
Place the chopped ginger, garlic and onion in a small bowl. Add lemon juice, rice wine vinegar and fresh lemon juice. Whisk in olive oil slowly to create an emulsion. Season with salt and black pepper. Let flavors infuse overnight for more concentrated flavor.
For the Carpaccio:
3 local heirloom tomatoes (red, yellow, green), cut ⅛-inch thin
1 peach, cut ⅛-inch thin
3 tsp marcona almonds, finely chopped
2 green onions, sliced thin
½ shallot, sliced thin
3 tsp toasted Sicilian pistachio (or regular), sliced in half
1 tsp chives, thinly chopped
1 tsp dill, chopped thin
3 basil leaves, torn
Seasonal fruit, like gooseberries
Fine sea salt to taste
On a plate, layer two tomatoes for every peach (alternate colors to create a mosaic). Season the tomatoes with the basil vinaigrette. Add salt on top of the tomatoes and peaches. Garnish with marcona almonds and pistachios (evenly throughout the tomatoes). Add remaining ingredients keeping a mosaic pattern. Garnish with fresh herbs.
2800 S. Ocean Blvd., Palm Beach; 561.582.2800; floriespb.com