Flagler Steakhouse's Bone-In Filet Mignon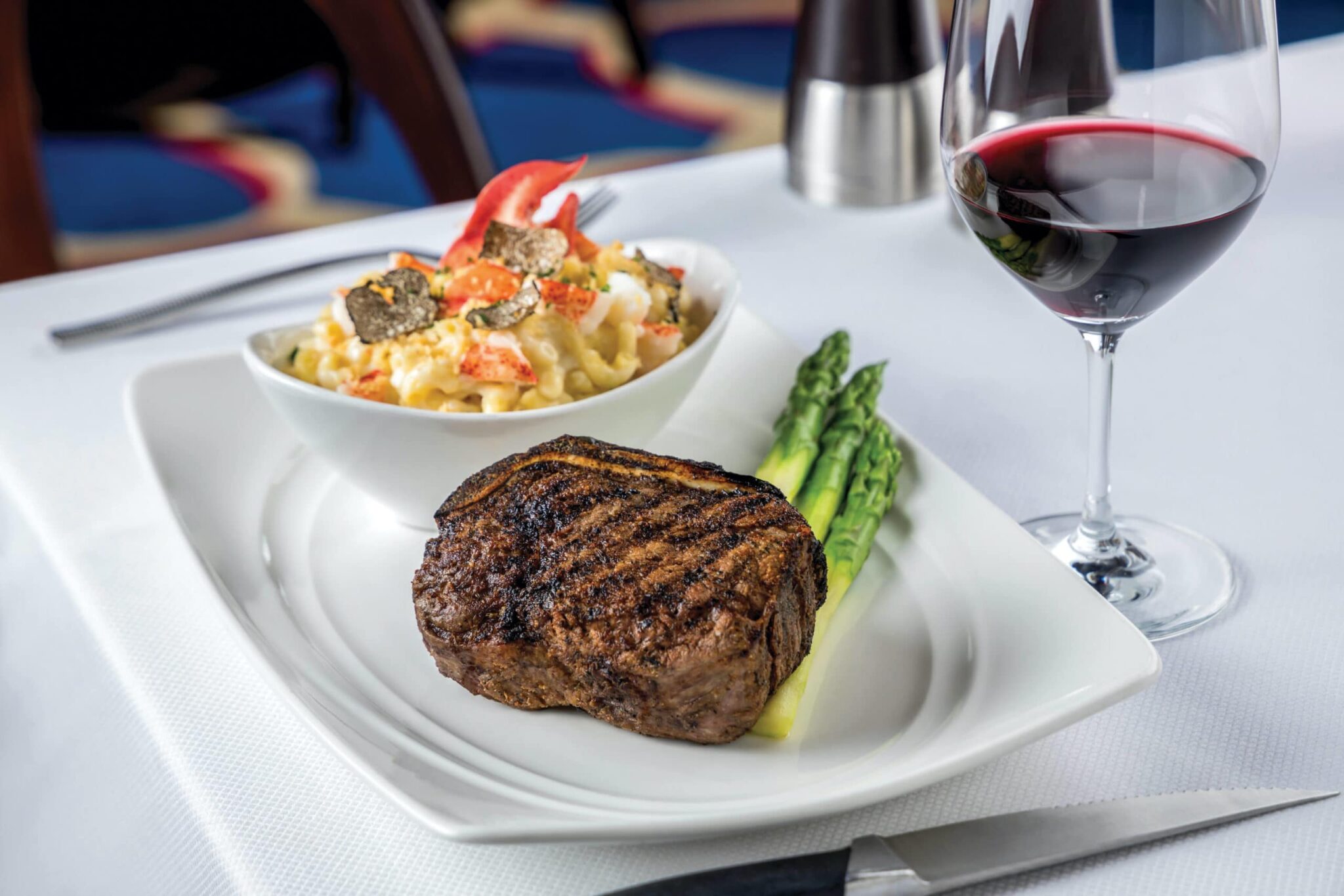 Flagler Steakhouse's Bone-In Filet Mignon with Red Wine Sauce, Truffled Lobster Mac & Cheese and Asparagus- Photo by Lila Photo
Located on the second floor of the Clubhouse at The Breakers Palm Beach, Flagler Steakhouse is a vibrant take on the classic American chophouse. "Pairing this juicy, flavorful steak—a specialty in its own right—with the richness of truffled lobster macaroni and cheese and a side of asparagus creates a sumptuous meal that's guaranteed to become a family tradition at holiday gatherings," says The Breakers Executive Chef of Restaurants Anthony Sicignano. "Bone-in filet is a superior cut of steak for those who prefer the tenderness of filet mignon but crave the added flavor that comes with cooking with the bone intact." 
RECIPE
Serves 4
For the Filet Mignon:
4 each, 14 oz bone-in filet mignon
2 tbsp vegetable oil
4 tsp each salt and fresh-cracked pepper
4 tbsp each beurre noisette (brown butter, melted)
2 tsp coarse sea salt 
Coat each steak with vegetable oil. 

Season each steak liberally with salt and cracked pepper or the steak seasoning of your choice. 

Grill steaks and remove from heat just before desired temperature and let rest 5-7 minutes.

Return to the hot grill right before serving, heating just enough to get the exterior hot.

Brush with melted brown butter and sprinkle with coarse sea salt.
For the Truffled Lobster Macaroni & Cheese:
1 tbsp Vegetable oil
½ tsp black truffle oil
1 tbsp yellow onion
⅓ cup diced Maine lobster, cooked (reserve claw meat for garnish)
2 cups heavy cream
1¼ cup shredded manchego cheese
3 tbsp panko breadcrumbs
1¼ cup shredded Gruyère cheese
2 tsp shaved black truffle
2 tbsp cornstarch
2 cups cooked elbow pasta
1 tbsp water
1 tbsp butter
Salt and pepper for seasoning
Cook pasta according to instructions. 

In a medium sauce pot, add vegetable oil and yellow onion; sweat the onions until translucent. 

Add heavy cream to the pot and allow cream to reduce to approximately 1¾ cups. Whisk in 1 cup manchego and 1 cup Gruyère, reserving ¼ cup of each cheese to add at the end.

In a separate bowl, combine cornstarch and water to make a slurry (a concentrated, starchy liquid). Whisk this mixture into the cheese sauce and season with salt and pepper to taste. 

Strain cheese sauce through a mesh strainer, then add cheese sauce back to the pot.

Bring to a simmer and fold in cooked pasta, truffle oil, lobster meat and the remaining manchego and Gruyère that were set aside. Taste again, adjusting seasoning as needed.

Transfer to a serving dish. Top with panko breadcrumbs that have been tossed in 1 tbsp of butter, and place in the oven until golden brown. 

Add shaved black truffle and top with a lobster claw. Serve hot and enjoy.
For the Red Wine Sauce:
Makes approximately 1 pint
3 tbsp unsalted butter
1 cup onion, minced
1 cup onion, medium dice
6 oz dry red wine
1 cup carrot, medium dice
⅛ cup truffle porcini cream*
1 cup celery, medium dice
2 tbsp unsalted butter
1 quart demi-glace
Salt and pepper for seasoning
2 tbsp cornstarch
1 tbsp water 
*Urbani white truffles and porcini sauce may be purchased online or at your local gourmet store.
In a saucepan, heat 1½ tbsp butter over medium heat. 

Add carrots, medium-dice onions and celery, and sweat. 

Lower heat and continue cooking gently for 30 minutes until flavors are concentrated. 

Add demi-glace and steep vegetables for another 30 minutes. Strain through a fine chinois and reserve. 

In a small pan, heat 1½ tbsp butter over medium heat. Add minced onion and sweat until it just begins to caramelize. Add in red wine and reduce by half. 

Combine with the reserved demi-glace and truffle porcini cream and simmer on low heat for 30 minutes. 

Strain through a fine chinois and cool. Finish sauce by whisking in 2 tbsp butter and season with salt and pepper.
For the Asparagus:
Yields 4 portions
8 jumbo asparagus, stems trimmed and peeled (2 spears per person)
2 tbsp extra-virgin olive oil
Kosher salt and fresh cracked pepper 
Cook asparagus in boiling salted water until tender. 

Drizzle with extra-virgin olive oil. 

Season with kosher salt and fresh cracked pepper. Serve promptly.
2 S. County Road, Palm Beach; 561.659.8471; flaglersteakhouse.com