Dragonfly Izakaya's Charcoal Arepas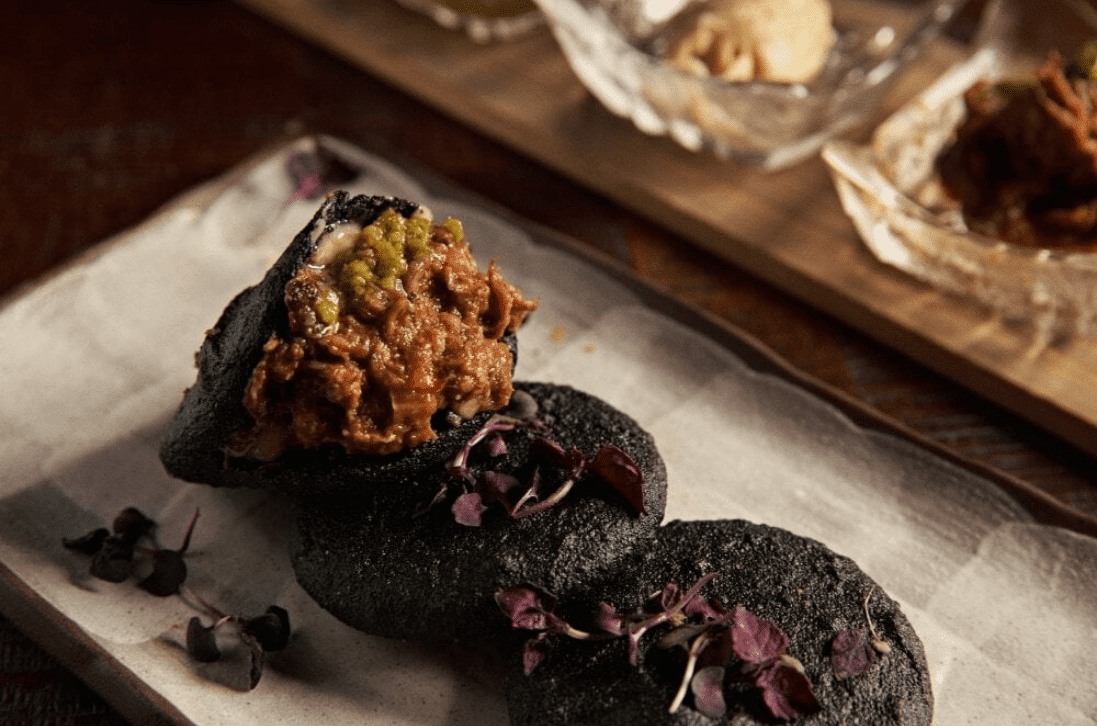 Dragonfly Izakaya's Charcoal Arepa
From the innovative flavors to the industrial-style decor in the fish market, Doral's Dragonfly Izakaya & Fish Market is a veritable sensory explosion. And that is exactly what Culinary Director Ray Hideaki Leung wanted to highlight when his team introduced several new dishes earlier this year. "At Dragonfly, our food is our second language, so it was important for us to develop new items that celebrate the similarities between the Latin cuisine that Miami loves and the authentic Japanese dishes for which Dragonfly is known," he says. "The charcoal arepas are one of the ways we're sharing our culinary vision with the community." 5241 NW 87th Ave., Doral; 305.222.7447; dragonflyrestaurants.com
RECIPE
For the Charcoal Arepa:
Arepa
½ pound corn flour
1 tsp salt
2 tbsp activated charcoal powder
450 ml water
Mix 350 ml of water with activated charcoal powder and salt. Add charcoal water mixture to corn flour and mix until all lumps are out. With the rest of the water, add slowly and knead. Form 2-inch disks and set aside. 
For the Braised Beef:
15 pounds chuck flap 
6 oz white onion, small diced
6 oz red bell pepper, small diced
5 oz green bell pepper, small diced
6.5 oz green onion, chopped
2 oz garlic, minced
12 oz tomato paste
6 oz red miso
3 fl oz dashi
6 bay leaves
Pinch of salt
Pinch of ground oregano
Pinch of ground cumin
Clean chuck flap and season with salt and pepper. Sous-vide chuck at 140 F for 72 hours. Shred chuck flap once done cooking and set aside. Take sauté pan on medium-high heat, add a little oil and sweat all veggies for 3-5 min. Add in the tomato paste and red miso and incorporate. Deglaze with dashi, add in the shredded beef, seasonings and simmer beef for about 30 minutes. Beef is ready to serve.
For the Mojito Cilantro:
1 bunch cilantro
3 oz garlic
Pinch ground oregano
3 fl oz rice vinegar
1 lime, juiced
Pinch of salt
Pinch of black pepper
½ red bell pepper, rough chop
16 fl oz olive oil blend
In a blender, take cilantro and about a cup of water and blend until small pulp. Strain and only keep cilantro pulp. Set aside. In blender, add in the garlic, oregano, rice vinegar, lime juice, salt, black pepper and red bell pepper. Blend well and incorporate the olive oil. Continue blending until red bell pepper is diced small. Add in the cilantro pulp and pulse a few to mix well. 
For the Okinawa Black Sugar Butter:
200 grams kurozato (okinawa black sugar)
120 ml water
1 pound unsalted butter, room temperature
Combine kurozato and water on medium-high heat and bring to a boil. Lower heat to a simmer, mix well until sugar is dissolved and simmer for about 20 minutes. Set aside. Take softened butter and okinawa black sugar syrup and mix well. Set okinawa black sugar butter into a cooler to let it set. 
Constructing the Dish:
Fry 4 arepa in a 350-degree fryer, roughly 3 min per arepa. Plate charcoal arepa. Heat up 4 oz beef mixture and serve in a bowl. Take 1 tbsp of mojito cilantro and serve in a ramekin. Take a dollop of the okinawa black sugar butter and serve in a ramekin.