Doya's Eggplant with Strained Yogurt & Pomegranate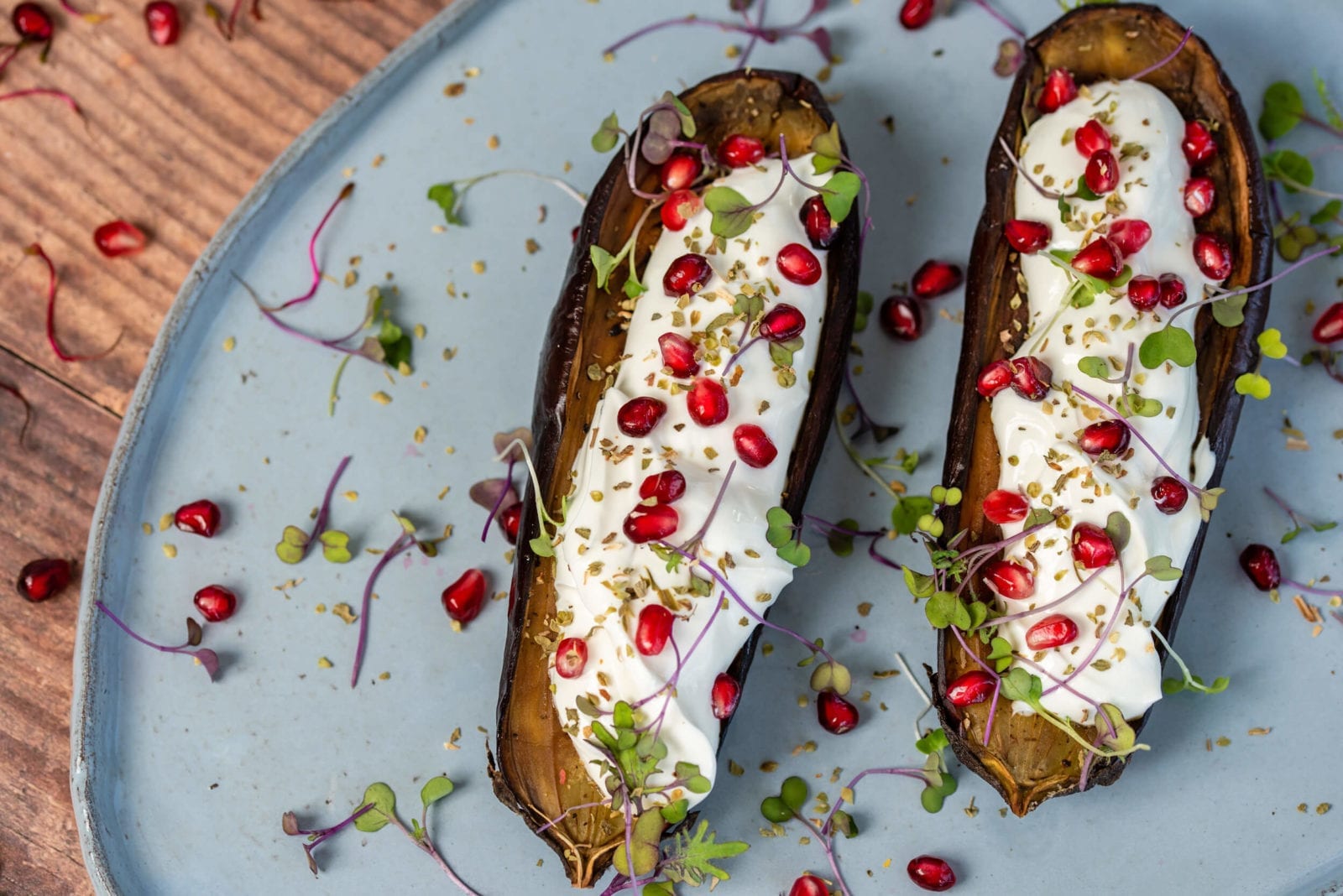 Doya's Eggplant with Strained Yogurt & Pomegranate
Doya, a modern Aegean meze bar from Chef Erhan Kostepen (original founder and former executive chef of Mandolin Aegean Bistro) has officially opened in Wynwood. Serving dishes inspired by Greece and Turkey's coastal regions, the restaurant is dedicated to utilizing only the freshest, top-quality ingredients. "I have a fond childhood memory of sitting in my mom's backyard eating pomegranate seeds," Kostepen says. "For this dish, I combine the pomegranate with eggplant, a favorite of the sultans and an ode to my ancestry. The result is a dish packed with flavor and a must-have for the holidays."
RECIPE
Main ingredients:
1 large eggplant
1 tsp extra-virgin olive oil
Organic veggie microgreens
Thyme and oregano leaves
¼ pomegranate
Sea salt and black pepper 
Sauce ingredients:
½ cup Greek yogurt
½ cup labne
1 garlic clove, crushed
1 tbsp extra-virgin olive oil
Pinch of salt 
Method:
Cut the eggplant in half. Place the eggplant halves cut-side down on top of a grill after brushing them with olive oil and salt. Grill for 8-12 minutes. Once done, the eggplant should be soft, juicy and brown with grill marks. Remove from the grill and allow to cool down completely. 

To make the sauce, whisk together strain yogurt, garlic, labne, salt, black pepper and garlic. 

Pour the sauce over the eggplant halves. Sprinkle plenty of pomegranate seeds on top and garnish with thyme, oregano and microgreens with a touch of extra-virgin olive oil on top.
347 NW 24th St., Miami; 305.501.2848; doyarestaurant.com