Byblos' Grilled Whole Branzino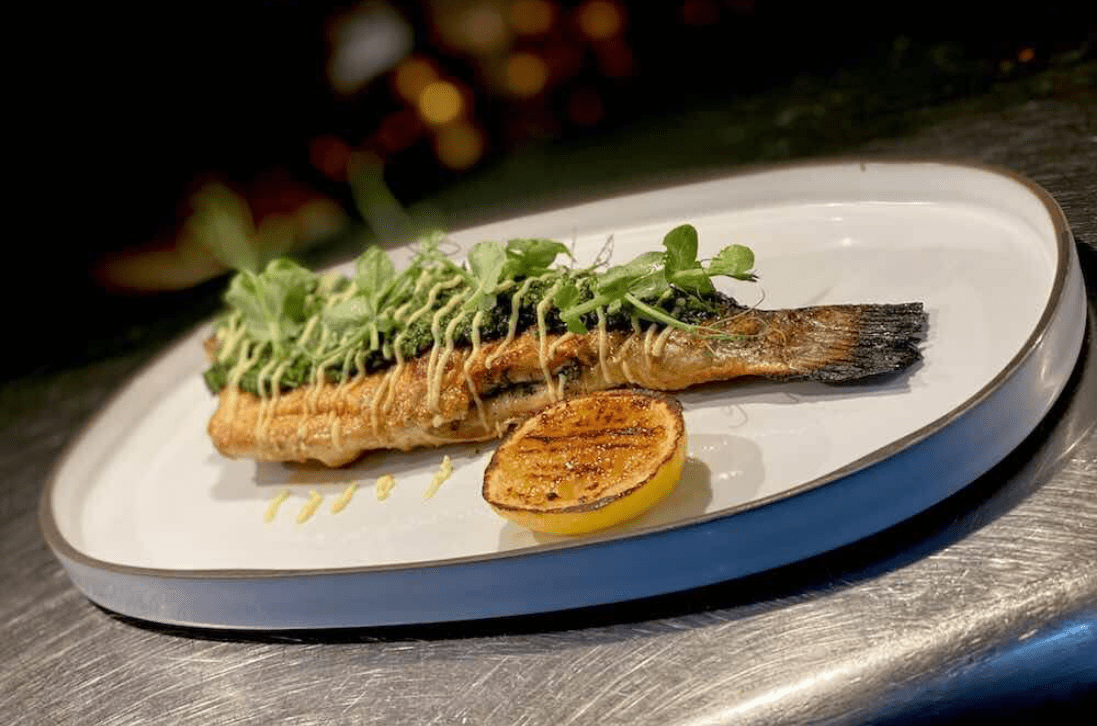 Byblos' Grilled Whole Branzino
Byblos, South Beach's popular Eastern Mediterranean restaurant, is continuing to provide guests with unique experiences by offering new takeaway options, including bento-style to-go boxes and the date night–inspired "Byblos Feast for Two." "Our branzino is served de-boned, head off and tail on, which makes it a great dish to share without the hassle of cutting through bones," says Executive Chef Patrick Ochs. "The fish is simply grilled, layered with green chermoula and saffron toum and garnished with a grilled lemon and Affilla Cress." 
RECIPE
For the Green Chermoula (Sauce):
Yields 380 grams | Serves approx.10
12 grams garlic
35 grams Spanish caper
5 grams kosher salt
12 grams preserved lemon
1½ grams cumin ground spice
1 gram black pepper spice
½ gram Cayenne pepper spice
¼ each juice lemon
50 grams fresh cilantro, chopped
50 grams Italian parsley, chopped
300 grams amla oil
Wash, clean and dry herbs well. Squeeze brine from capers. Chop preserved lemon. Grind remaining ingredients to form a paste. Add olive oil. 
For the Saffron Toum (Sauce):
Yields 550 grams | Serves approx. 11
100 grams garlic
10 grams kosher salt
2 each juice lemon
400 grams linoleic sunflower oil
45 ml saffron tea
In a blender, purée garlic with salt until smooth. Add yolks and slowly combine oil. Add citrus and saffron water as needed.
Method: The branzino is de-boned and butterflied. Season with salt and scoop a tablespoon of green chermoula inside the fish. Place in a fish basket and grill on low to medium heat about 5 mins on each side. When cooked, plate and top with another tablespoon of green chermoula and drizzle the saffron toum on top. Garnish with grilled lemon and microgreens.
1545 Collins Ave., Miami Beach; 786.864.2990; byblosmiami.com