BLT Prime's Lobster Crab Cake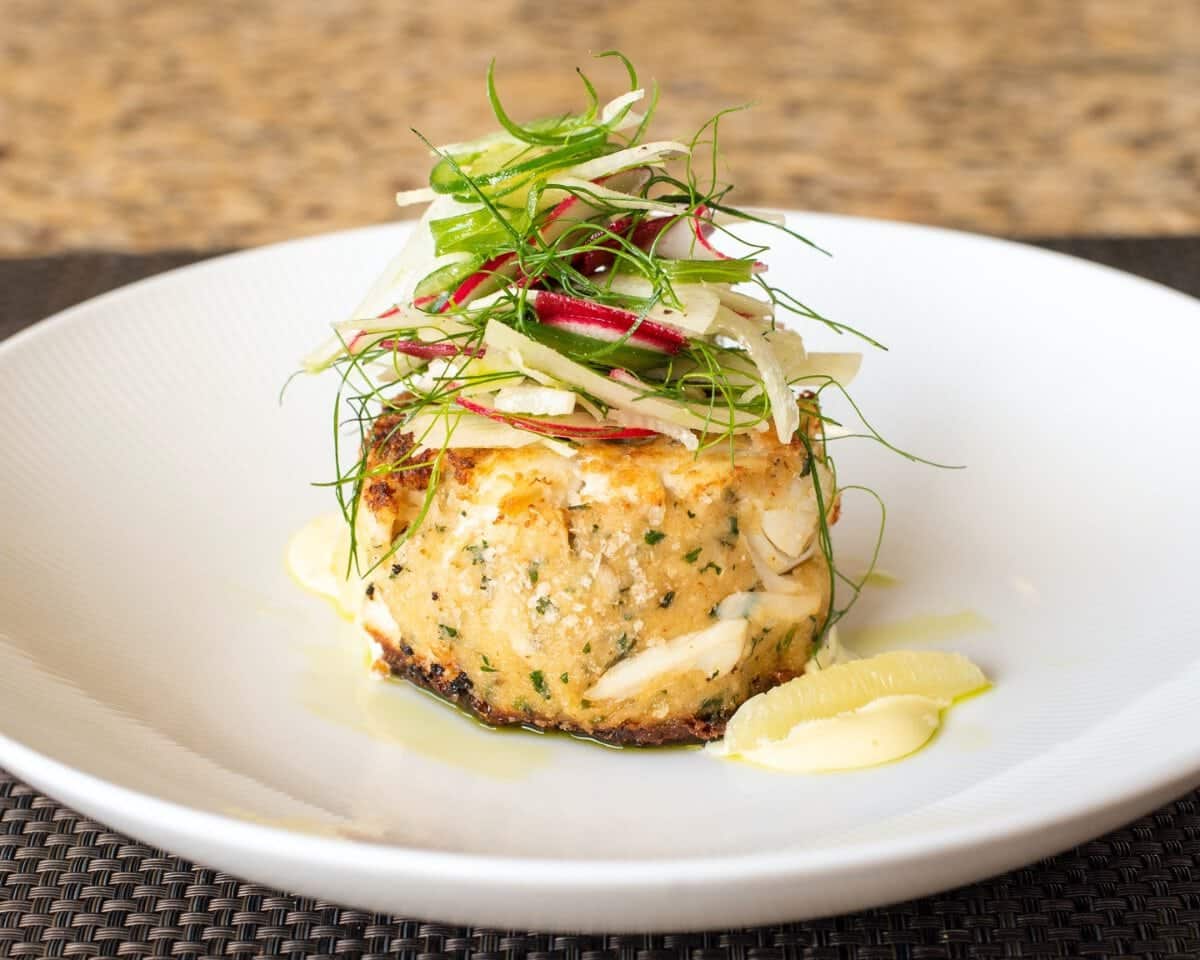 BLT Prime's Lobster Crab Cake
BLT Prime's lobster crab cake won for best "chef-inspired" dish at South Florida Luxury Guide's 12th Battle of the Chefs. 
FOR THE CRAB CAKE MIX:
2 lbs jumbo crabmeat, picked through for shells
2 lbs lump crabmeat, picked through for shells
4 lbs lobster meat
½ cup shallots, chopped
½ cup cilantro, chopped
½ cup parsley, chopped
½ cup Dijon mustard
½ cup fennel, diced
½ cup celery, diced
3 cups mayonnaise
2 tsp cayenne pepper
2 tsp Old Bay seasoning
1 pint panko breadcrumbs, finely ground
Fine sea salt
Crushed black pepper 
Gently mix all ingredients, except lobster and crab. Once well-mixed, fold in lobster and crab, careful to not break the lumps. Shape into 3-inch cakes, approximately 4.5 ounces each. Dust with breadcrumbs and carefully brown in sauté pan until golden. 
FOR THE BALSAMIC RUM GLAZE:
16 oz aged balsamic
4 oz Captain Morgan rum

Reduce to half on medium heat. Let cool. 
TO PLATE:
2 tsp basil aioli
2 pieces Meyer lemon supreme, soaked in simple syrup
1 dot basil oil
½ handful of fennel/carrot garnish
1 tsp lemon vinaigrette
1 cilantro sprig 
Pan-sear crab cake, then finish in oven until inside is thoroughly cooked. Place in middle of plate. Add 1 teaspoon aioli on each side. Place 1 lemon supreme in center of each aioli and add basil oil right next to it. 
 BLT Prime, 4400 NW 87th Ave., Doral; 305.591.6606; bltrestaurants.com