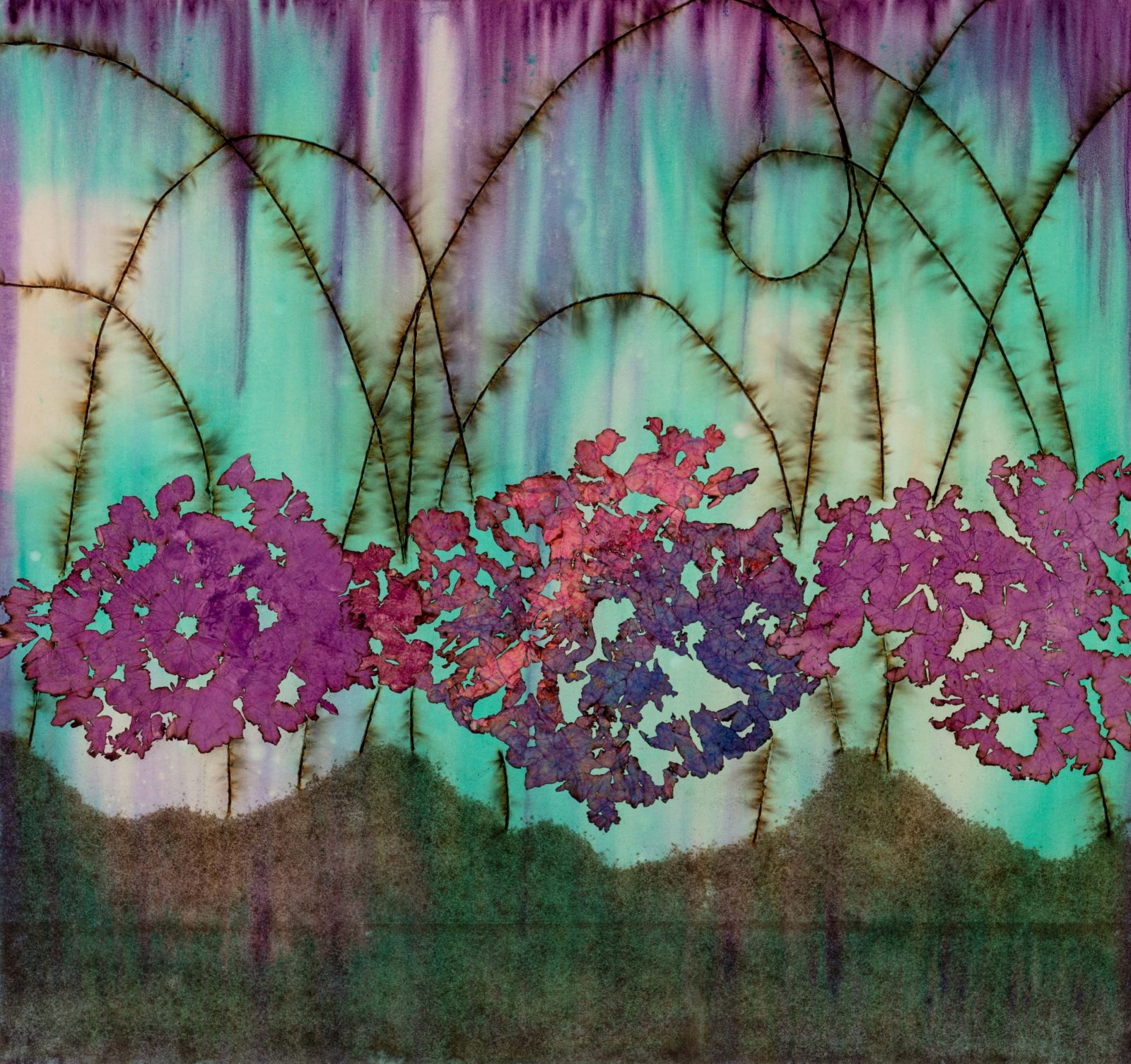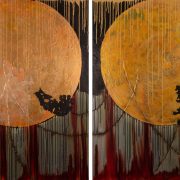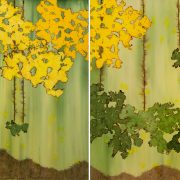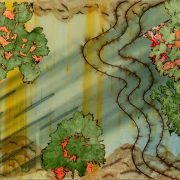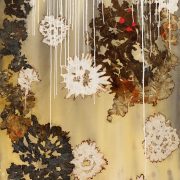 View Gallery
On view through January 14, 2023, the "Mira Lehr: Arc of Nature" exhibition includes never-before-exhibited mixed media works by artist Mira Lehr as well as works featured in the recently published Skira Editore monograph of the same title. The works can be viewed during regular gallery hours: Tuesday through Saturday, 10 a.m. to 5 p.m.
"These new works by Mira Lehr are characterized by an overarching sense of experimentation," said Howard Rosenbaum, the director of Rosenbaum Contemporary. "These paintings are inspired by tropical climates, and new techniques are resplendent here with patterned gunpowder and stark white paint drips. Lehr is always honing in on the main tenets of her work: optimism versus pessimism with regard to climate change, and the battle of nature versus manmade. The new works invoke a sense of wonder for our disappearing natural world," adds Rosenbaum.
"Both creation and destruction are forces of nature," comments Mira Lehr. "In my artmaking, I use burning, the medium of fire, by incorporating lit fuses and igniting gunpowder across my canvases. We seem to be living through a very tenuous cycle now in our history on this planet. Nobody knows what the future holds. The flames I use in my art, the fire, is the perfect medium for this time we live in," adds Lehr.
In this new exhibition Mira Lehr: Arc of Nature, her newer works abound with cyclical imagery as the artist continues to sound her clarion call to protect the planet from climate change. Through her vibrant usage of colors and inventive media, she depicts the power of nature and the earth in both utopian and dystopian portrayals.
The title of this new show at Rosenbaum Contemporary gallery comes from the new 420-page book by the same name, published by Skira Editore, Mira Lehr: Arc of Nature The Complete Monograph with essays by Eleanor Heartney, Joseph Treaster, Irving Sandler, and Thom Collins. The art critic and curator Eleanor Heartney writes in the book, "Lehr has traveled far from her early days as an aspiring Abstract Expressionist. Yet in certain ways, there is a remarkable continuity throughout the course of her evolution. She finds herself again moving into the unknown, a place she finds at once inspiring, a little terrifying, and deeply satisfying."
"Lehr's artmaking thoughtfully melds the principles of modernist abstraction with the lyrical beauty of the natural world," adds Heartney. "Her work offers a reminder that art is an ever-changing organism whose past is never really past and whose future exists in embryonic form in the present." The comprehensive book chronicles Lehr's artistic impact, from the 1950s through the first two decades of the 21st century. Some of the paintings included in the show at Rosenbaum Contemporary can also be found in the monograph published by Skira Editore.
In Eleanor Heartney's essay in the book, she notes: "In the first two decades of the 21st century, the news has been relentlessly grim. In recent years, Mira Lehr has added a new chapter to her distinguished oeuvre. Her recent works are consistent with modernist concerns that have long defined her aesthetic. But Lehr's new works also exhibit a new urgency about the state of our world. She leavens her message with a seductive beauty that is designed to inspire contemplation about what is at stake to save the natural environment. Her attitude reflects that of her mentor, Buckminster Fuller, when he said, 'When I am working on a problem, I never think about beauty but when I have finished, if the solution is not beautiful, I know it is wrong.'"
About the Artist
Mira Lehr's solo and group exhibitions number more than 300. Her work has been collected by major institutions across the U.S., including the Metropolitan Museum of Art New York; the Smithsonian Museum of American Art (Washington); the Getty Museum Research Center (Los Angeles); the Boca Raton Museum of Art; the Perez Art Museum Miami; the Frances Lehman Loeb Art Center (New York); the Margulies Collection; the Mennello Museum of American Art; MOCA North Miami; the Jewish Museum of Florida-FIU; and the Orlando Museum of Art.  It is included in the Leonard Lauder Corporate Collection in New York. Her work is also in the private collections of Elie and Marion Wiesel, Jane and Morley Safer, and Judy Pfaff, among others. Thirty of her paintings were commissioned for the collection of Mount Sinai Hospital. Her work can also be seen in American Embassies around the world and is permanently on view in the Sloan Kettering Memorial Center.
Lehr studied with James Brooks, Ludwig Sander, Robert Motherwell, and within the Hans Hofmann circle. She was selected in 1969 by Buckminster Fuller as one of only two artists, to participate in his World Game Project about sustainability and his groundbreaking "Spaceship Earth" concept (which preceded the world's very first Earth Day). Lehr is recognized as "the Godmother of Miami's art scene" because in 1961 she co-founded one of the country's first co-ops for women artists. It was called Continuum, and flourished in Miami for more than 30 years.
Her nature-based work encompasses painting, sculpture, and video. She uses nontraditional media such as gunpowder, fire, fuses, Japanese paper, dyes, and welded steel. Lehr is known for igniting and exploding fuses to create lines of fire across her paintings.