* As Featured in 2023 Edition – Design & Decor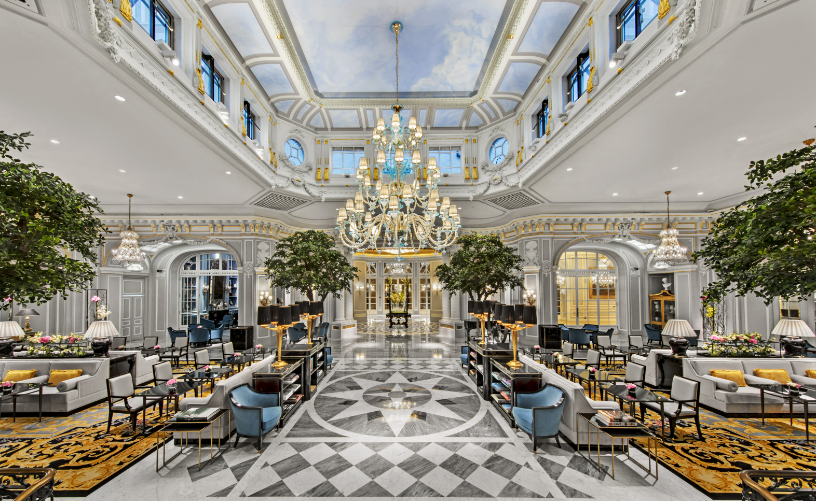 The St. Regis Rome
Beauty & Inspiration
The beauty of interior design and architecture, like all art forms, is in the eye of the beholder. Myriad styles exist, but what truly inspires is a matter of personal preference. This assortment of leading luxury hotels, cruise ships, megayachts, and private residences—as envisioned by top industry talents—spans the globe and covers a spectrum of design aesthetics. We're confident you'll find one (or more!) that moves you.
Out of Bounds
From the reclaimed lands off the coast of Dubai, this island home refuses to be confined by rules or limitations.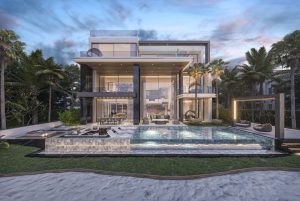 VILLA ALPAGO | Dubai, UAE
Architecture & Interiors: B8 Architecture
About: Villa Alpago is a mind-blowing residential project located on Dubai's famed Palm Jumeirah, the world's largest man-made island known for its ultra-luxurious resorts and private homes. Conceived by the award-winning Dubai-based architecture and design studio B8 Architecture, Villa Alpago is the very essence of "ad infinitum," meaning never-ending and without limit. Here, CEO, Founder, Senior Architect, and Principal Designer Kristina Bråteng, along with her talented team at B8, illustrate the fact that when one's imagination knows no bounds, neither does the design possibilities.
Overall Aesthetic: Contemporary elegance, as expressed through proportion and geometry, flawless finishes, and an engaging play of light.
Standout Architectural Element: Expanses of glass on both the front façade and rear exterior, giving way to unobstructed views from every space and angle.
Outstanding Design Feature: Wall-to-wall backlit exotic stone.
b8architecture.com
Element of Surprise
Striking concrete and metal structures in the last place you'd ever expect.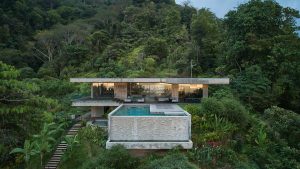 ART VILLAS | Playa Hermoso, Costa Rica
Architecture & Interior Design:Formafatal and Refuel Works
About: Art Villas uniquely melds all the beauty of modern architecture with all the wonder of Mother Nature. Nestled in the lush Costa Rican jungle nearly 985 feet above the Pacific Ocean, Art Villas is an integrated complex of several individual state-of-the-art structures, each designed so that both the views and connection to the outdoors are unimpeded. The Art Villa is a contemporary concrete structure whose extensive terrace opens to a panorama of rainforest and sea. The Atelier Villa's rust-toned metal façade and green roof are seemingly camouflaged, but there's no mistaking the infinity pool that daringly extends outward to commingle with the trees.
Overall Aesthetic: Bold and monolithic with abundant references to the surrounding rainforest.
Standout Architectural Element: An edgy, low-profile, linear silhouette.
Outstanding Design Feature: The blending of materials, from smooth concrete to "burnt" metal to rich indigenous woods.
artvillas.com
Luxury. Italian Style
Opulent. Glamorous. Regal. This is what living "la dolce vita" looks like.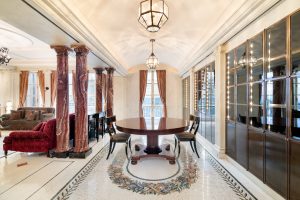 VERSACE TOWNHOUSE | New York, NY
Interior Design: Gianni Versace
About: This Manhattan mansion, a six-story Neoclassical townhome formerly owned and designed by the late fashion icon Gianni Versace, oozes the designer's signature style. Never one to ever shy away from extravagance, Versace appointed his NYC residence with plush velvet upholstery, painted ceilingsà la the Sistine Chapel, gilded moldings, and restored 19th-century art panels sourced from a Florentine palazzo.
Overall Aesthetic: Lavish Italian Baroque.
Standout Architectural Element: Classical columns fabricated from the finest Rosso Verona marble.
Outstanding Design Features: Gleaming marble floors inlaid with intricate mosaic tilework.
sothebysrealty.com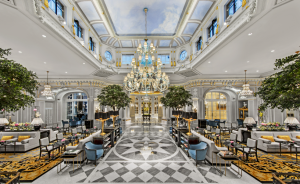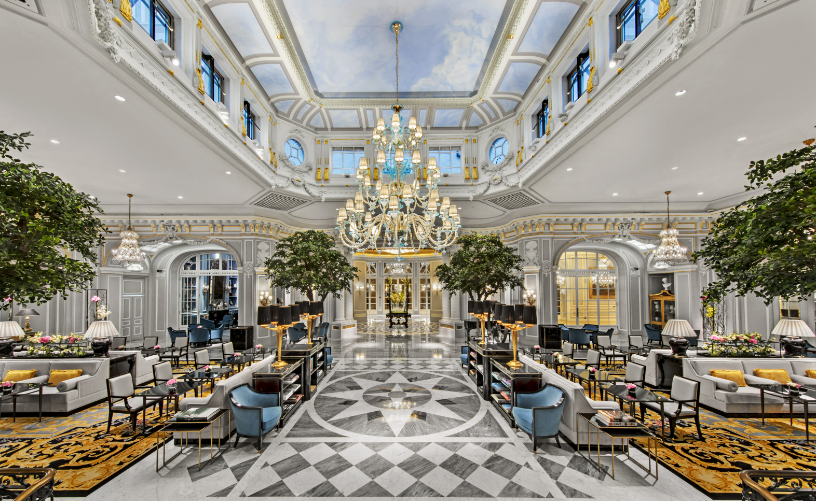 THE ST. REGIS ROME | Rome, Italy
Interior Design: Pierre-Yves Rochon
About: Originally opened as Le Grand Hotel in 1894 by renowned Swiss hotelier César Ritz, The St. Regis Rome underwent a full multimillion-dollar renovation in 2018 under the direction of world-renowned design firm Pierre-YvesRochon. The lobby features a regal palette of black and gold while the guest rooms are done in powder blue or warm terracotta. Travertine, Venetian mirror, sculptural busts, marble and various objects d'art are some of the elements that characterize the hotel's elegant European decor.
Overall Aesthetic: Chic, modern glamour with abundant historical references.
Outstanding Design Feature: Empire-style crystal chandeliers located throughout.
stregisrome.com
Beyond Belief
The brilliant design minds at Celebrity Cruises have gone above and beyond with their latest launch.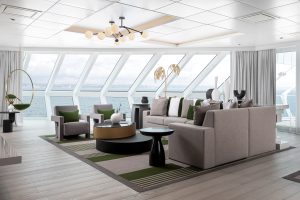 CELEBRITY BEYOND | Celebrity Cruises
Shipbuilder: Chantiers de l'Atlantique
Architecture: Tom Wright
Interior Design: Kelly Hoppen CBE; Nate Berkus; Jouin Manku
About: Celebrity Beyond, Celebrity Cruises' newest vessel, is a veritable luxury resort at sea. Its attributes include innovative architecture and design by global talents, exceptional cuisine by Michelin-starred chefs, upscale retail shopping, and exquisite artworks.
Overall Aesthetic: Spacious and sophisticated, with fresh color palettes.
Outstanding Design Features: Kelly Hoppen-designed accommodations, from modern two-story villas with private plunge pools to staterooms with infinite verandas; an expanded rooftop garden and resort deck with two cantilevered floating swimming pools; and the multi-level, multi-terraced Sunset Bar at the ship's aft, the vision of celebrated interior designer Nate Berkus.
Worth Noting: Celebrity Beyonddebuts world-famous chef Daniel Boulud'sfirst-ever restaurant at sea, Le Voyage.
celebritycruises.com
Jewels of the Ocean
The brilliant design minds at Celebrity Cruises have gone above and beyond with their latest launch.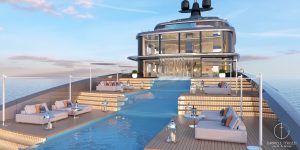 STELLA DEL SUD
Interior Design: Gabriele Teruzzi Yachts & Design
About: The wonder of this 361-foot superyacht concept by Italian design studio Gabriele Teruzzi Yachts & Design begins with its silhouette: It's built in the image of a cut gem. The double-height main saloon features panoramic windows that flood the room with natural daylight. The owner's suite is appointed with two sizable hammered-gold sculptures that adorn the headboard wall and an aquarium floating overhead. On deck is an intimate private lounge area with ample sunbeds, plus a helipad.
Overall Aesthetic: Lavish, with art deco influences.
Outstanding Design Feature: An open beach area inspired by Italy's Royal Palace of Caserta with a waterfall that gives way to three swimming pools.
Worth Noting: Stella Del Sud takes its name from Cartier's famed rare 128-carat diamond.
gabrieleteruzzi.com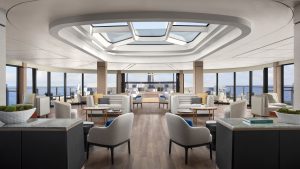 EVRIMA | The Ritz-Carlton Yacht Collection
Shipbuilder: Astilleros Barreras Shipyard
Architecture & Design: Tillberg Design of Sweden
About: Conceived to be part superyacht, part cruise ship, Evrima is complete with all the luxury and superior service associated with The Ritz-Carlton brand. A significant part of the experience is its "residential" quality: The expansive windows, private balconies, and unusually high ceilings are more reminiscent of a luxe residence than a cruise ship cabin.
Overall Aesthetic: Sleek and modern with soothing neutral hues.
Notable Design Features: All 149 rooms on the ship are suites with terraces featuring floor-to-ceiling windows. Duplex loft-style suites and an owner's suite with a private hot tub are also among the onboard accommodations.
Worth Noting: This is the first seafaring vessel by a luxury hotel brand.
theritzcarltonyachtcollection.com