Contemporary Dining: New Curve Collection by Emmanuel Gallina for Poliform.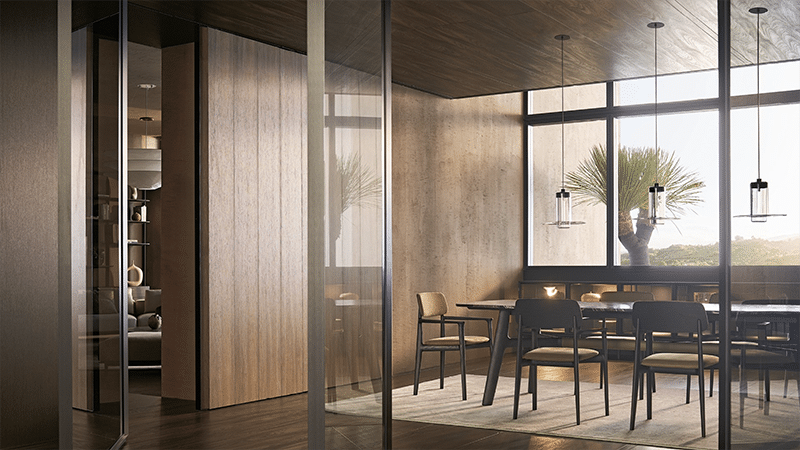 Nestled near Lake Como, Italy, Poliform's design philosophy finds its expression in the alluring  Curve dining set. Designed by Emmanuel Gallina, this assortment embodies a refined blend of sophistication and contemporary flair, perfectly suited for any setting. Within its clean façade,  the Curve collection houses meticulous craftsmanship of solid wood, embodying classic nuances entwined with an air of simplicity that defines current living trends. At the heart of this ensemble is the Curve table, an epitome of understated elegance with subtle details that unify the arrangement.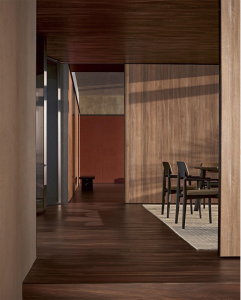 Poliform's enduring collaborations with distinguished designers like Emmanuel Gallina manifest in products that seamlessly encapsulate the brand's distinct style and design culture. The creation of the Curve collection was a journey through trends and careful curation of materials and finishes, all coalescing to express a character and uniqueness that is unmistakably Poliform. The essence of the Curve line lies in the tangible presence of solid wood, a material celebrated through innovative cracking techniques that pay homage to its intrinsic quality. Joints and details were meticulously refined, ensuring that the wood's core structure remained unblemished.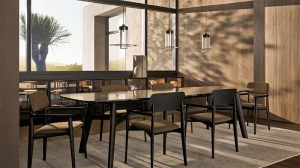 The designer's ingenuity is evident in the Curve table – its clean lines converge with striking accents, such as the wooden crosspiece. This design element is versatile, adaptable to diverse hide finishes, an expressive canvas that complements the table's Spessart Oak or Black Elm base. Emmanuel Gallina's vision extends to the table's frame, where carefully selected materials like marble or exquisitely finished wood amplify the visual and tactile appeal, creating a table that commands attention as the centerpiece of any dining space. 
Harmonizing effortlessly with the table, the Curve chairs boast soft curves and slender lines inspired by modern design, resulting in pieces that seamlessly blend classic and contemporary elements. Upholstered in a range of soft fabrics or sumptuous leather finishes, these chairs epitomize comfort and sophistication, enhancing the dining experience while adding an artistic touch.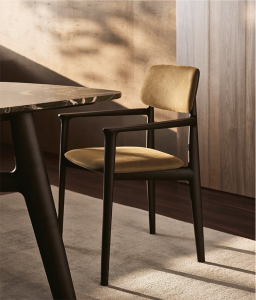 Through the Curve collection, Emmanuel Gallina brilliantly translates Poliform's refined lifestyle and contemporary design trends into tangible, functional art pieces. The dining set's clean,  adaptable lines can transform any space, bringing an aura of understated elegance. The careful craftsmanship in the wooden pieces, combined with accents like marble, upholstery, or leather, form an impression that resonates deeply through sight and touch, making the  Curve collection not just furniture but an experience. 
For more information, visit: Poliform Miami