Buccan's Grilled Caulilini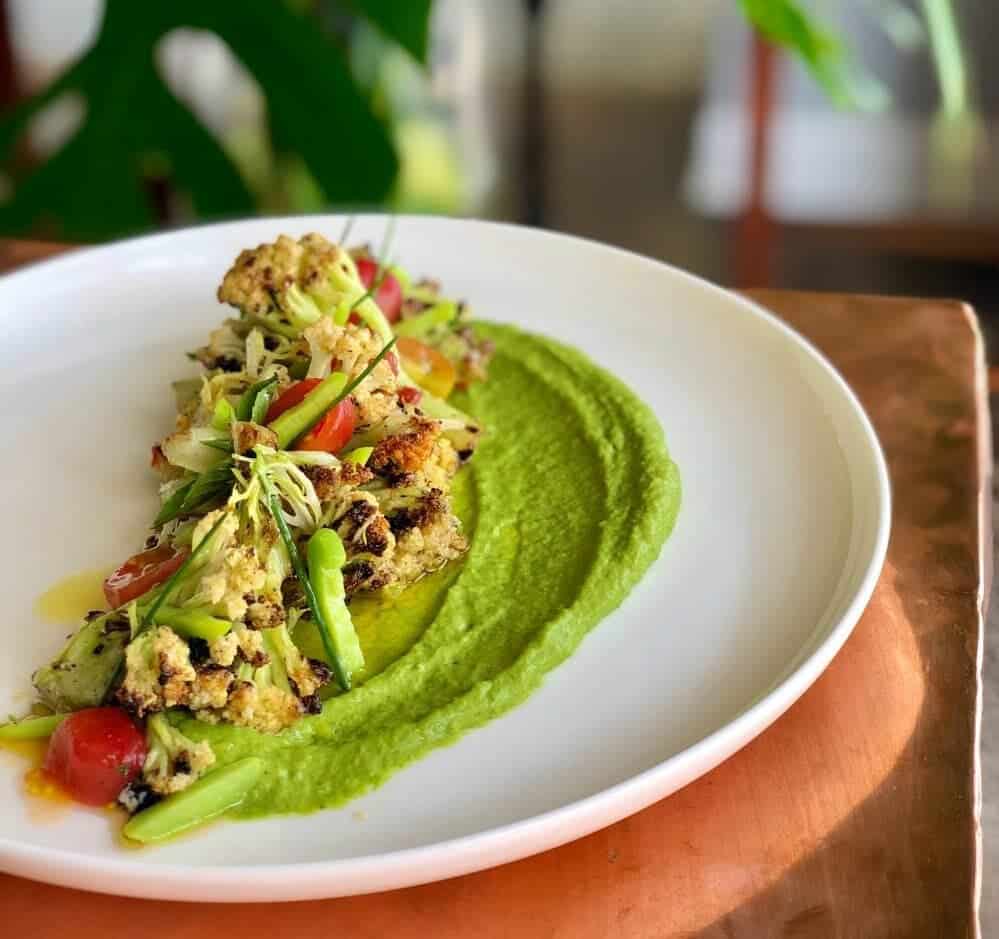 Buccan's Grilled Caulilini
Five-time James Beard Award nominee Chef Clay Conley consistently receives praise for his ever-changing menus, and Buccan's grilled caulilini is no exception. "Caulilini is a hybrid of cauliflower and broccolini, and we love it for its unique texture," says Conley, who also helms West Palm Beach eatery Grato. "We serve it with a chilled fava bean purée with the bright, herbaceous flavors of the green goddess. Then we garnish it with pickled cherry tomatoes from Kai-Kai Farm." 350 S. County Road, Palm Beach; 561.833.3450; buccanpalmbeach.com
GIVING BACK: In light of the global pandemic, the team at Chef Conley's Ember Group, which includes Chef Zach Bell and partners Sam Slattery and Piper Quinn, has formed the nonprofit Buccan Provisions, which is preparing fresh, high-quality meals for some of Palm Beach's most vulnerable community members, including frontline medical workers, families in need and unemployed workers. buccanprovisions.org
RECIPE
For the Caulilini:
4 bunches caulilini, broken into smaller florets
2 oz extra-virgin olive oil
¼ tsp calabrese chili (or chili flake)
2 oz Parmesan
1 bunch frisée (white part only)
24 pickled cherry tomatoes, cut in half (see below)
24 fava beans, blanched and julienne
2 tbsp pickling liquid 
Toss caulilini with extra-virgin olive oil, chili, salt and pepper and cook over a charcoal grill until caramelized. Remove from the grill and toss with Parmesan. Briefly return to the grill until Parmesan is melted and golden brown. Toss with remaining ingredients. On the base of 4 plates, put a large smear of green goddess. Top with grilled caulilini salad. 
For the Fava Bean Green Goddess:
7 oz fava beans, blanched
½ oz garlic
½ oz shallot
3 oz extra-virgin olive oil
4 anchovy filets
6 oz crème fraîche
6 oz mayonnaise
2 oz Champagne vinegar
1 oz basil leaves
1 oz tarragon leaves
1 oz cilantro leaves
1 oz chives
1 oz parsley leaves
In a blender, combine the first seven ingredients and purée until smooth. Take all herbs and chop fine with a sharp knife. While the blender is running, add herbs and purée until smooth. Transfer to a bowl over ice and whisk until cold. Season with salt. 
For the Pickled Tomatoes:
1 pint cherry tomatoes, cut in half
1 cup white balsamic
3 oz sugar
3 oz water
1 tsp salt
Heat balsamic, sugar, water and salt. Cool mixture and add tomatoes. Let sit overnight.