Boia De's Savory Clam and Cannellini Beans in Parmesan Broth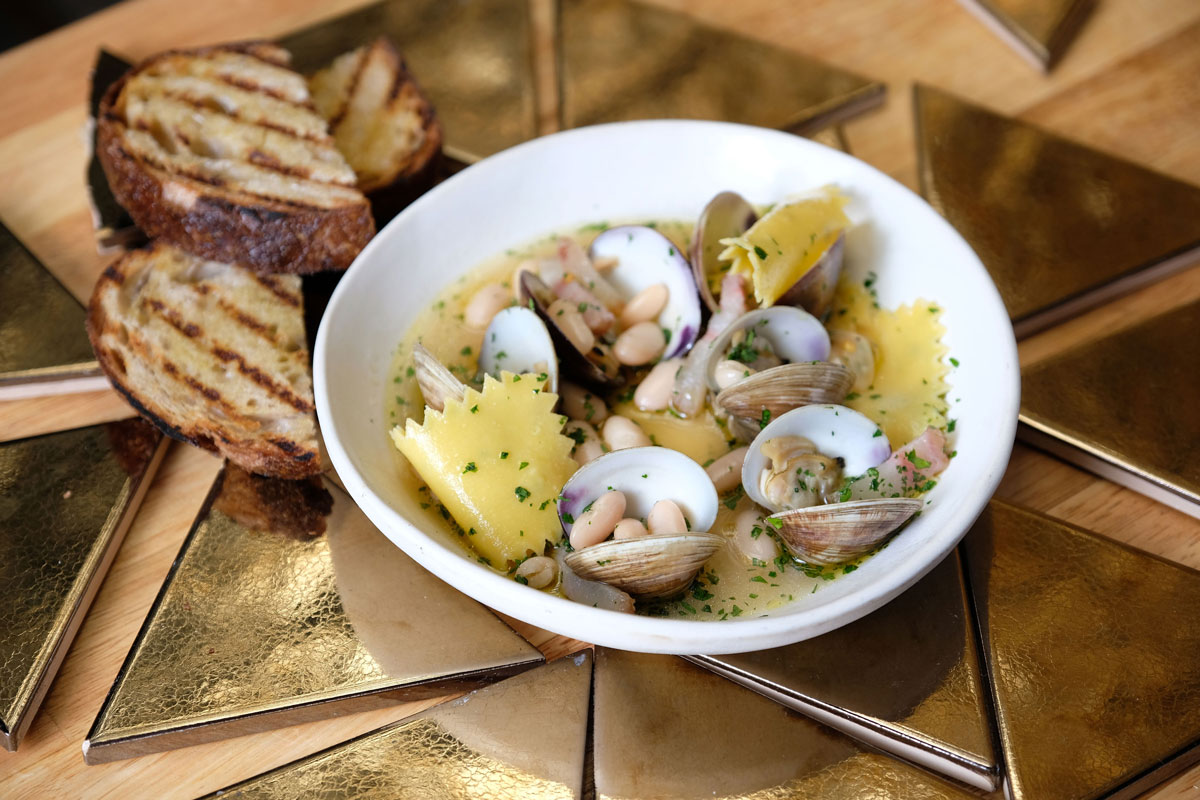 Photo by Fuji Film Girl
Boia De, an unassuming restaurant in Little Haiti, is lead by co-chefs Alex Meyer and Luciana Giangrandi; the two were semifinalists in the 2020 James Beard Awards for best chef in the South. With a constantly changing menu, you're sure to delight in dishes with only the freshest ingredients. Sundays are reserved for Italian-inspired sandwiches like The Godmother and Caprese-ish. 5205 NE 2nd Ave., Miami; 305.967.8866; boiaderestaurant.com
For the Beans:
1 cup dried cannellini beans, soaked overnight in cold water
1 carrot, peeled and cut into 4 pieces
2 celery stalks, cut into 8 pieces each
1 onion, peeled and cut into quarters
1 bay leaf
5 black peppercorn seeds
1/2 cup olive oil
Salt
Bring the soaked beans to a simmer in unsalted water. Once at a simmer, skim off any scum that rises to the top.
Place the vegetables, bay leaf, and peppercorns in a cheesecloth sachet and add to the beans, then top with the olive oil. Cook until the beans are tender, don't hard boil, about one hour.
Remove from heat and season with salt. Allow to cool and remove the sachet. Reserve one pint of bean cooking liquid. The beans good for three days in the refrigerator.
For the Parmesan broth:
1 quart chicken stock
1 pint bean cooking liquid
1/2 pound parmesan rinds
Wrap the parmesan rinds in cheesecloth and place in a pot with a mix of chicken stock and bean liquid. Cook at a low simmer for an hour or more, making sure cheesecloth does not scald on bottom of pot.
Remove from heat when done and cool. This will be good for 3 days in the refrigerator.
NOTE: Ask your local cheese shop for their parmesan rinds as they will be cheaper than the cheese and provide you the same amount of flavor. If you can't find them, the cheese itself works as well.
To finish
20 pieces of guanciale lardon
3 garlic cloves, sliced thinly
1/4 cup chopped parsley
24 middleneck clams
cooked beans (recipe above)
parmesan broth (recipe above)
2 tbsp extra virgin olive oil
24 pieces maltagliati pasta or dried lasagna sheets broken into large pieces
pinch of pepperoncino
NOTE: You can use dried lasagna sheets and break them into large pieces to replace the maltagliati. Also, Guanciale is cured and smoked pork jowl. If you can't find it, bacon is a great substitute.
Method:
Cook pasta in boiling, salted water.
Heat olive oil in a 10- to 12-inch skillet. Add the lardon and sliced garlic while the oil is heating up. When lardons turn translucent but not caramelized, add pepperoncino and large pinch of chopped parsley and cook for 5 seconds to infuse oil before adding clams.
Add 2 cups of parmesan broth, cover the pan, and cook on high heat until all clams have opened.
Bring the broth back to a boil, add fresh chopped parsley, and 2 tbsp. good extra virgin olive oil to finish.
Add the beans to the clams and guanciale mix.
Separate the clams equally into 4 bowls and ladle the broth, bean and pasta mix over the top and serve immediately. Alternatively, pour the whole mix into a large bowl to share.
We recommend serving some crusty bread on the side to soak up all of the parmesan broth.
The recipe is from the Summer 2021 issue. Read the magazine here.